RECIPE (April 2015)
Gobocha blancmange with compote of suiden gobo (burdock root)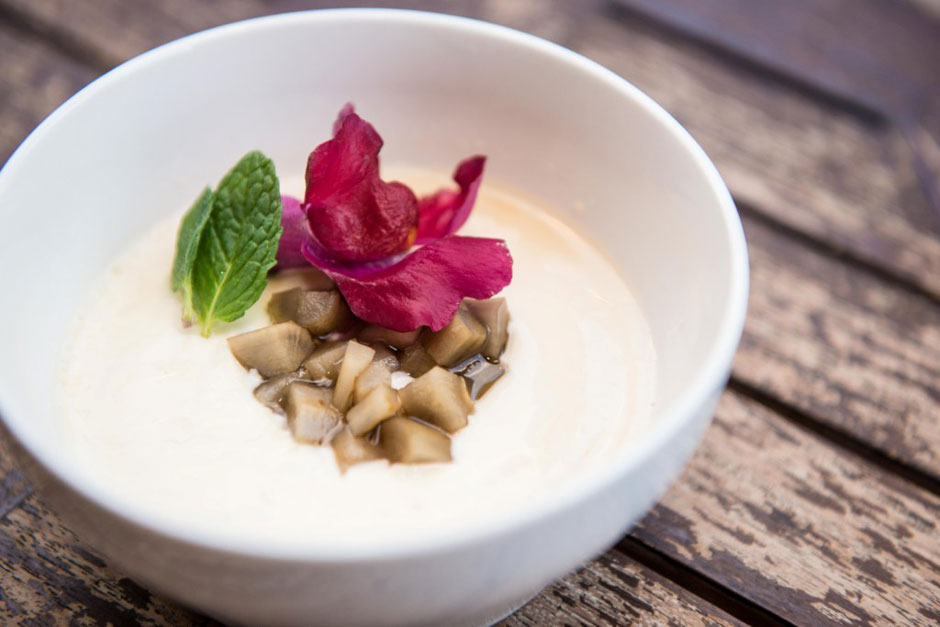 Gobocha blancmange with compote of suiden gobo (burdock root)
Ingredients (Serves: 4)
Gobocha blancmange
Gobocha teabags

3 pack

Milk

600cc

Water

200cc

Cream

100cc

Granulated sugar

90g

Gelatin

2 sheets (8g)
Directions
Boil the water, put in the gobocha (burdock tea) teabags and return to the boil.

Set aside briefly to steep, then add milk and return to the boil once more.

Once the liquid is boiling, gently mix in the granulated sugar, sheet gelatin (pre-soaked) and cream to make the blancmange base, then put the lid on the pot and allow it to infuse.

Once the base is nicely aromatic, ladle it into serving dishes and place them in the refrigerator to cool.
Ingredients (Serves: 4)
Suiden gobo compote
Suiden gobo (burdock root)

100g

Water

100cc

Granulated sugar

100g

Gobocha teabag

1
Directions
Dice the gobo (burdock root) into small chunks.

Put the gobo chunks in water and bring to the boil, then drain immediately.

Combine equal parts granulated sugar and water in a pot and bring to the boil. Add the parboiled gobo chunks and the gobocha teabag and bring back to the boil.

Immediately remove from the heat and set aside to cool.

Once the gobo blancmange has set, arrange compote pieces on top and garnish to serve.
A useful tips
Boil the milk and gobocha for a reasonable time, then remove from the heat and allow to cool slightly. This produces a rich aroma like unrefined sugar. The blancmange base I made will harden in about 6 hours. You can shorten this to about two hours by plunging the blancmange pot into iced water before you transfer the base into the serving dishes.
Recipe from : Asuka Kitaoka(La Campagne chef)