OKURIMONO (December 2018)
Farm Seasonings Full of In-season Vegetables
Usagi Natural Farm In-season Vegetable Seasonings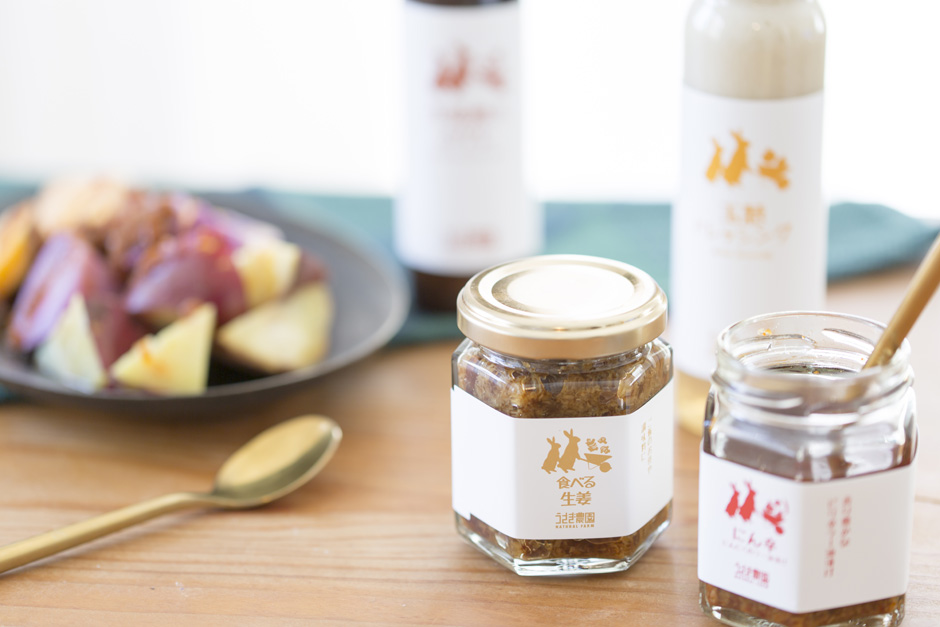 < PACKAGE >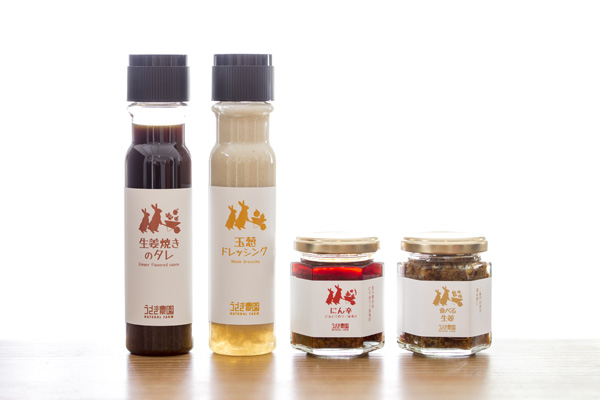 *The packaging design is subject to change without notice. * The contents of the gift set vary depending on the season.
The Usagi Natural Farm, located in Koshi, Kumamoto Prefecture, annually harvests more than 200 types of vegetables, including Italian vegetables and seasonal Japanese vegetables. There are no chemical fertilizers or pesticides used here—the vegetables grow in a natural environment, utilizing the power of grass, bamboo, trees and fallen leaves around the farm.

In this article we introduce In-season Vegetable Seasonings made from these Usagi Natural Farm vegetables as gifts.
Let's see why the In-season Vegetable Seasonings make wonderful gifts.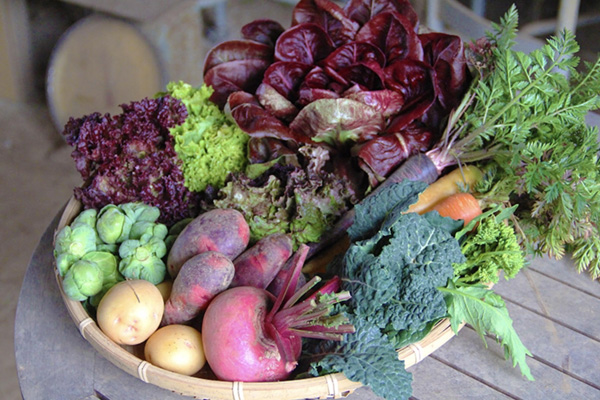 Processed without any chemical fertilizers or pesticides, only using safe ingredients
The seasonings contain completely organic vegetables harvested on the farm, with absolutely no chemical fertilizer or pesticide used. These are luxury seasonings featuring rich amounts of in-season vegetables, products that aim to be seasonings that "only a farm can make."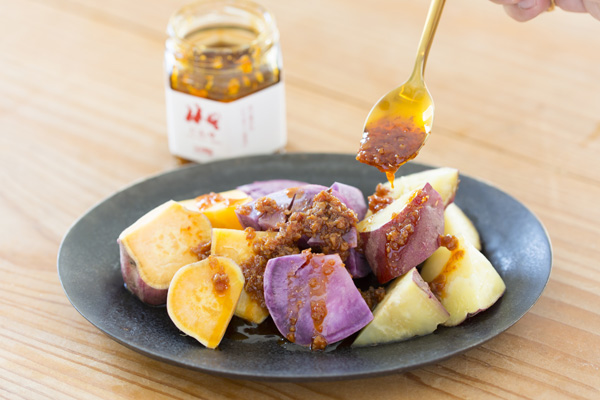 Versatile seasonings that go with anything and never go to waste
The Usagi Natural Farm calls their seasoning lineup "helper foods." These seasonings focus on being versatile to go with any food including meat or vegetables. They are "helper foods" for the busy modern person, allowing users to create a superb dish by just adding it to simple ingredients.
Livening up our dining tables! Thoughts put into these colorful vegetables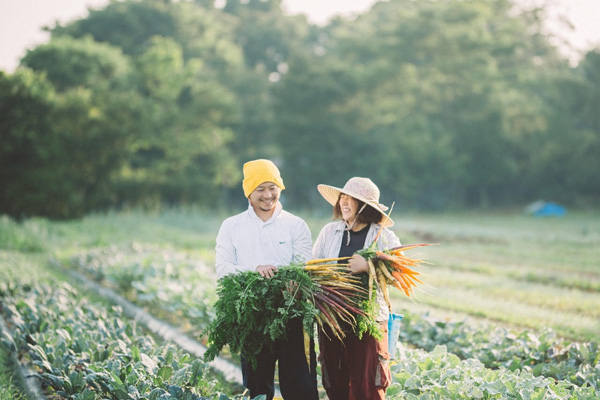 The Usagi Natural Farm is located in Nonoshima, Koshi, Kumamoto Prefecture, an area with abundant nature, clear waters and lush greenery. The couple managing the farm is Yo Tsukino, who was originally a member of the Self-Defense Forces, and his wife Ai, who was an office worker and teacher before becoming a farmer.
The two ventured into the farming world in 2012. The farm started with the couple clearing the land, which used to be a ranch ran by Yo's father and grandfather. When Yo saw the barren wasteland, which used to be the ranch that closed down 20 years ago, he was determined to restore the land back into its original vibrant scenery. This desire triggered the couple's new adventure.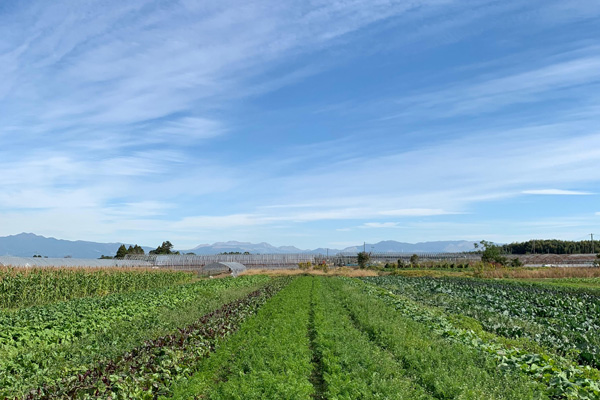 Starting from scratch by studying at an agricultural college and making their way through trial and error, the couple's farm is now in its seventh year. "In the beginning, the soil was not ready, and there were many difficulties such as not being able to grow leafy vegetables. I remember working very hard from morning to night, and being sleepy all the time," smiles Ai, reminiscing about the past.
The Usagi Natural Farm was created with the wish of rejuvenating the land, but the farm has another theme, which is to "liven up dining tables." The farm's produce is mainly vegetables that are colorful, fun and invigorate consumers, focusing on Western vegetables such as those from Italy, Japanese vegetables and also edible flowers.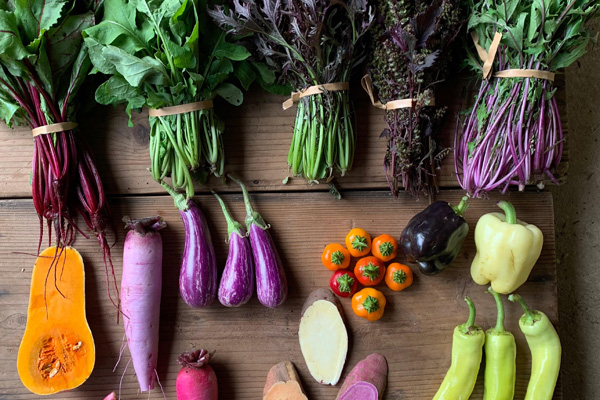 The grass, bamboo, trees and fallen leaves from around the farm are used to create mulch that is a chemical fertilizer and pesticide-free. In this way, the farm also focuses on utilizing the power of nature to grow safe vegetables.
"We want to contribute to the community and revitalize it through our farm and processed goods. Even members of the community who initially opposed our farm seemed to have warmed up to us around three years after starting this operation."
As a matter of fact, although the Nonoshima area has 80 farms, only a few have successors to take over the farms. The impact of this couple—who have decided to dedicate their lives to farming—on the regional community may be stronger than we know.
Fully showcasing the appeal of vegetables in their seasonings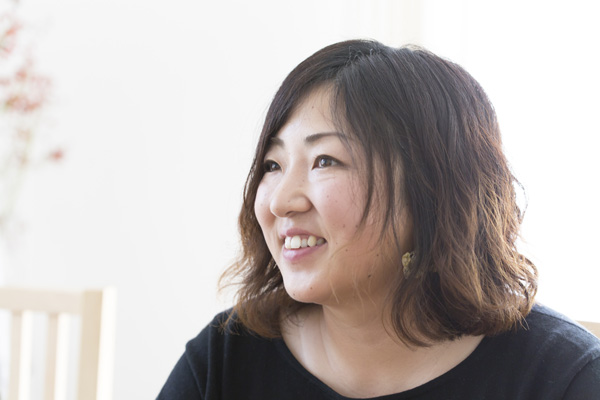 We asked Ai about the characteristics of their In-season Vegetable Seasonings.
"We started these products because we wanted to make something that would help busy people. Just between my husband and I, we call these seasonings 'helper foods.'"
These seasonings are created to be versatile, so they can be used as dressings or sauces with vegetables, but can also be mixed into rice for rice balls or to create a side dish by adding them to tofu, or as a secret ingredient in Chinese dishes such as dumplings or noodles.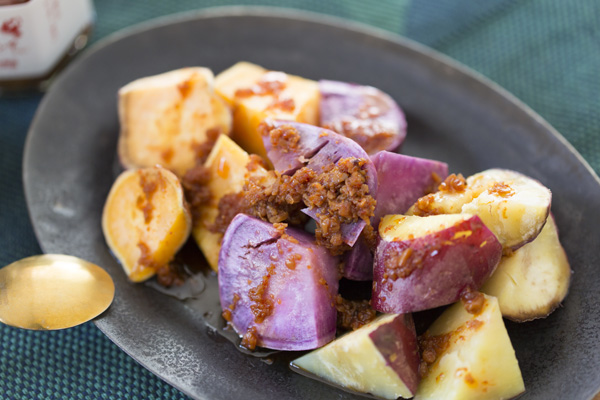 On this day, we sampled a simple dish made from sweet potatoes casually steamed in the microwave and topped with the popular seasoning Nin-kara (hot garlic). The resulting dish was a perfect partner for white rice by itself, with a strong garlic and hot pepper flavor added to the simple sweetness of potatoes.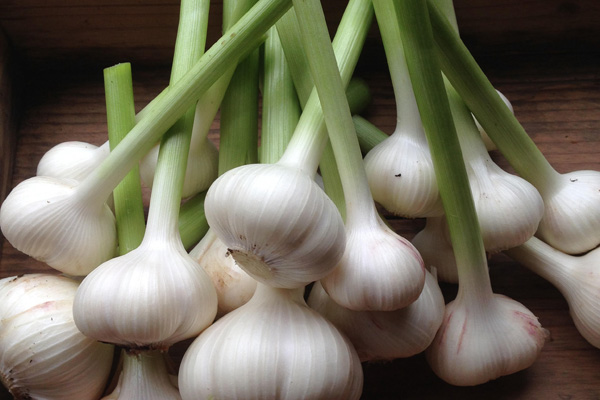 "We decided that if we were to make products, they'd better be something only farmers can create. For instance, this Nin-kara seasoning features domestic and organic garlic we harvested, and contains two whole bulbs of garlic in one bottle. We would not have the luxury of using raw ingredients so lavishly if we had to procure the vegetables. It is because we farm our own vegetables that we are able to use so much in one bottle," explained Ai.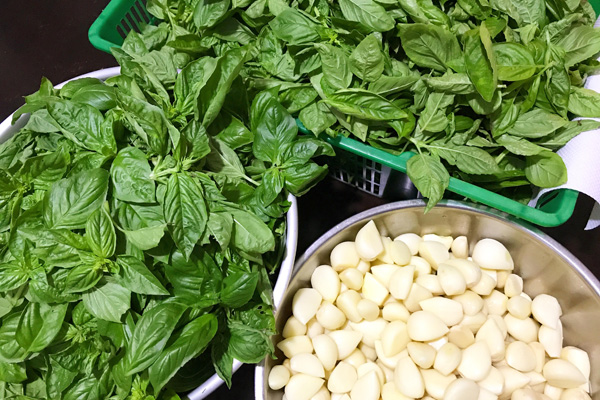 In addition to Nin-kara, the farm offers carrot and onion dressings, ginger to eat, and a seasoning lineup featuring in-season vegetables. The gift set with four assorted products that differ according to the season is perfect for gifts.
The In-season Vegetable Seasonings offer a helpful hand in daily dining by "offering easy preparation for one more dish" or "allowing users to take an ample amount of vegetables just by using seasoning." How about selecting it as a gift for somebody who has been busy working hard every day?
 / 
Photographer
: CHIE MARUYAMA