RECIPE (May 2023)
Spring Onion and Cheese Scones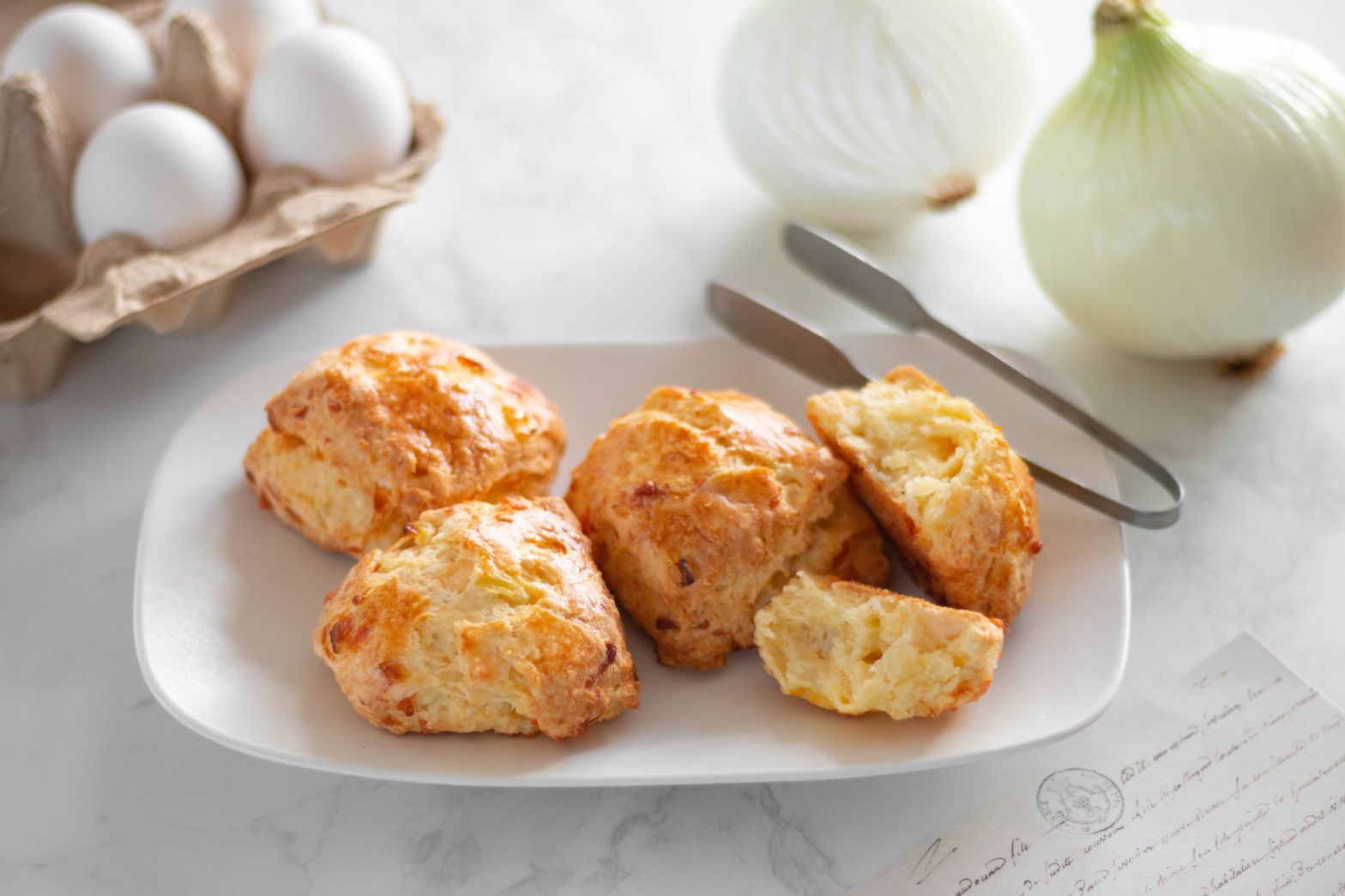 The scones have an irresistible aroma of juicy spring onions and cheese. They are well-seasoned and great for breakfast or as a snack to go with drinks.

Ingredients
(The recipe is for six 6 cm-diameter scones)
Cake flour

150g

Baking powder

6g

Sugar

15g

Salt

1.5g

Butter

40g

Egg

35g

Plain yogurt

40g

Spring onion

50g

Pizza cheese

30g
Directions
Mince the spring onion.

Add 1 to a heat-proof bowl, cover loosely with a plastic food wrap, and heat in a microwave oven set at 600 watts for about one minute until the onion softens. Leave it at room temperature until cool.

Sift cake flour and baking powder into a bowl. Add sugar and salt.

Add cubed butter and rub the butter in with the fingertips to combine. It is ready when there are no more lumps of butter.

Add the cooled spring onion and pizza cheese and combine roughly.

Add whisked egg and yogurt and fold with a dough scraper.

When the mixture is no longer floury, roll it into a ball. Cut in half with a dough scraper.

Stack half of the dough on top of the other. (Sprinkle a small amount of flour if it is sticky)

Squish down with a dough scraper. (Use a dough scraper as the heat from your hands will melt the butter)

Repeat the process of halving and stacking twice more.

Shape the dough into a 2.5 cm-thick rectangle and divide it into six equal portions using a dough scraper.

Lay out the pieces on a baking paper-lined baking sheet and apply whisked egg (not included in the recipe) using the back of a spoon.

Bake in a preheated oven set at 180 degrees Celsius for about 20 minutes until golden.
A useful tips
・Heating the spring onion in a microwave beforehand removes moisture, accentuating its sweetness.
・Use about 2/3 of the egg for the dough. Use the rest for glazing.
・Do not overwork the dough when combining. The stacking and squishing process brings the dough together, creating layers.
Recipe from : con-fectionery researcher marimo