PRODUCT (December 2022)
Heirloom Vegetable for the Future. Futami Akakarashina's Hanapanchun Monogatari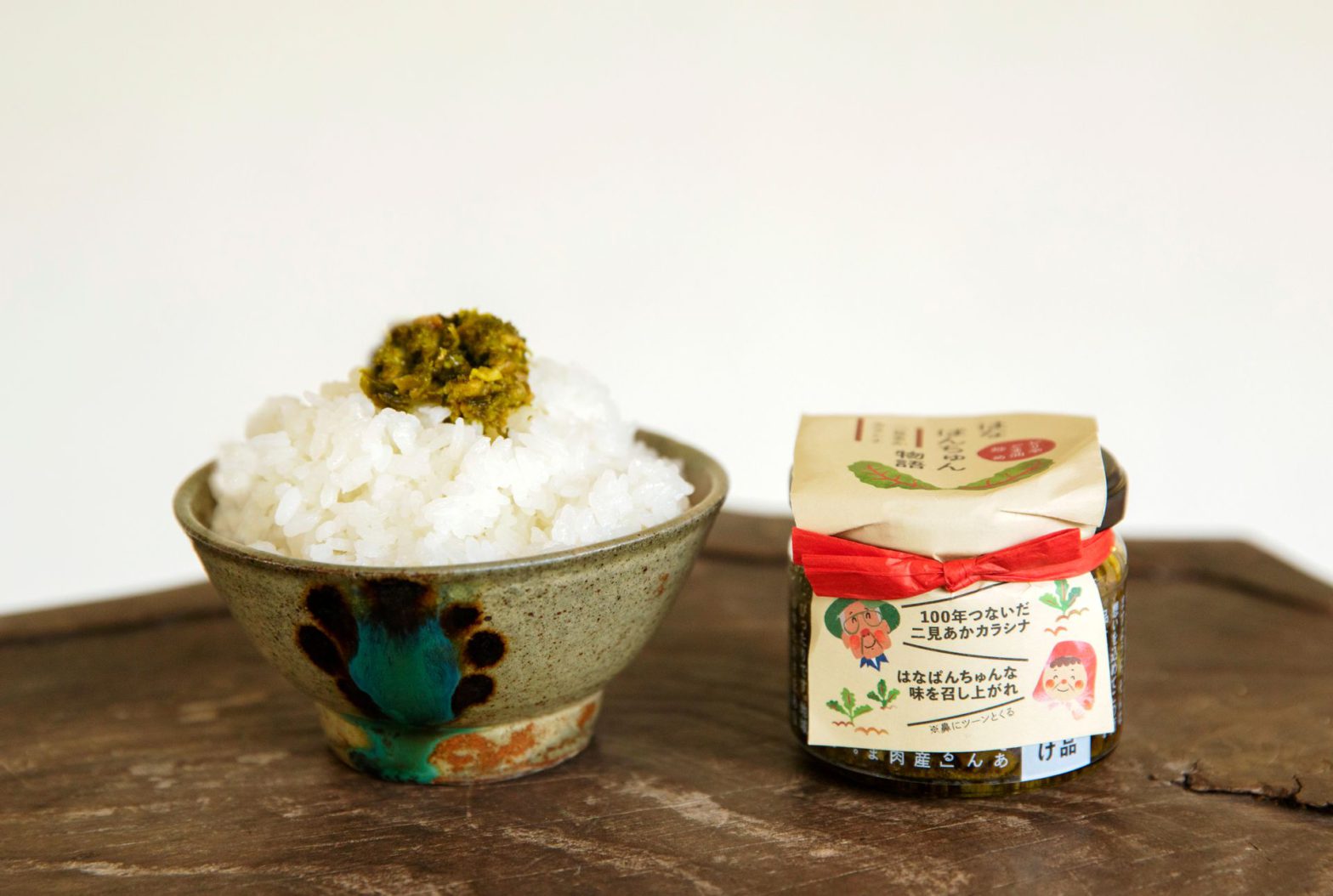 Wansaka Oura Park in Nago, Okinawa Prefecture, is a seaside farmers' market jointly established by 10 nearby villages. The famous local specialty, Hanapanchun Monogatari, was developed here to tell the timeless story of the traditional vegetable Futami akakarashina (red mustard greens).
What makes Hanapanchun Monogatari special?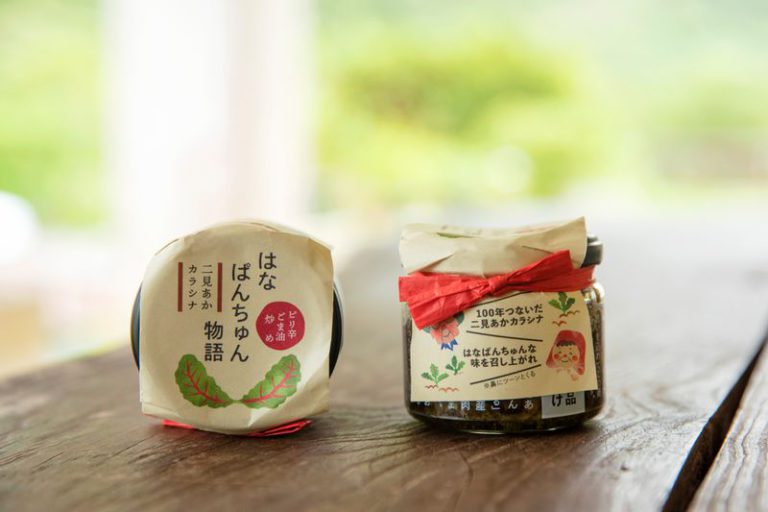 ・An exquisite accompaniment to rice made by combining the rare, indigenous Futami akakarashina and locally produced Agu pork.
・A farmer who has been preserving Futami akakarashina seeds for generations.
・Exchanges with children are treasured to preserve the heirloom vegetable Futami akakarashina for 100 years to come.
Akakarashina seeds handed down to Higa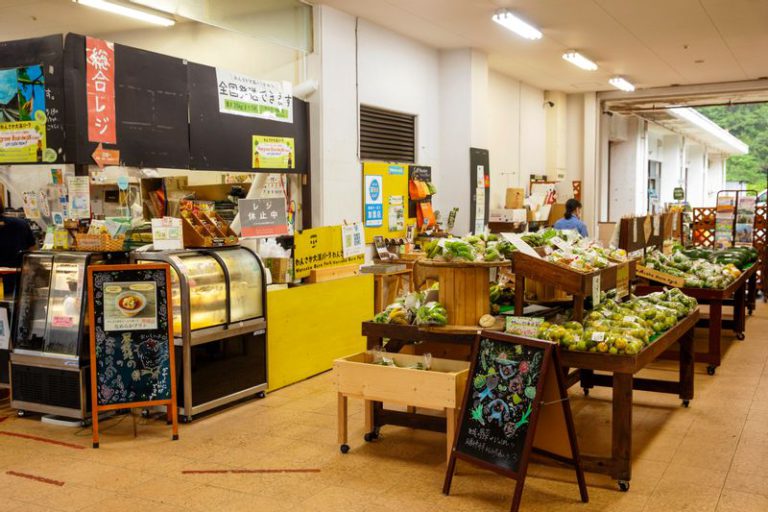 Wansaka Oura Park is nestled between the Yanbaru Forest, which extends to a World Heritage site, and the bright azure waters of Oura Bay. The surrounding villages take advantage of the bountiful nature to produce various agricultural and livestock products, such as citrus depressa, Manchurian wild rice, and Agu pork.
It was only in 2016 that it was discovered that the akakarashina produced by Kimie Higa, a farmer in the Futami district, is a valuable traditional vegetable. A scientist studying native crops in the prefecture discovered the seeds in Higa's safekeeping and determined their rarity.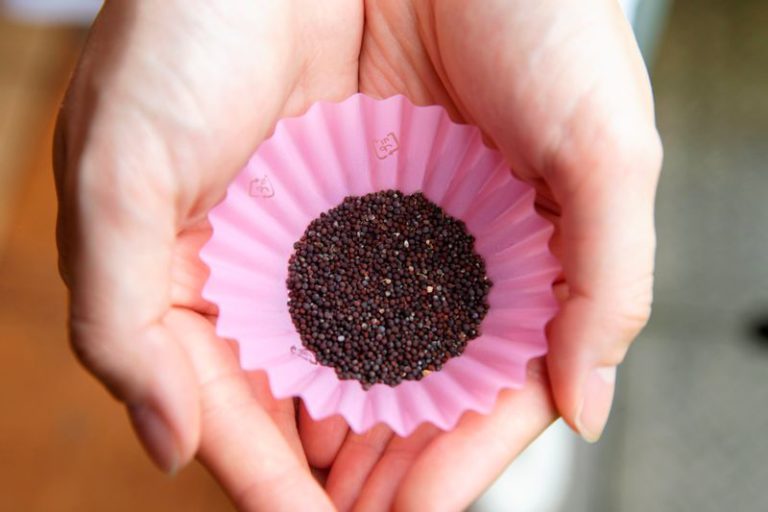 Higa inherited the seeds from her grandmother-in-law. They are precious seeds that her grandmother had protected from the ravages of war to stave off hunger after the war. If Higa had not continued to grow them, the akakarashina variety would have ceased to exist. The variety Higa has brought to the present day was named Futami akakarashina, and now everyone in the community is working together to protect it as a specialty of the Nago East Coast region.
Hanapanchun Monogatari tells the tale of Futami akakarashina
Originally, karashina (mustard greens), called shimanaa in Okinawa, was a key local ingredient, eaten salt-cured or stir-fried in chanpuru. In recent years, however, Western mustard greens have become the mainstream, and akakarashina has rapidly decreased.
"Western vegetables are easy to buy seeds for and grow. But native varieties have endured because they are better suited to this land. If they become extinct, our future generations will only be able to buy seeds and crops from other sources. We want to preserve the Futami akakarashina for self-sufficiency and as part of our food culture," says Yukihide Fukada, the representative of Wansaka Oura Park.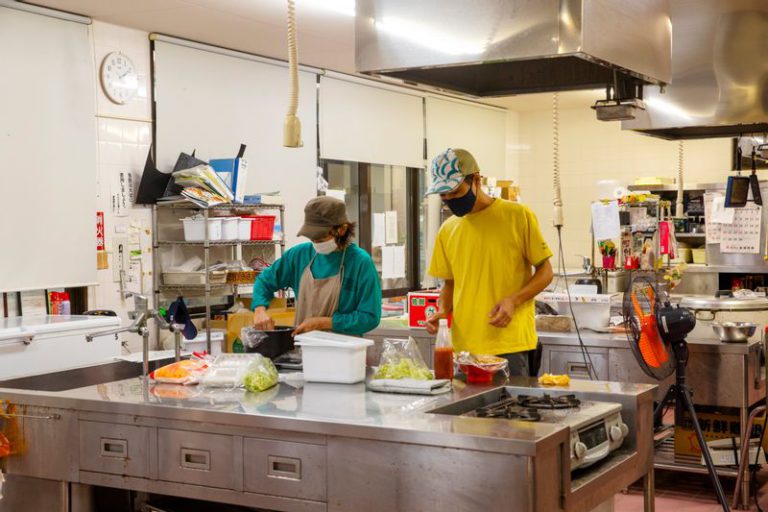 Wansaka Oura Park developed Hanapanchun Monogatari to preserve Futami akakarashina for posterity and to encourage more people to eat it. The relish combines Futami akakarashina and minced Agu pork, which goes well with rice.
Futami akakarashina is a leafy vegetable that inevitably produces substandard quality because it is difficult to eat when overgrown and hard and is hard to sell if it is worm-eaten. Processing and using such off-spec products properly also motivates farmers to cultivate them.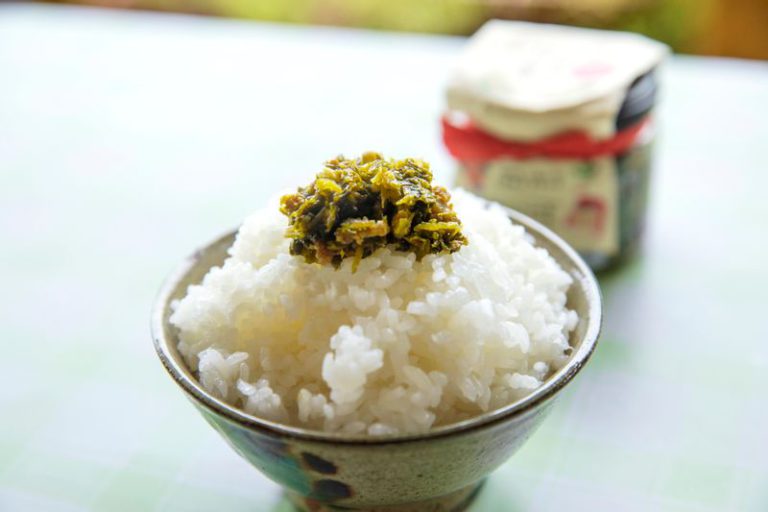 The product name, Hanapanchun, means a burning sensation in the nose, and it tastes spicy and tangy due to the pungent island chili peppers. We recommend eating it with white rice, mixing it with natto, or even with pasta.
Preserving Futami akakarashina as a part of the local food culture for the next 100 years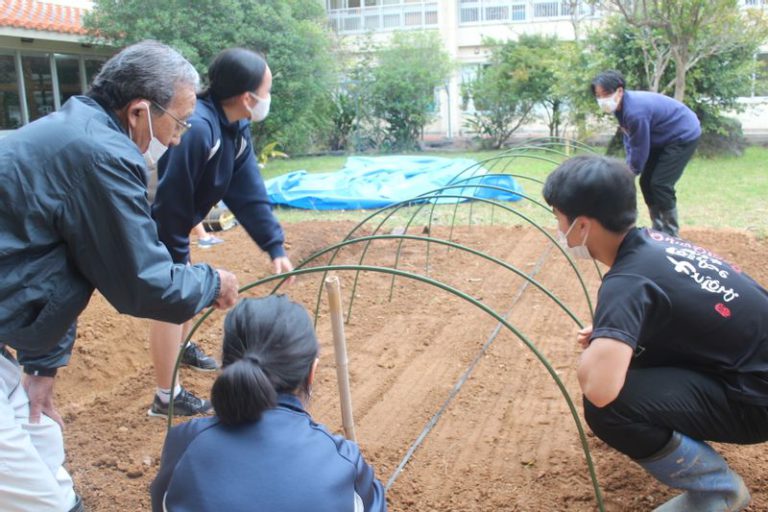 The local community is committed to interacting with the children who will be Futami akakarashina's future makers and eaters to ensure that the variety does not die out. Farmers have set up a Futami akakarashina farm at the only primary and middle schools in the area, and children are learning the importance of this traditional vegetable through farm work.
"In this area, every household had a small farm and was self-sufficient in food since wartime. It's called 'atai gua' in the Okinawan parlance, and sharing the crops produced there with neighbors prompts communication between people. Futami akakarashina is another vegetable that has been handed down through atai gua. We hope to continue to bring all of these traditions together as part of the local culture," says Fukada, and Ayumi Akiyama, who is in charge of sales.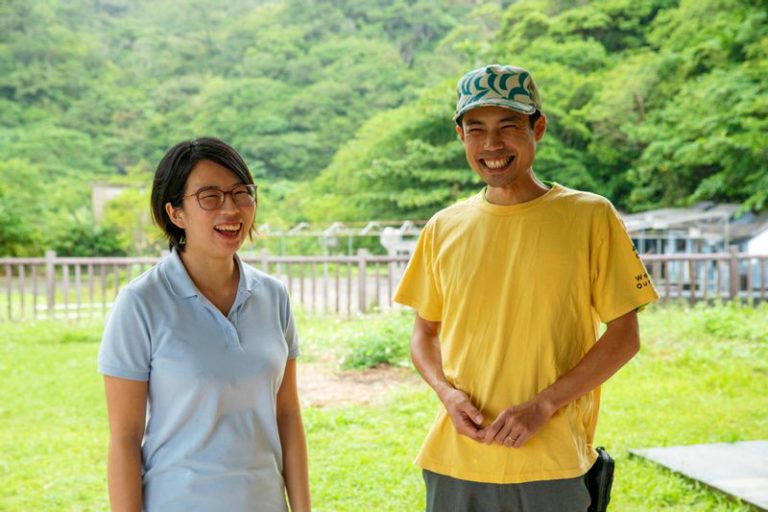 Hanapanchun Monogatari may serve as the storyteller for Futami akakarashina and the region.
 / 
Photographer
: MAKOTO TANAKA
*Some of the images posted on our website have been provided by those whom we inter-viewed.