SHUN CURATORS (May 2016)
I Want People to Experience Japanese "Farming Life"
― Everett Brown Photographer, Chief of the Japan Bureau of the European Pressphoto Agency, and Representative of Brown's Field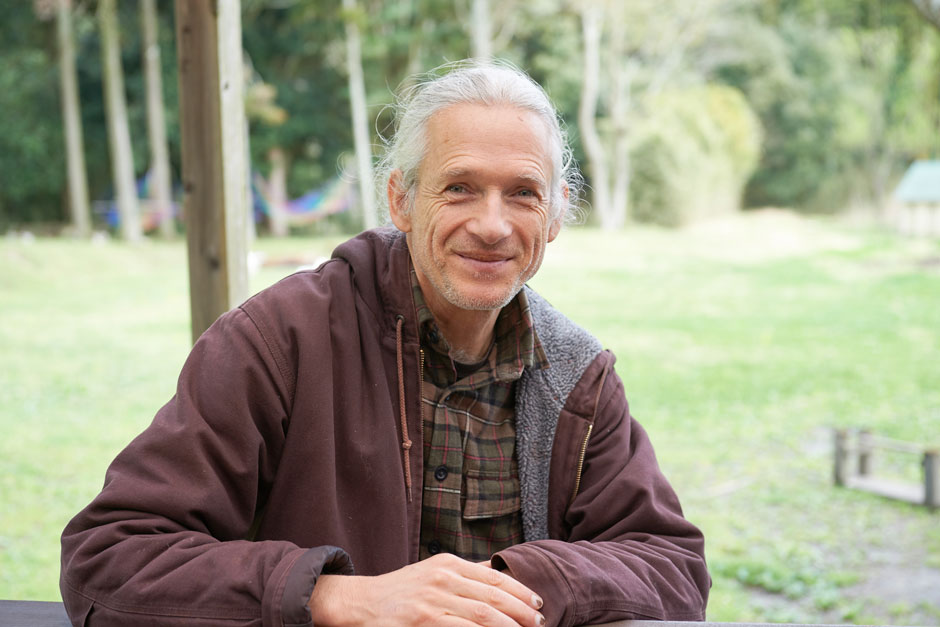 Everett Brown is a photographer who has spent many years photographing traditional Japanese customs, traveling extensively throughout the country. In 1999, he moved to Isumi City, Chiba Prefecture together with his wife, Deco Nakajima, a macrobiotic food researcher and now runs Brown's Field, promoting comfortable living based on long-established wisdom. What attractions of Japan fascinated him?
Brown's Field is a place where people meet, drawn by agriculture and food
What led you to start up Brown's Field in Isumi City?
This is where an acquaintance of mine used to live. That acquaintance had to move to China for business and was looking for someone to pass his house onto. When I came to take a look, there was a rice field right in front of an old Japanese-style house on a rare piece of land that was completely independent and surrounded by woodland. Furthermore, it was just 1.5 hours from Tokyo, and also close to the ocean and in contrast to Shonan, the roads don't even become crowded during the peak summer season. The beach is also not crowded, and you can walk along the shore by yourself in summer in the morning (laughs). That made me decide to move here. At first, it was just a normal house but people gradually came to gather here looking for links between food and nature. Therefore, it expanded into a space that became a cafe, inn and gallery. When I was living in Tokyo, I studied folklore and found that in Japan, Shintoism, festivals and annual events are all related to rice cultivation. I started thinking that I wouldn't be qualified to discuss Japan unless I engaged in farming myself and this also became a reason for my deciding to move to Isumi City. I felt that learning something by actual practice would be completely different to learning it from books.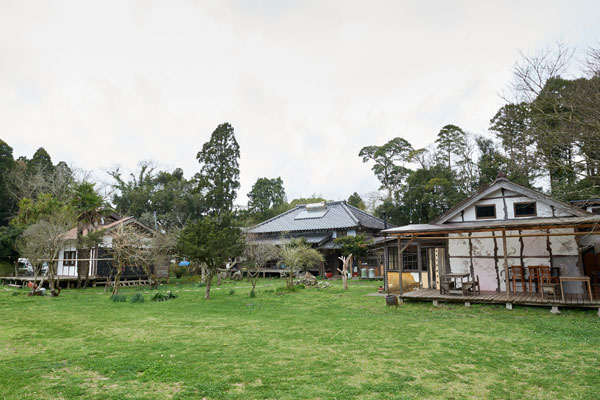 Interest in the food culture of Japan, a country known for the longevity of its people
What originally led you to become interested in Japan?
There are a lot of reasons… where should I start? (laughs). While attending university, I majored in cultural anthropology. During my 20s, I traveled to over 50 countries around the world and when I arrived in Japan, I felt that the place really suited me and enjoyed interacting with Japanese people. The culture is diverse, with the cutting-edge existing side by side with the traditional. I also became enamored with the food of Japan and Eastern medicine. In particular, there is the concept that food is the best medicine. As I was searching for the reason that Japan is known for the longevity of its people, I became interested in the food culture of Japan.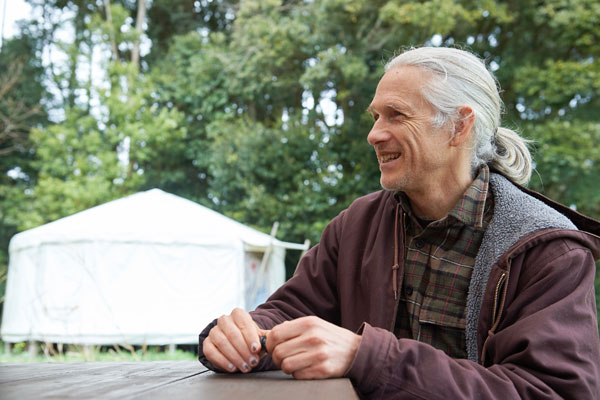 You have traveled throughout Japan. Of the many local delicacies that you have tasted, do you have any particular favorites?
A favorite food of mine is konnyaku. However, this has to be home-made konnyaku made from konnyaku potatoes. With home-made konnyaku, you can enjoy a deep flavor when it is eaten with just a little soy sauce. I also like houzuki (ground cherries). They are seasonal and just like an Eastern mystery, as a treasure is contained inside a crunchy skin. In fact, I think that they symbolize Japan, which has a culture of honne (real intentions) and tatemae (official stance). Japan also has a very deep culture of fermentation. I go traveling to eat fermented items and discover the typical terroir of each region and the state of fermentation that year. I like to go traveling to eat mellow-tasting narezushi (fermented sushi) that has been fermenting for 20 to 30 years and, in fall, I like to go as far as Akita Prefecture to eat gakko (pickled vegetables). In Japan, there is an extensive culture of fermentation which has developed together with the customs and history of each region. Therefore, going somewhere to eat the fermented items there can be an opportunity to learn about the culture of that place.
Rather than just tourist spots, I want people to also visit ordinary rural areas
More travelers are coming to visit Japan. What travel-related advice would you give such people?
I would tell them there are many restaurants in Japan where they can eat Italian food that is better than what they serve in Italy! (Laughs) There is a culture of craftsmanship in Japan and the concept of shuhari (the ideal master-disciple relationship in the tea ceremony and martial arts in Japan where training is shown in steps) is also evident in the world of cooking. Therefore, when training in cooking, you start by thoroughly copying the master and stealing his skills. Then, you incorporate other good elements and alter these skills to make them your own. This culture of craftsmanship means that when foreign cultures enter Japan, they are hybridized before being output again. I believe that this is a characteristic of Japan. Another thing that I want to communicate to travelers who come to Japan is that I want them to not only visit tourist spots, but also to go to more rural areas and experience farming life. Take your time eating food that is nourishing for the body, take a bath and then relax and go to sleep. At Brown's Field, we offer a popular program that allows people to have this sort of farming experience. Wouldn't it be nice if places at which people can experience farming life were to appear throughout Japan?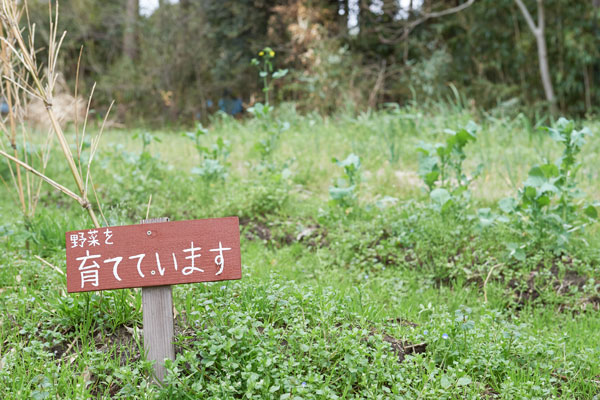 Are there any areas in Japan that you recommend?
This is difficult because there are so many places that I want to recommend (laughs). Recently, I like Nara, particularly the areas around Yagyu, Gojo, Yoshino and Tenkawa. I am very interested in the roots of Japan that can be seen in mythology. I believe that Japan is a melting pot of East Asian races. Although they say that Japan is racially homogenous, it is thought that people actually gradually crossed over from the continent from the mythical age and then became one race. The settlers who survived the long journey and arrived in Japan were both tough and lucky, bringing something new to the nation. What I would most like to see communicated is the fact the Japanese welcomed these people, united with them and accepted them as new blood.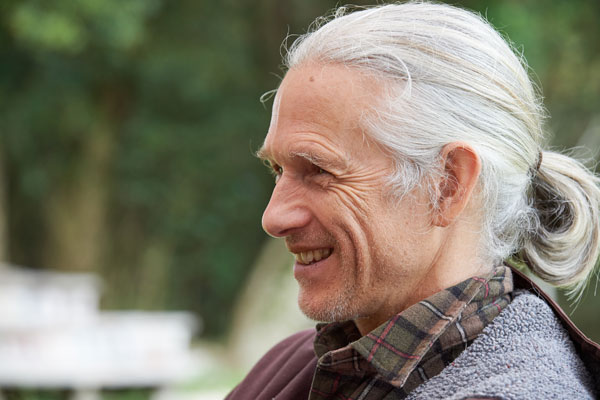 Finally, do you have any endeavors planned for the future?
In April, I established the NPO Kaisho Project. Kaisho refers to a study club and place. Kaisho were created at the end of the Heian period, when Japan was in great upheaval. At these places, various unrelated people gathered and engaged in cultural activities. The first gathering was said to be a gathering of haiku poets under cherry blossoms. In the Age of the Warring States, this concept was further established, with temples, shrines and samurai residences serving as kaisho. The Higashiyama culture, at the time of construction of ginkakuji, developed through gatherings at kaisho of people such as courtiers, priests, samurai families and ordinary citizens who varied in social standing but had shared sensibilities. In the world of plant seeds, when you continuously sow seeds that have been selectively bred, you actually return to the foundation seed after a number of generations. This is called a throwback. In modern Japanese society, don't you think exactly the same thing is happening? The younger generations are trying to get back to the foundation seed. Things that had withered are now being revived. In that sense, I believe that the revival of a kaisho in an old Japanese-style house is of high value. We consider a kaisho to be a unique Japanese way to meet people. We are starting these activities to use an old Japanese-style house to revive kaisho suited to this generation. I hope that the kaisho culture will spread throughout Japan in a number of years.