RECIPE (August 2016)
Spanish omelet with young Sendai soybeans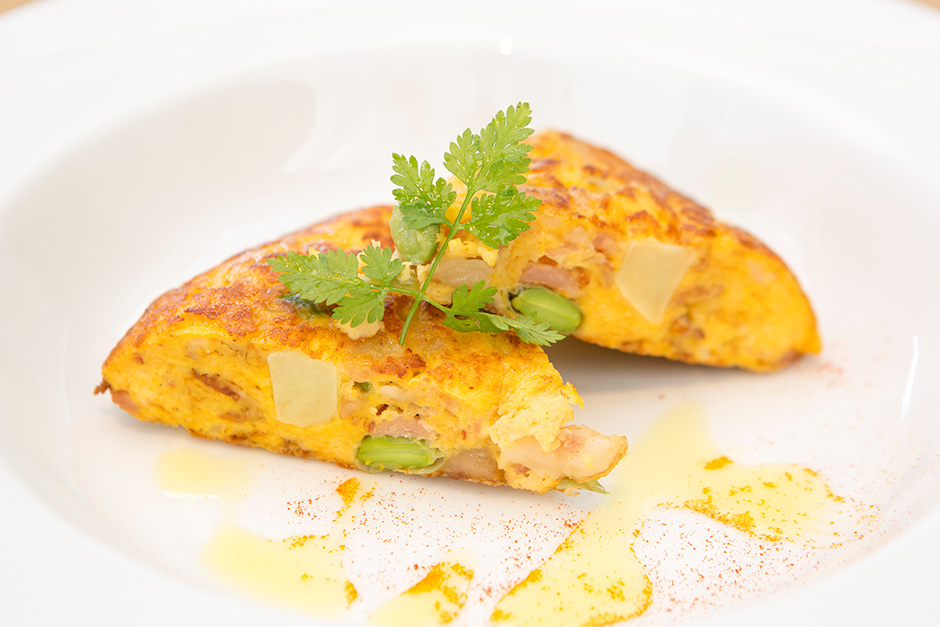 Spanish omelet with young Sendai soybeans
Ingredients (Serves: 4)
Young Sendai soybeans

50g

Bacon (block)

80g

Potatoes

80g

Eggs

4

Powdered cheese

As appropriate

Dashi (Japanese fish stock)

40cc

Olive oil

10cc
Directions
Boil the young Sendai soybeans for about 2 minutes.

Boil the potatoes, unpeeled, for about 30–40 minutes. When they are ready, peel them.

Cut the bacon and potatoes into 1 cm cubes.

Heat olive oil in a frying pan and lightly sauté the soybeans, bacon and potatoes.

Mix the ingredients sautéed in step 4 with the eggs, powdered cheese and dashi in a bowl.

Heat olive oil in a frying pan, put the mixture from step 5 and fry it on medium heat, making a round shape. Turn it over, and when the surface is fully fried, turn the heat low and keep frying until it is thoroughly heated to the middle.
A useful tips
The addition of dashi makes this a Japanese-style Spanish omelet. Kitaakari potatoes are recommended, because they are rich in starch and have a smooth texture. When it is ready to serve, cut it like cake and serve it with ketchup and other sauces of your choice. You can of course enjoy it as is, to enjoy the rich taste of the young Sendai soybeans.
Recipe from : Koishikawa Terrace