【AREA_PR】THE ROOTS OF SHUN (December 2020)
Authentic Shochu of Tokyo's Islands is Imbued with Their Landscape and People
Tokyo Islands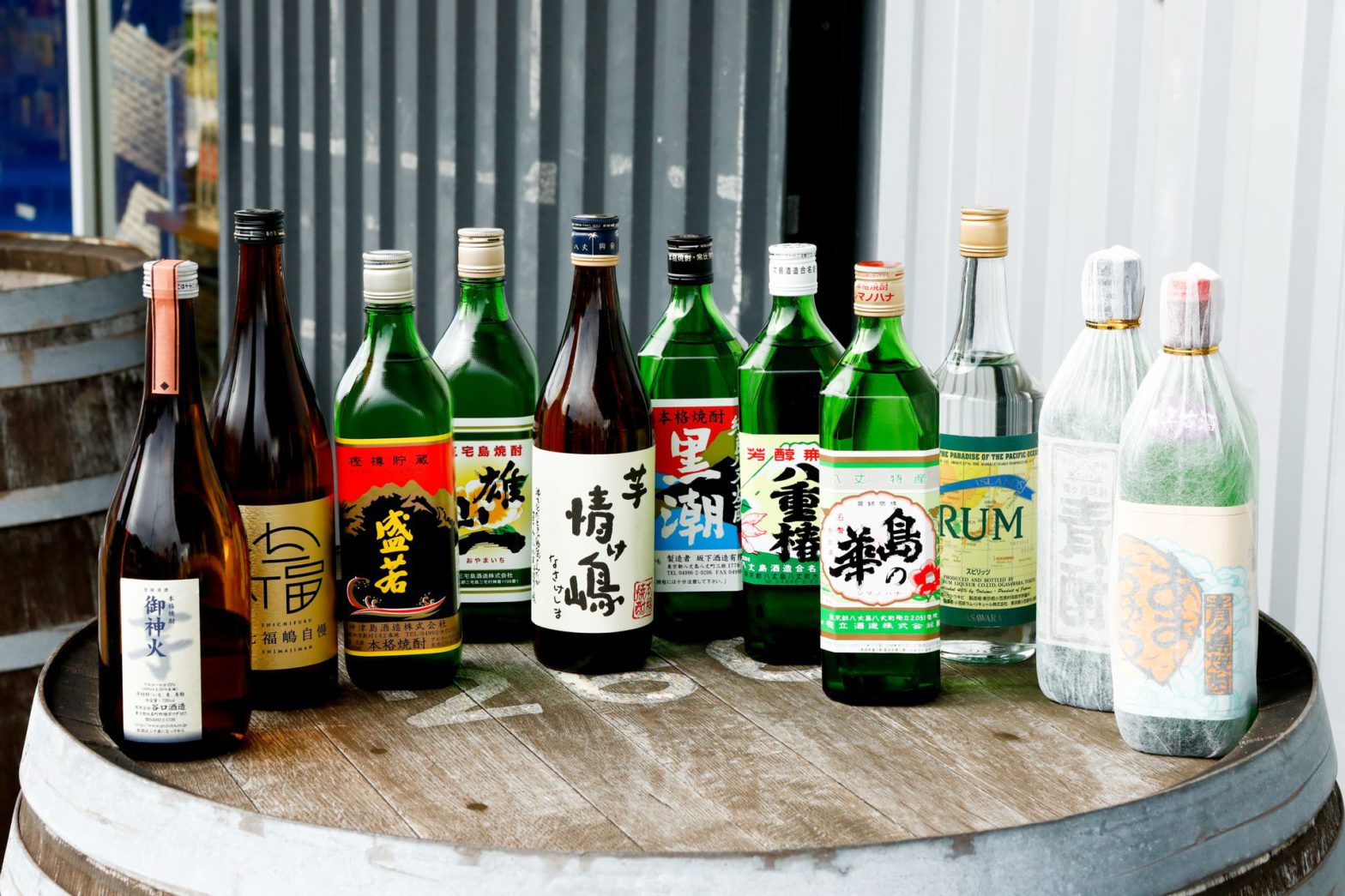 (Month information was collected: October 2020)
The Tokyo Islands are comprised of 219 islets of all sizes dotted across the approximately 2,000-kilometer expanse of the sea south of mainland Tokyo. Shochu-making has been well-established on the islands from a long time ago, and each island has developed a unique culture. In recent years, Tokyo shimazake (island shochu) is celebrated as phantom shochu due to its rarity and distinctive tastes, attracting increasing attention from outside the islands. We visited Hachijo-jima regarded as the birthplaces of shimazake, and Nii-jima, where an ambitious distiller has been making new attempts,to delve into its allure and history.
Shochu-making was passed down from an exile from Kyushu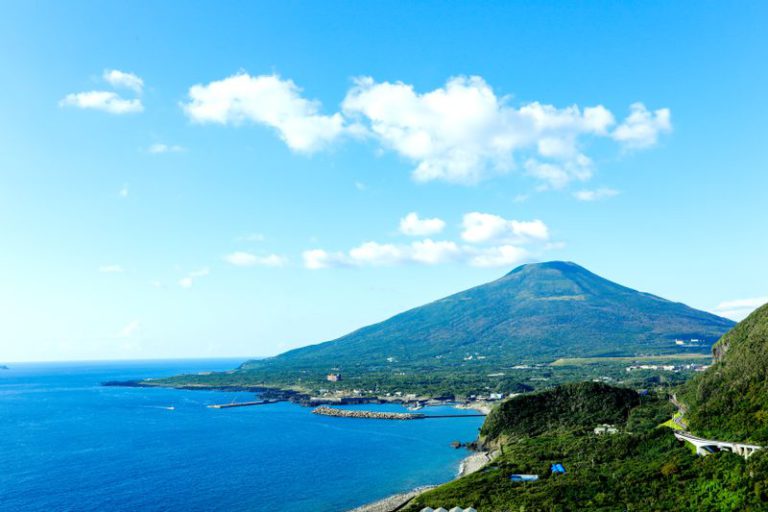 Hachijo-jima is situated in the south of the Izu Islands, about 280 kilometers southeast of mainland Tokyo. The island is flanked by two volcanic mountains, Hachijo Fuji and Miharayama, and is about 69 kilometers in circumference. Approximately 7,500 people live on the land, which is about the same size as the area inside the JR Yamanote Line in Tokyo. It has a temperate climate with a yearly average temperature of 18 degrees Celsius due to the volcanos and warm Japan Current. Agriculture, inshore fishing, and tourism form the basis of the islands' industries.
It is said that shochu-making began in 1853 on Hachijo-jima. It started in the Edo period (1603–1868) when a merchant named Shoemon Tanso from Kagoshima was exiled to Hachijo-jima for engaging in illegal trade with Ryukyu. Learning that the island is richly cultivated with sweet potatoes, perfect for growing in the volcanic soil peculiar to the Izu Islands, Tanso told the islanders that the potatoes were used to make sake in Kyushu. It is believed that Tanso ordered distilling equipment from his hometown and taught the islanders how to make shochu.
Shochu-making techniques spread to the other islets of the Izu Islands and built the history of shimazake. Various distillers on each island produce unique shochu these days, and Tokyo's shimazake, including the extremely rare Aochu made in Aogashima, have started attracting attention.
Shochu like no other, distilled with the island's bounty contained in wheat malt.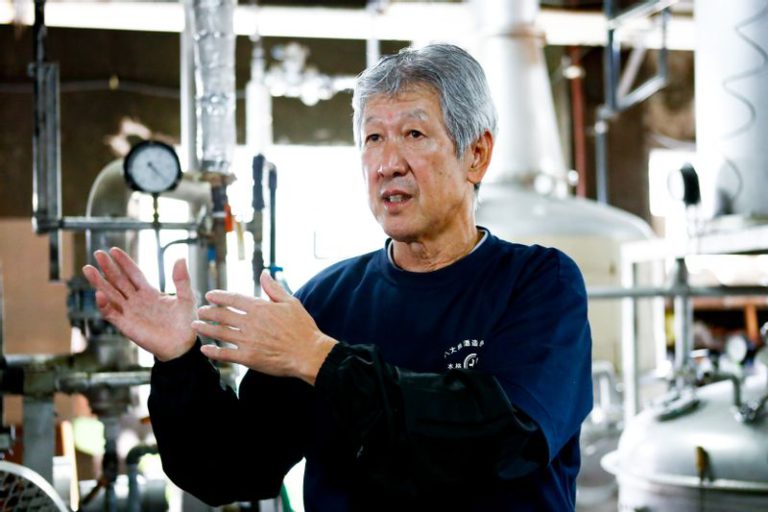 Hachijo-jima has four active shochu distillers today. The oldest is Hachijo-jima Shuzo, with a proud history of over 100 years.
"Shimazake is profoundly intertwined with island life. Since days of old, the islanders have had a custom of drinking together at home, whenever they met for celebrations, and so on, and shochu is an vital part of it. It was such a part of life that every home even had its shochu jars used to buy shochu by weight until recently. Shimazake's origin goes back to the shochu the islanders drank daily."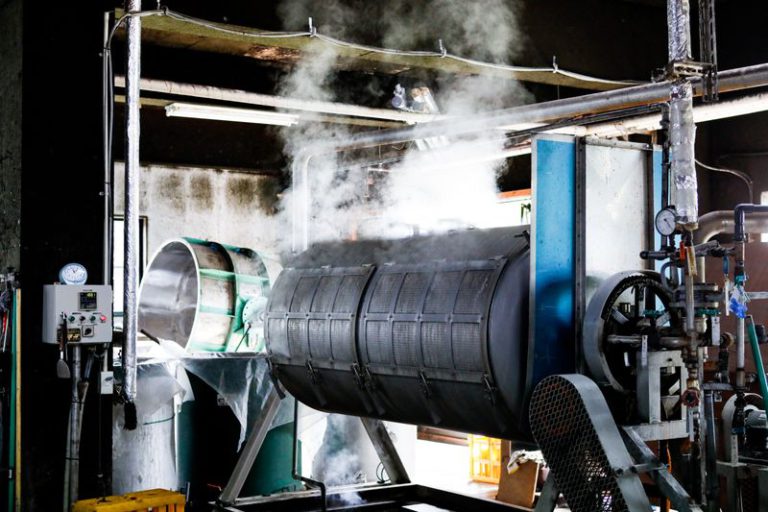 Kiyomitsu Okuyama, the third head of the Hachijo-jima Shuzo, welcomed us with this story. The distillery produces four varieties of shochu, including a brand with a different potato and barley blend ratio, besides its flagship potato shochu brand, Yaetsubaki. Even today, every process involves meticulous manual work using age-old methods.
Okuyama is particular about the potato and water, the main ingredients used in making shochu above all. He sticks to using sweet potato varieties grown in Hachijo-jima, such as Koganesengan and purple sweet potato. He also uses the red sweet potatoes grown on his farm right next to the distillery.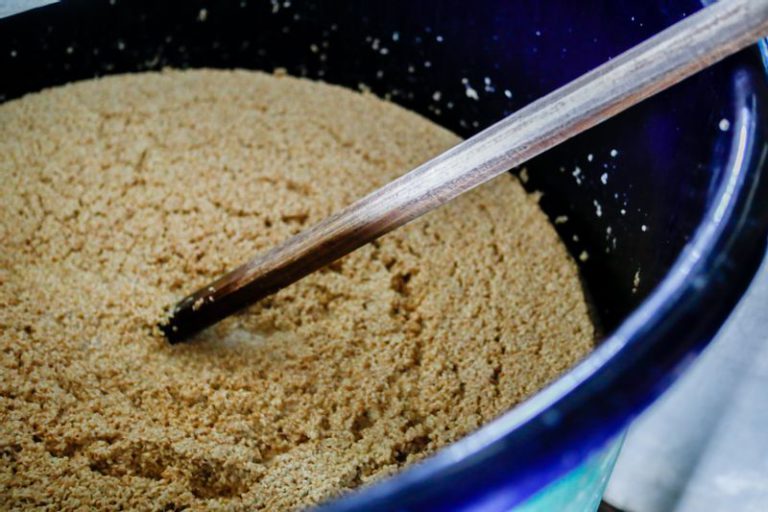 Okuyama says that since the land flanked by Hachijo Fuji and Miharayama mountains is surrounded by the sea on all sides and receives an abundance of minerals from the sea, the sweet potatoes grown are packed with nutrients and have intense flavors. The potatoes used in distillation are carefully handpicked. This is because the high humidity on the island makes the potatoes susceptible to bacterial growth. Having even a small amount of damaged potatoes in the mix will cause the shochu to develop an unfavorable taste.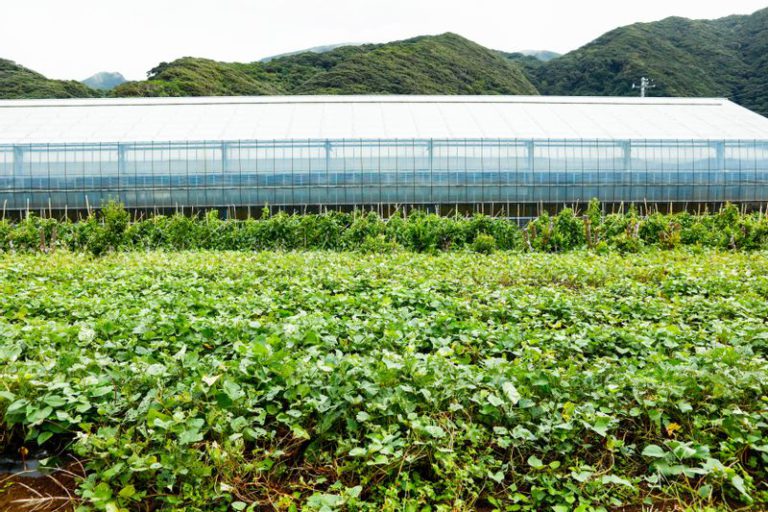 The decisive difference with Kyushu's shochu-making is the use of wheat malt as the base. Sweet potato shochu is generally made with rice malt, but since rice was precious on the island, the tradition has been to use wheat malt as a substitute.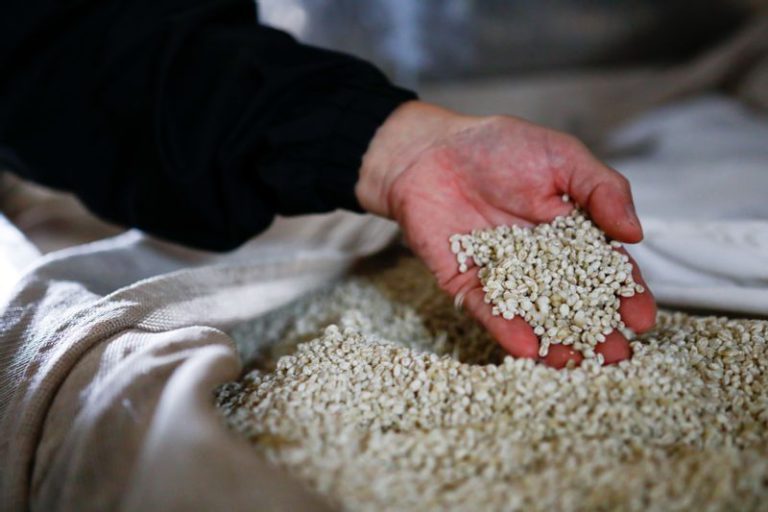 "The shochu thoroughly presents the beauty of Hachijo-jima's sweet potatoes while providing a fresh and easy-to-drink mouthfeel because we use wheat malt. The great thing about shimazake is that it is easy to drink while still being unique."
While the number of distilleries on the island, six, has decreased due to depopulation and lack of successors, Okumura is actively engaged in new efforts, including increasing the number of brands.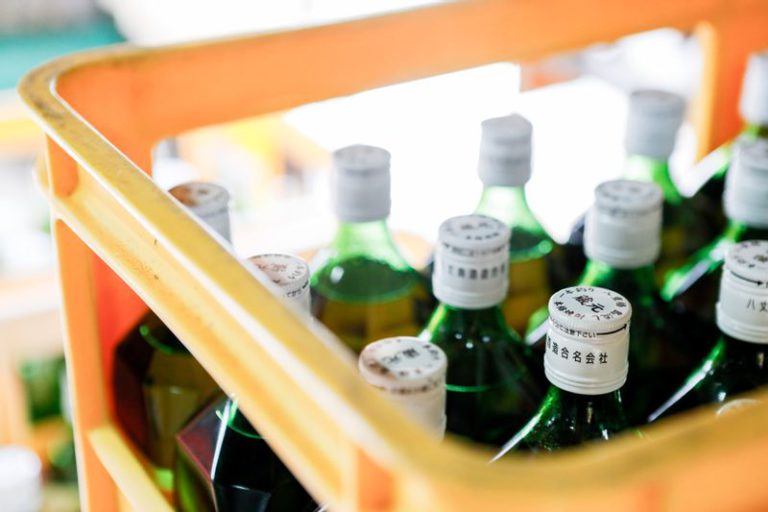 Today, his son Musashi is training in shochu-making as the successor. Musashi was born on the island but had left the island in his teens to become a J League soccer player. He says he became aware of shimazake's potential again after living off the island.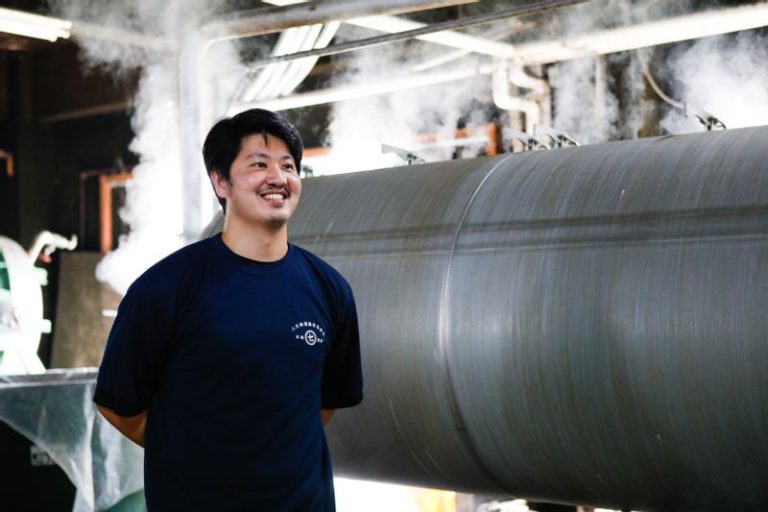 Musashi spoke with great confidence, noting, "Compared with Kyushu's shochu, shimazake does not have a lot of peculiarities, in a good way, so I think they is something that can be enjoyed daily. What makes shimazake unique is that you can never tire of drinking it every day. We're developing a new project to allow the younger generation catch on to the allure of shimazake, so watch this space."
A small, yet game-changing distiller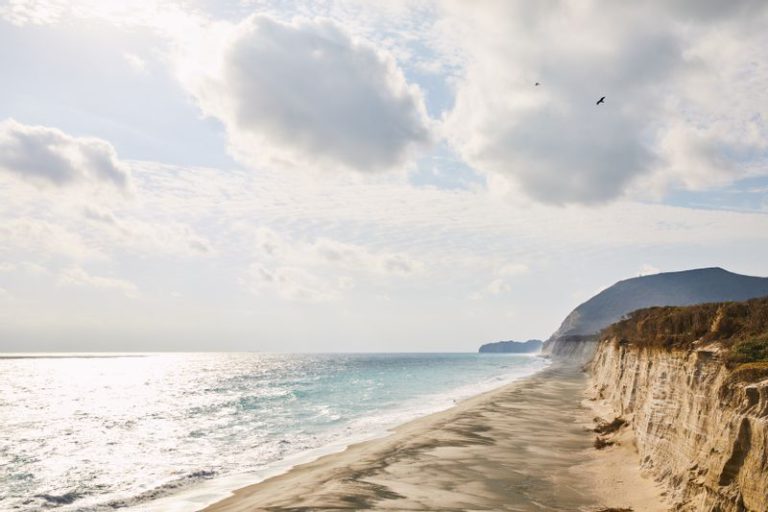 Shochu-making is very much alive in Nii-jima, situated right at the center of the Izu Islands. Miyahara Inc., founded in 1926, is the one and only distiller on Nii-jima with a population of about 2,000. It produces six shochu varieties, wheat and rice, and its signature sweet potato shochu Shimajiman, a common sight in restaurants and taverns on the island.
Atsushi Miyahara represents the distillery as the third head. He ran the business with his mother when he took over from his predecessor. However, beginning about ten years ago, Miyahara has been in charge of every production process alone, including preparation, distillation, bottling and labeling. Although one employee has now joined him, he is sticking to small-volume manual production.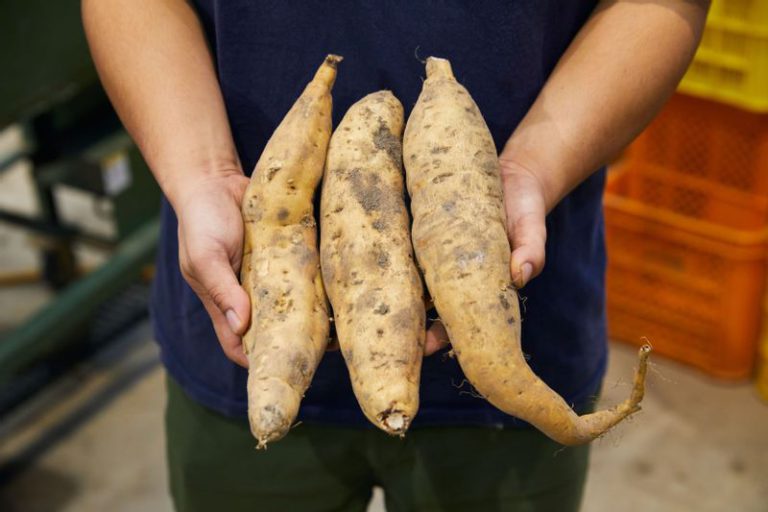 While consumption on the island has dwindled in recent years, Miyahara has been committed to promoting shimazake outside of the island more than ever, setting his sights on the future of the entire shimazake culture, and engaging in activities of the Tokyo Seven Islands Distillers Association, comprised of distillers on the Tokyo Islands.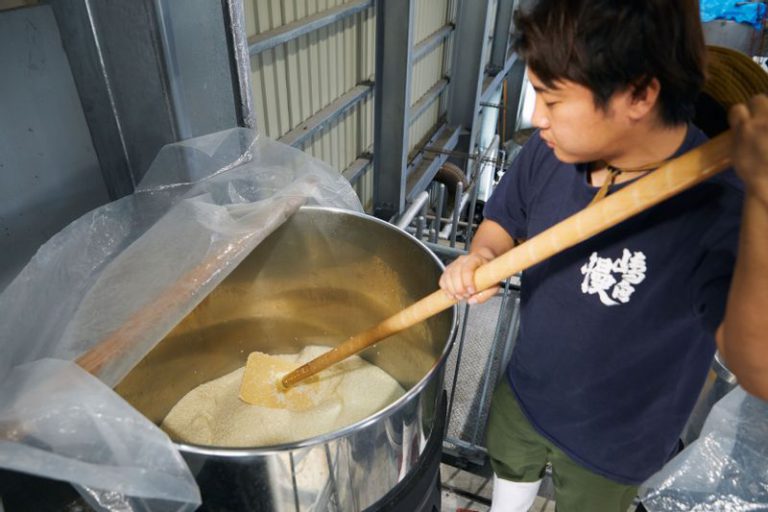 "Shimazake with a refreshing taste, has the advantage of being enjoyable throughout the year, on any occasion, be it on the rocks, with hot water, with water or soda. I think shimazake will become more interesting as each distiller is small and very independent-minded and is actively engaged in experimental shochu-making," said Miyahara.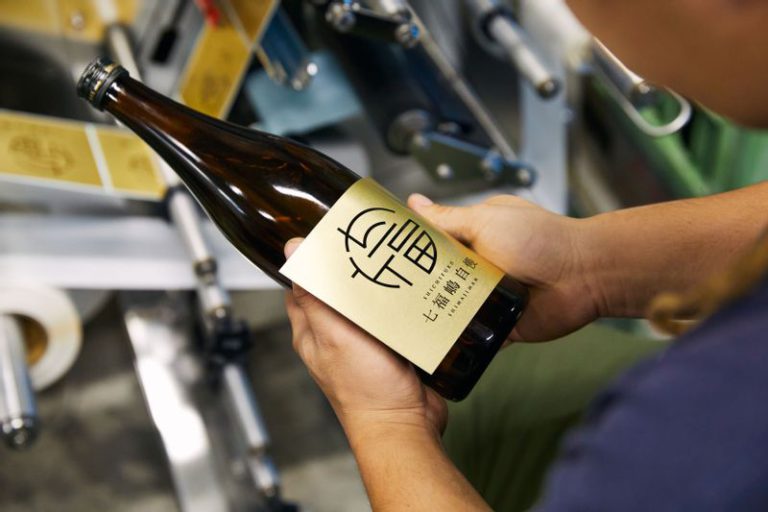 Miyahara Inc. is also voraciously pursuing shimazake's new possibilities, developing and shipping unfiltered shochu to maximize the raw ingredients' umami, where shochu is usually filtered in the final stage to remove excess oils and impurities.
Shimazake that weave rich, varied stories are treasure troves of potential.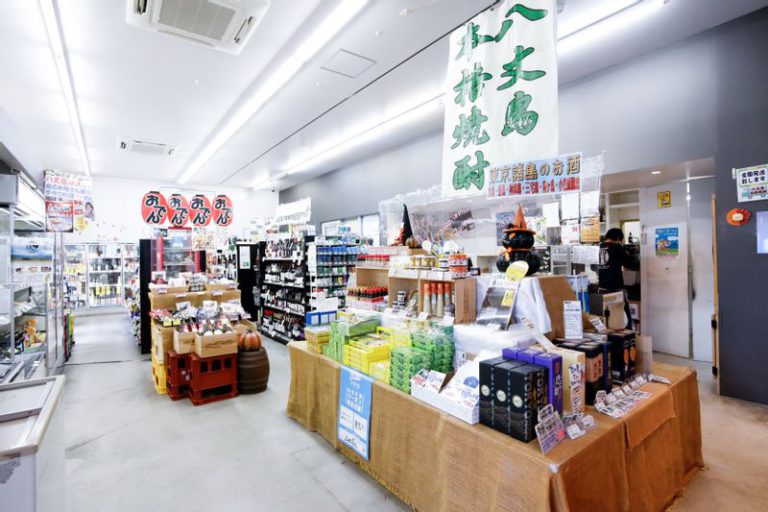 Yamadaya is a liquor store on Hachijo-jima, which has been informing the outside world of the value of shimazake from a perspective that is different from the distillers. With an endless stream of islanders and tourists, the bustling shop carries a diverse selection, including natural wines and craft beers made by small-scale producers and highly niche liquors, besides leading manufacturers' products, which is rare for an island liquor store.
Naturally, its main staple is shimazake. Customers can buy nearly every shimazake brand made on the Izu and Ogasawara islands, from the local Hachijo-jima to Aogashima. The owner, Tatsuhito Yamada, kindly explained each shochu's flavor and the appealing aspects shimazake, including the producers' personality, the distillers' commitment, their histories and their backgrounds.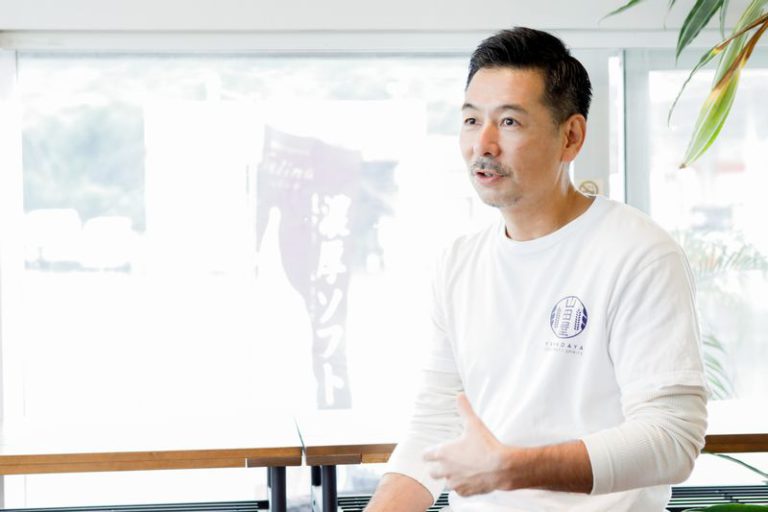 Yamada, who's from Hachijo-jima, worked several years for a leading beer manufacturer in Tokyo after graduating from a vocational school and took over his family's liquor store. Yamada said that he initially focused on natural wines, which he had enjoyed back then, but gradually came to realize the value of the local shochu as he developed relations with overseas producers.
"French wine producers always boast about their local environments instead of their wines. They say that they convert the beauty of the environment into wine. The realization that the same applied to shimazake jolted me. I realized that I had not paid attention to shimazake at all, despite living right next to it."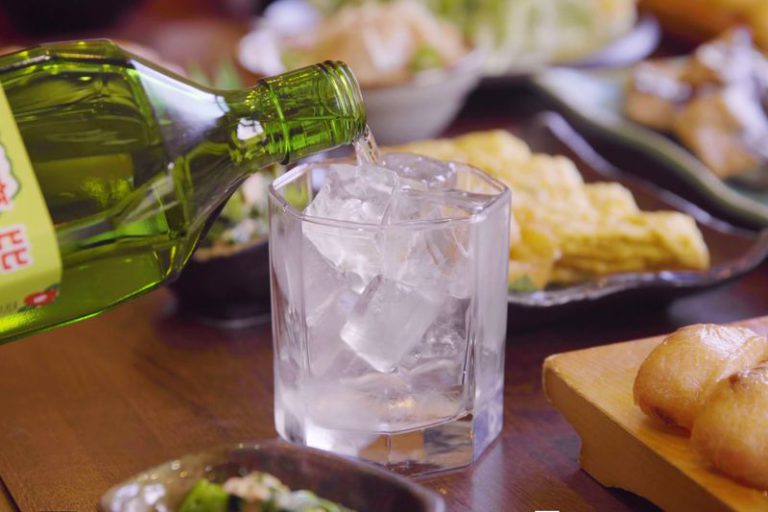 Yamada now devotes himself as the missionary to conveying the allure of shimazake more passionately than anyone else. He supports shimazake culture in tandem with the distilleries, approaches restaurants and bars, participates in events and consistently shares feedback with producers about tastes and price ranges from customers in the city.
"Shimazake is delicious, of course, but also has a unique history, embodies the islands' environments, has unique producers, and has stories similar to natural wines and craft beers that compel many people to support it. I'm certain people will come to love shimazake just as I do," said Yamada.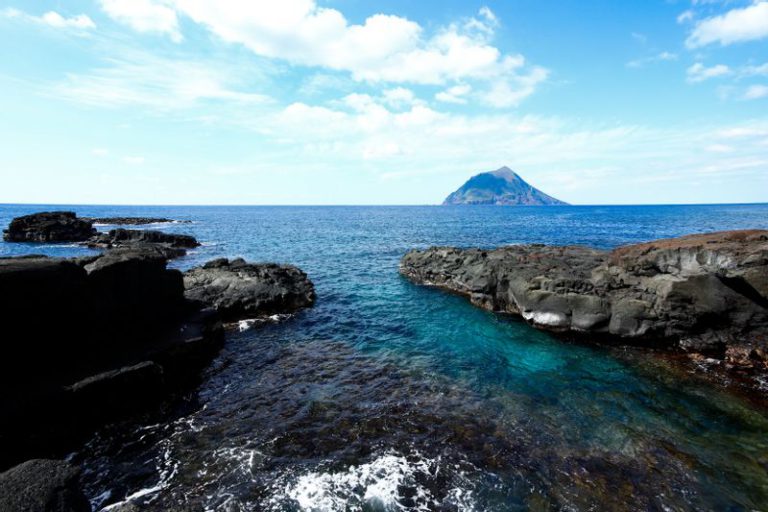 Once upon a time, shochu-making was unexpectedly introduced to the islands through an exile and has woven a history that dates back nearly 170 years. Shochu-makers have steadfastly carried on the tradition by putting their heads together and coming up with ideas in natural surroundings unique to the Japanese archipelago. The unique shochu culture that evokes the islands' landscapes and the producers' faces when you take a sip will undoubtedly continue to create new cultures.
Tokyo's highly individual shimazake. If you have not had it before, try its unique and rich flavors as you imagine the islands' landscapes.
 / 
Photographer
: SHIOMI KITAURA / KOJI TSUCHIYA