THE POWER OF SHUN (December 2016)
Revival of Game Meat as a Food Option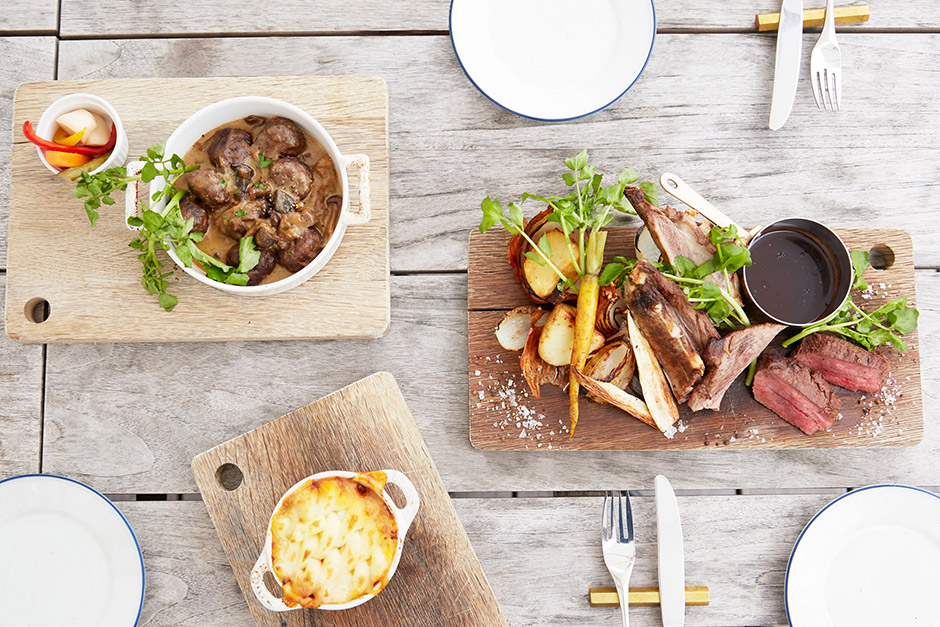 Gibier, a French word meaning "meat from hunted wild animals."

Game meat has been popular in Japan since ancient times, with examples being botan stew, made using boar meat, and momiji stew, made using deer meat. After the Meiji period (1868–1912), meat from livestock like beef and pork quickly diffused throughout the country, driving game meat away from Japanese dinner tables for a long time. Only recently have people, including athletes, started to voice support for game meat as a healthy, high-protein and low-calorie food.

There are also more restaurants serving gibier dishes lately, as well as game meat in cans and retort-pouches for home use, making gibier a familiar presence once again.
The appeal of meat from game that has lived in nature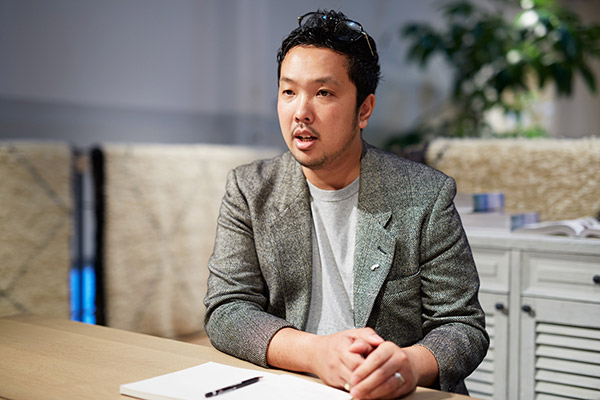 SOHOLM, a restaurant in Tennozu, Tokyo, serves carefully cooked gibier dishes throughout the year and is busy with many customers every day.
"The greatest thing about gibier is that deer and boar are full of energy. They grow really healthily because they only eat tasty things from nature like mushrooms and acorns. They only have half the calories of beef and pork, and they are also a rich source of iron.
They are very good for you," says Shota Kawai, the manager of SOHOLM. He has put his heart into gibier; he has even obtained a hunting license.
Gibier is generally said to be in their prime in the autumn and winter seasons, but this is largely because regulation states that the hunting season starts in November and ends in March. Nowadays, hunting is allowed throughout the year in order to prevent damage to forests and agriculture by deer and boar, which have overpopulated the land. This has changed people's perception of when gibier is in season.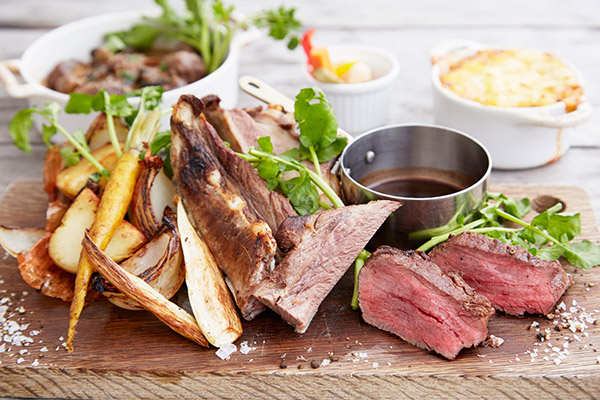 "Deer is lean in autumn and winter—it has little fat, so it is a good time to enjoy their red meat. In the summer, their ribs store up a lot of fat so the fatty meat is delicious. Male deer train their bodies and eat a lot towards the breeding season in the summer so they can attract females; this makes them fat in the summer. Boar is the opposite. They eat a lot just before the winter, when food is scarce, so they become fattier in autumn and winter and slimmer in the summer. For botan stew, winter boar meat is better because the stew goes well with fat. Gibier is great because it can be enjoyed in a variety of ways, because the meat quality varies depending on the season and so do the ways they are cooked: you can grill them, simmer them, or use them in a stew and enjoy them in many ways."
Kawai says people tend to think of gibier as a premium ingredient, but he wants people to enjoy it more casually.
"In France, where gibier is a regular food, people recognize it as a safe ingredient because the game meat, fresh from the hunting ground, is processed right before their eyes and that nurtured the culture for people to eat it regularly. I would like to promote the benefits of gibier here in Japan, so that people will choose deer and boar just like they would beef, pork or chicken."
Gibier can be easily enjoyed at home
Several tens of thousand boar and deer are hunted each year to prevent damage to forests and agriculture, but only a small percentile of them are used as edible meat. Recently however, more attempts are being made to use gibier in new ways, developing products and using them as local resources, making gibier a closer presence to people. Here are some examples.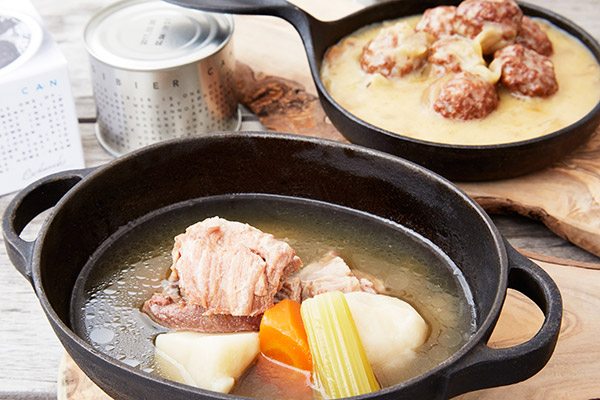 ・"GIBIER CAN" by SOHOLM: Hokkaido and Shimane
"I do not want gibier to be a passing trend and I want people to enjoy them regularly at home"—GIBIER CAN, canned gibier, is the fruit of Kawai's passion. Kawai paid the most attention to making region-based products. This product features meats from Hokkaido and Shimane and everything is done locally: the design of the packaging, cooking and canning of the meat, even labelling on the can. Of course, attention was also placed on flavor and the product offers a restaurant taste at home, with meat pot-au-feu and deer frikadeller (meat balls).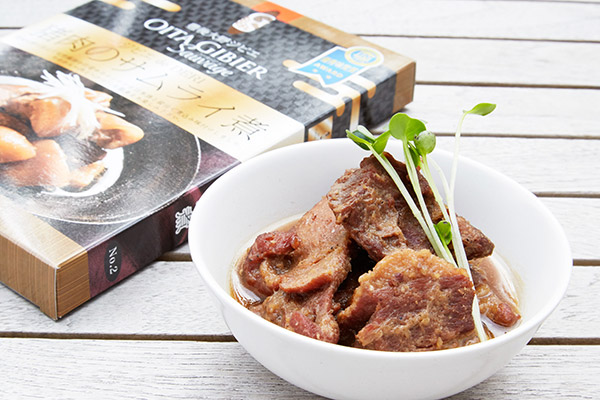 ・"Boat meat samurai stew" by Narumi: Oita Prefecture
Boat meat samurai stew comes in a retort pouch and is made by Narumi, a local processed food manufacturer from Oita who delivers the prefecture's food and food culture all across Japan. This stew conveys the wish of Narumi's president, Tomomi Iwakiri: to have boar meat from the local region of Oita that people can casually enjoy. The boar meat is cooked with a sweet and salty flavor using sake, authentically brewed soy sauce and sugar. It is very tender and can be enjoyed in many ways: with rice, as a snack with alcohol, or as a topping for salad and pasta.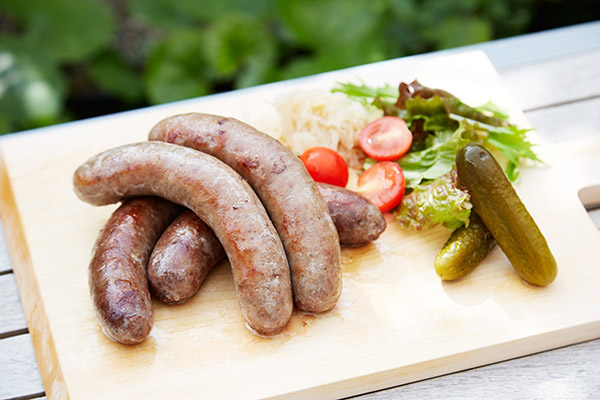 ・ "Sausage of Sauvage" by Morimori: Shizuoka Prefecture
"Sausage of Sauvage" are gibier sausages using deer and boar meat, made by Morimori, a game meat processor in Minami Izu, Shizuoka. President Rikio Kuroda, who is a hunter himself, deals with wild animals while protecting the forests. He does not use easily marketable parts of the animal, like cuts from the loin or other well-known locations, to make his sausages, with the belief that the life of the animals that have been killed should not be wasted. The sausages can be enjoyed simply boiled and grilled until golden brown, or as an ingredient in pot-au-feu or bouillabaisse.
Wholesalers support gibier cuisine
Apparently, it is the wholesalers (meat sellers) who played part in the birth of many different gibier products, including those for home consumption. They have a vital role in connecting the producers (hunters) to the consumer.
Hirosuke Kono of Chinzeiya, a meat seller from Oita Prefecture in whom SOHOLM's Kawai places great trust, says "I know every detail of how, when and by whom an animal has been hunted and processed."
Usually, animals from hunters are taken to a meat processing facility, butchered and handed over to meat sellers before distribution. Just like any other food, hunted meat requires that it can be traced to its source and thorough management of this information guarantees that the meat is safe for consumption.
Kono also runs a meat processing facility and he holds lectures for members of hunting associations. These lectures teach the appropriate way to hunt and kill animals if the meat is to be used for consumption, so that the hunters can bring in meat equipped with the correct knowledge.
Kono also holds lectures about hygiene control and techniques of butchering meat for other meat processing facilities, to improve the overall quality of game meat.
Without wholesalers like Kono, who take on many responsibilities to deliver safe and tasty game meat to consumers, the Japanese gibier cuisine of today would not have been possible.
Using gibier to think about the future of forests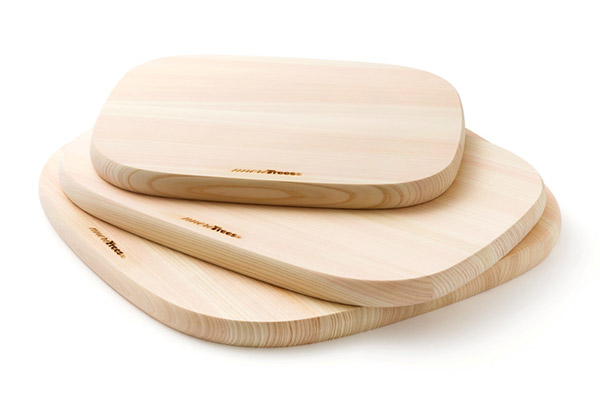 Kawai travels across Japan on a daily basis to promote gibier cuisine in regions suffering from damage caused to agricultural products by the overpopulation of wild animals.
This year, he started a new project called wildlife management. The project aims to not only limit itself to eating gibier, but to utilize and circulate all the gifts from the forests in daily life. As part of the project, wooden plates made using wood from forest thinning are being used at SOHOLM, and aprons made with deer leather are being marketed.
The thing that Kawai draws ideas from is the lives of hunters called Matagi.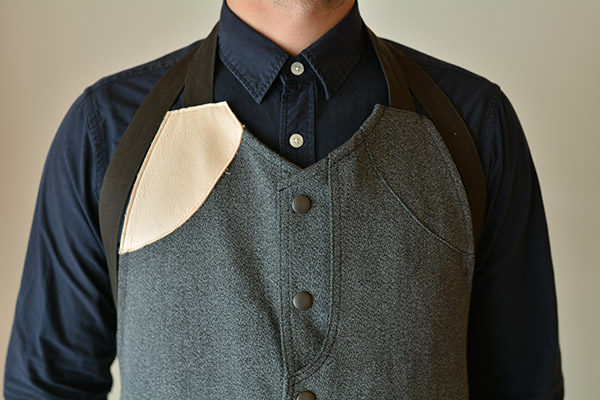 "The reason why there are too many deer and boar is because people stopped going into the mountains, which in turn made the forests barren. In olden days these Matagi went into the mountains regularly not just to hunt, but they chopped wood for charcoal and firewood, they also maintained the trails through the woods, and preserved the forests."
Gibier is also one of the gifts from the forests. If we make gibier part of our daily lives instead of letting it be a passing trend, it will help preserve forests as well. Gibier is not just a tasty and healthy food. It is also an educational tool that makes us think about the future of forests.
 / 
Photographer
: CHIZU TAKAKURA