THE ROOTS OF SHUN (April 2016)
Enshu Fruits that Improve in Storage
Enshu Region, Shizuoka Prefecture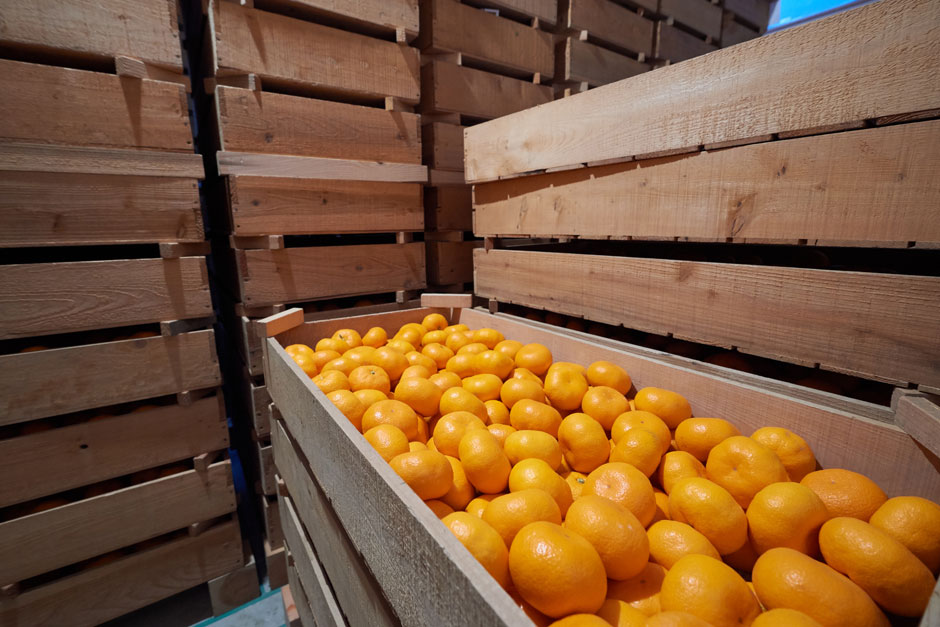 (Month information was collected: February 2016)
Situated in western Shizuoka, which is famous for Lake Hamana and Tenryu River, this so-called Enshu region has many producers who grow quality fruits because of the long hours of sunshine and warm weather. We met with producers of kiwi and mandarin oranges?fruits in which Enshu takes great in?and had a peek into their thoughts and persistence in growing these fruits.
Japan's largest kiwi plantation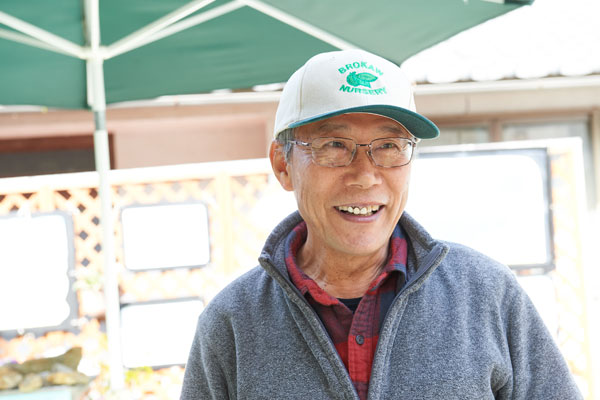 One of Japan's largest kiwi farms, "Kiwi Fruit Country Japan" is located in Kakegawa. In its vast amount of land, which totals around 10 hectares (equivalent to about three baseball fields), a hands-on farming experience, cooking classes and hands-on learning areas in which visitors can interact with animals such as chickens and goats are available at this farm in addition to growing kiwi and carrying out research.
Masatoshi Hirano, the farm's representative, welcomed us. Hirano is known as the leading authority for growing kiwi in Japan.
"This region is suitable for growing kiwi because each season is distinctive and it has a mild climate. It's the perfect place considering that kiwis need to thoroughly chill during the winter," he told us.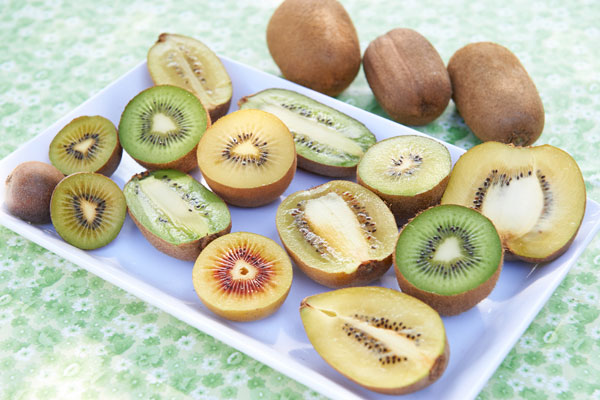 Kiwis are said to require 200 hours of being in an environment under 5oC during the winter to have the trees sufficiently rest to fully bloom in the spring. The fruit also becomes tastier as a result.
In addition to the most popular type of kiwi, Hayward, that has a good balance of acidity and sweetness, Hirano grows several other types of kiwis, including Apple Kiwi, shaped like an apple, the long and narrow sausage-shaped Bruno and Golden Yellow with a distinctly vivid yellow color. The fruits' tastes in terms of acidity and sweetness vary greatly together with their appearance, and it is notably fun to sample and compare each type's distinctive traits.
The dream of making kiwi's allure more widely known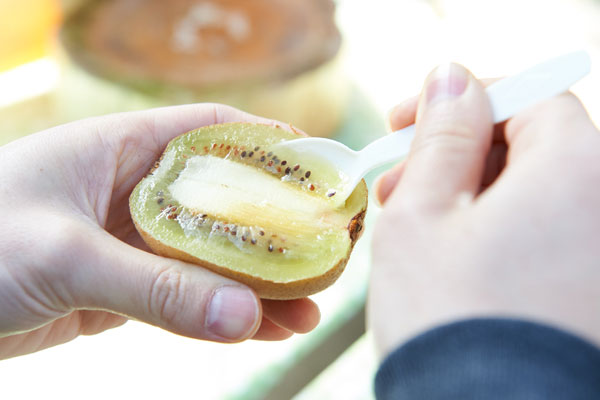 During the 1970s, when kiwis were not well known by the public in Japan, Hirano first came across the fruit during his stay in California to study farming. He then received one teaspoon of kiwi seeds in 1976 so that he could spread kiwi to Japan, and four years later?in 1980?he opened a large kiwi farm in Kakegawa.
"I honestly felt the kiwi to be too strange for a fruit when I first saw it because it was grey and hairy on the outside. But the inside was shining with a beautiful emerald green color when I cut it, and loved the concentrated acidity and sweetness when I tasted it. I was very impressed with the contrast that the kiwi presented," he said in retrospect.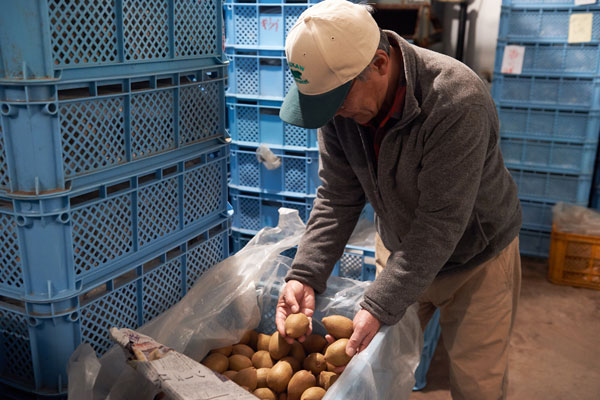 Since opening the farm, Hirano has continued growing kiwis with the same dream of presenting kiwis' delicious taste to as many people as possible. One of his ways for achieving this is to store the fruit.
Although kiwi's harvest season is short and normally between October and November, Hirano leverages his years of experience with kiwis and appropriately stores them so that their natural taste is always preserved when delivered.
When we visited, the warehouse that stores massive amounts of kiwi by type accurately controlled the environment with a thermometer and hygrometer.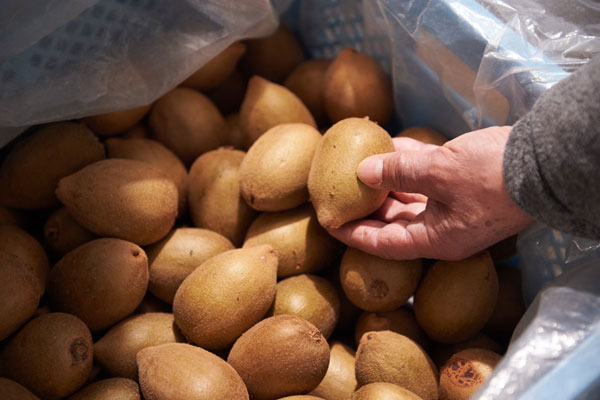 "The key is to rapidly freeze the kiwis within two hours after they are harvested to preserve their 'seasonal' conditions. Their taste will last longer by decreasing the temperature of the fruit itself. I'll run to save them if there is even the slightest hint that the temperature is unusual."
Kiwis' natural taste is delivered to many people through such painstaking management. The sky is the limit for Hirano's devotion towards kiwi, and his pursuit for taste will most likely never end.
Mikkabi, one of Japan's representative growing areas for mikans (mandarin oranges)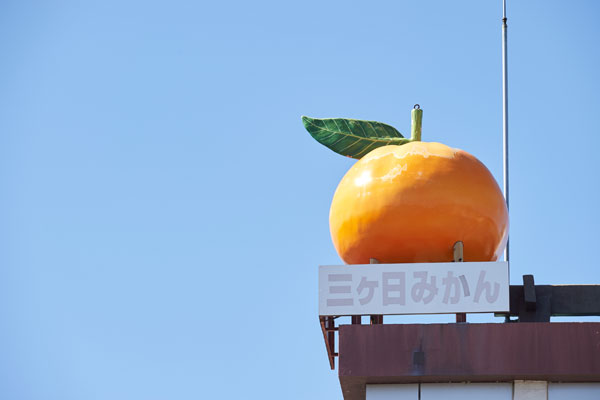 Mikkabi is located in the northern coastal area of Lake Hamana, and the whole area produces mandarin oranges and is surrounded with the fruit's fields. The mandarin oranges harvested here are called Mikkabi mikans, and are highly regarded for their characteristic juicy sweetness and good balance of sugar content and acidity.
With continuous hilly areas, Mikkabi is the perfect place for growing mikans due to its warm annual average temperature of 16oC and an intense amount of solar radiation for southern slopes. The barren land's good drainage and small amount of nutrients also contribute in that they prevent trees and branches from growing so that the fruit can store its sugar content.
In addition, the area's proprietary quality control techniques for storage are also significant together with its natural environment to make up Mikkabi mikan's delicious taste."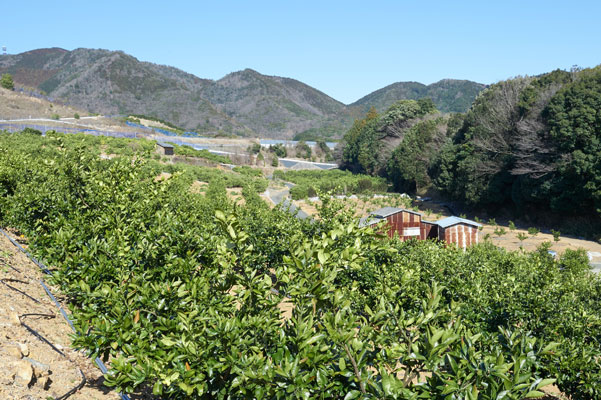 Mikkabi mikan's harvest normally takes place between October and December, but since they have so much moisture and are easily bruised they will have a short shelf life if immediately shipped. Therefore, citrus fruit goes through a process known as yoso, where it is exposed to the wind for a certain amount of time to decrease the moisture level. The skin is tightened through this process and becomes more durable overall so that mikans won't be easily damaged during storage and distribution.
Mikkabi mikans are generally classified as Wase or Aoshima, and Aoshima is particularly popular in that its skin is thick and good for long-term storage to achieve a particularly strong sweet taste.
The producer's inquisitiveness to create the Mikkabi mikan brand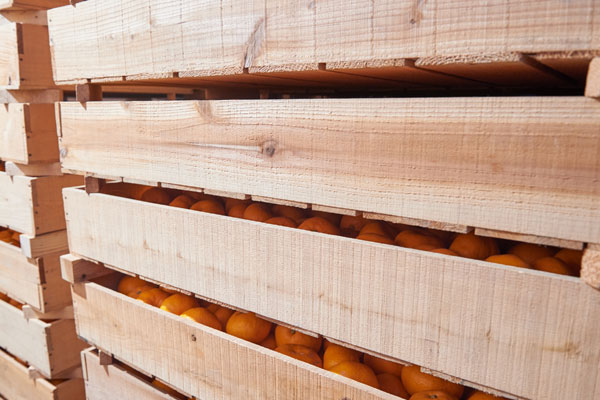 In order to learn more about the storage of the fruit, we visited Yoshimune Takahashi, a producer. When he showed us the storage area, the Homare brand of mikans that has a particularly long aging process among Aoshima mikans and is scheduled to ship in March were being stored.
The mikans are shoved into wooden boxes known as logi boxes that are 10 cm thick, with the boxes piled on top of each other for storage. Shallow wooden boxes are apparently being used because stacking them in deep boxes may cause squishing for the ones at the bottom. The optimal room temperature for storage is between 5oC and 6oC, with humidity at around 8%. Takahashi says it is important to maintain that environment and ventilate as needed.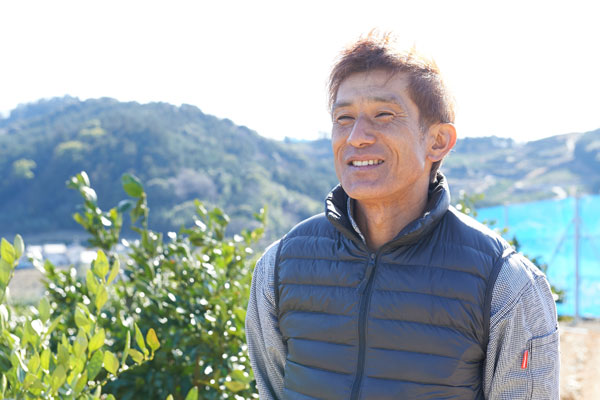 "Similar to humans, the mikans also breathe. They feel stress unless they have comfortable air. We producers identify some sort of problems and issues to reflect upon every year, and try to improve or possibly enhance the environment as much as possible," Takahashi exclaims.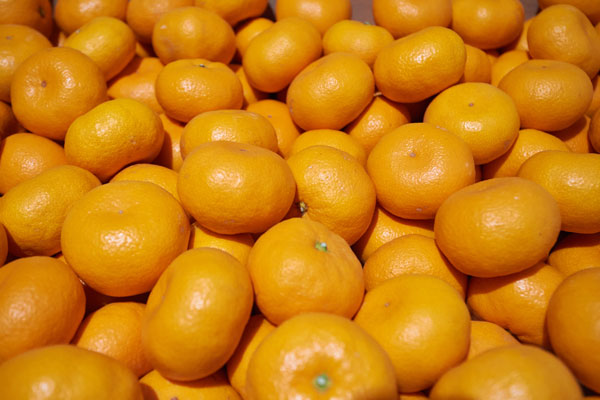 The producer's passion that takes care of even the smallest details literally bears fruit for Mikkabi mikan's sweetness. We felt Mikkabi's strong determination as one of Japan's representative mikan growing areas from Takahashi.
In the Enshu region, producers cultivate quality fruit by fully utilizing proprietary know-how and techniques while also leveraging the area's natural environment. The profoundness of Enshu fruits' sweet allure shall further captivate us.
Kiwi
Source:Masatoshi Hirano, Kiwi Fruit Country Japan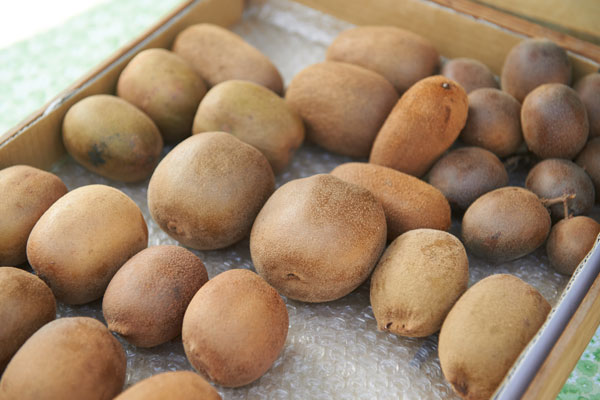 Peak Season
Late October through March after adjusting ripeness following harvesting (late September to Early December)
Tips
Kiwis that are a darker reddish-brown than green, and with less hair on the outer skin
Mikkabi mikans
Source:Takehisa Toida, Mikkabi Agricultural Cooperative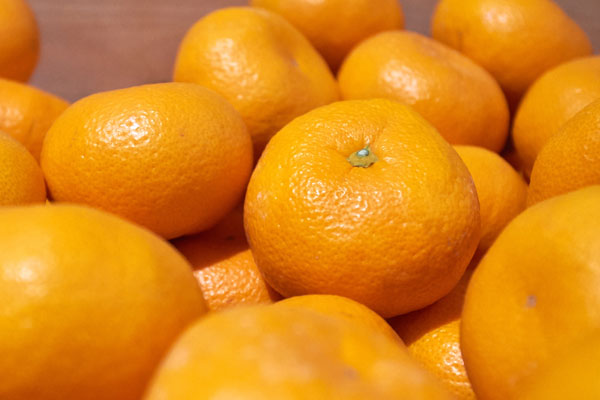 Peak Season
From November to around March. Their balance of sweetness and acidity vary depending on the storage duration.
It is recommended that you enjoy them by choosing your preferred type.
Tips
Mikans with a narrow stem (section inside the stem area) have high sugar content
How to enjoy them
For mikans that are delivered in cardboard boxes, the box should be turned upside down (making the stem area pointing downward) and stored in a place with good ventilation avoiding the effects of heaters. The fruit should be covered with newspaper to prevent humidification.
 / 
Photographer
: YUTA SUZUKI