THE ROOTS OF SHUN (February 2015)
Kyoto, the Thousand-Year Capital: Food Traditions Proudly Carried On Today
Kyoto Prefecture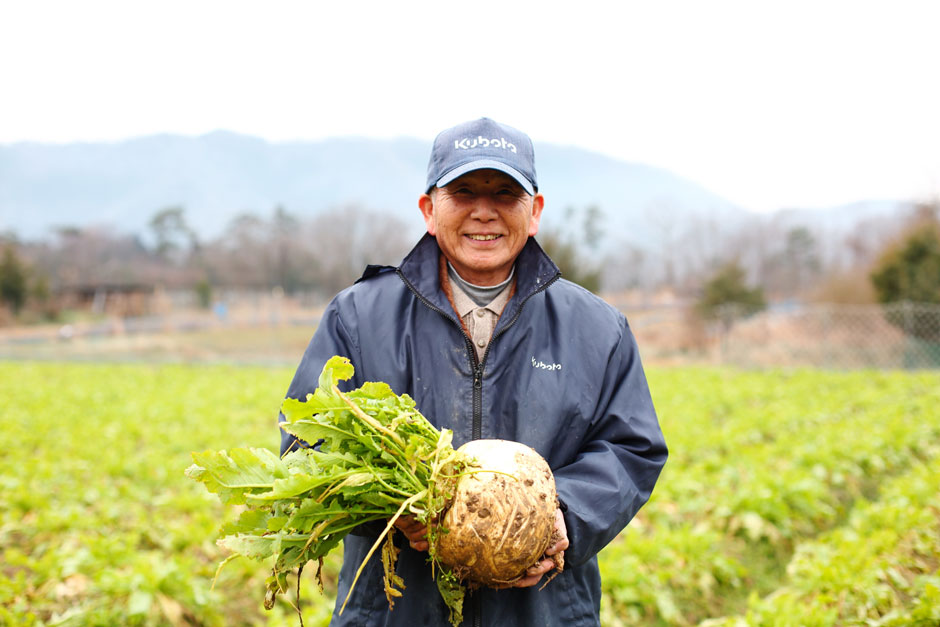 (Month information was collected: January 2015)
For more than 1000 years, beginning from 794, Kyoto prospered as Japan's capital. From shrines and temples to food, clothing and housing, the culture developed there during the dynastic era still lives on quietly in the city, and here and there you can spot glimpses of "the old Japan."
One of these is a cooking tradition known as Kyo-ryori, which has its roots in cuisines such as Yusoku Ryori, which was eaten by nobility during the Heian period; Shojin Ryori, originally temple food; and Kaiseki Ryori, which developed alongside the tea ceremony. With its beautiful appearance, delicate craftsmanship, and respect for the seasons, this tradition is still practiced in Kyoto today. Also part of Kyo-ryori's history, and developed alongside it, are the unique traditional ingredients used in it, such as Kyo-yasai, vegetables born from the natural resources of Kyoto, and shiromiso, a white miso loved by nobles and aristocrats.
Kyo-yasai: Vegetables grown in Kyoto, each with unique shapes and tastes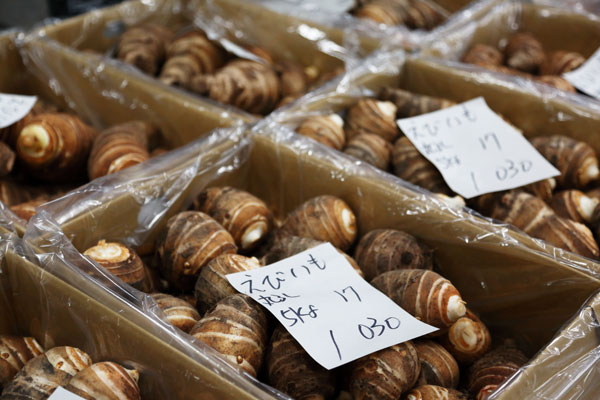 As Kyoto is surrounded on three sides by mountains, it was once difficult to obtain marine products, and fresh vegetables were treasured in their place. Kyoto's abundant underground water supplies, fertile soil, and climate?the fierce summer heat and piercing winter cold characteristic of a mountain basin?made it well-suited to growing vegetables. This, coupled with the selective breeding and cultivation techniques developed by farmers striving to produce high-quality vegetables, gave birth to the traditional Kyo-yasai we see today.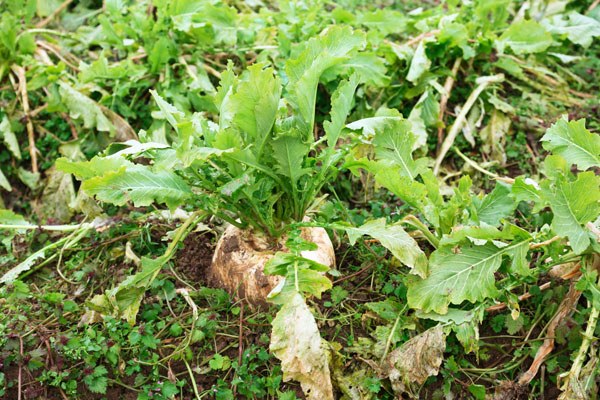 We visited Kyoto Central Wholesale Market Dai-Ichi Market, which is located near Kyoto Station. We were lucky enough to be shown around by Hisao Inosaka, who's in charge of Kyo-yasai at Kyoto Seika Godo Co., Ltd., a company based at the market that specializes in fruit and vegetables.
"The place names in the vegetables' names indicate the area in which each variety was originally grown. Lots of Kyo-yasai have unusual shapes, and there are various theories as to why this is?that the local soil caused it by chance, or that it's the result of selective breeding. And of course, not only do they look interesting, Kyo-yasai also have high nutritional value and great flavor," explained Inosaka, also a certified "Kyo-yasai Meister" himself.
As we walked around the marketplace with Inosaka, he took each of the unique vegetables in his hands?the Horikawa Gobo with more than twice the thickness of regular gobo (great burdock); the beautiful, striped Ebi-imo taro?and explained their origin and appeal to us.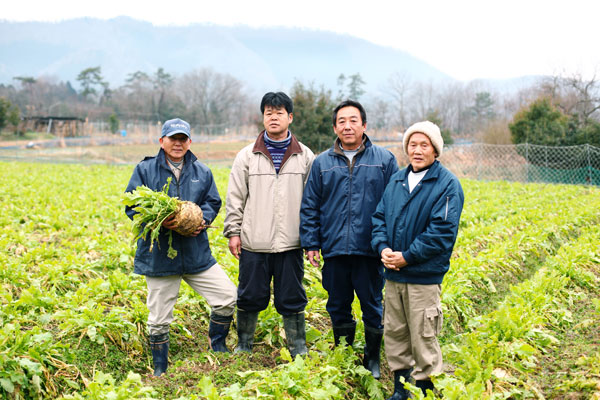 As Inosaka speaks, his tone is filled with affection for the vegetables. "For farmers, growing Kyo-yasai is a difficult task that requires a lot of effort and time. The crop is also small compared to regular vegetables, making it not very efficient to sell to distributors and retailers at wholesale, but we want to make sure that this culture, created in Kyoto over such a long period of time, is never lost."
As growing and harvesting Kyo-yasai requires a lot of work, there are also many varieties that have been lost over time. We decided to go and meet some of the farmers who are carrying on tradition and continuing to grow Kyo-yasai.
First, we travelled north to Hiyoshi-cho, Nantan-shi?a little over an hour away from the city?to visit Shiro Mizumoto, who has been growing Shogoin Kabu turnips here for 40 years. Here, in a field lying between the mountains where a cool breeze blows, grow the plump, round, pure white Shogoin Kabu.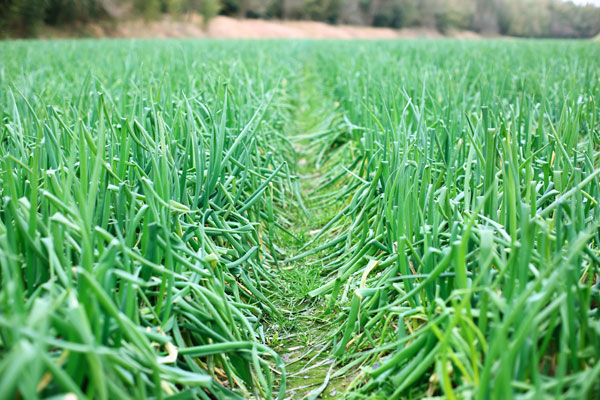 Shogoin Kabu are often sliced and pickled in a Kyoto specialty called senmai-zuke, and as well as their taste and texture, great importance is placed on their appearance: their circumference and roundness.
As Mizumoto speaks, a beautifully ripened Shogoin Kabu in his arms, there is a pride in his voice. "The soil around here is red and clay-like, and it contains a lot of nutrients, so root vegetables grow well. What's more, the vastly different temperatures during the day and at night, as well as the thick mists, help produce turnips that are moist, finely-grained, and sweet."
However, although this land deep in the mountains is well-suited to growing Shogoin Kabu, it is not without its difficulties.
"In the winter season, which is the best time to harvest the turnips, the temperature can drop to below zero. Also, wild monkeys and deer come down from the mountains to ravage the crops. I can't let my guard down for a single day until the Shogoin Kabu are ready."
Despite this, though, Mizumoto works with this environment and cooperates with other local farmers, continuing to grow Shogoin Kabu to help ensure that the proud tradition of Kyo-yasai does not die out.
Next, we headed to Nishimura Nouen in Kameoka, where Kujo Negi spring onions are grown. These spring onions are a type of Kyo-yasai that is eaten on a daily basis in households in Kyoto. Known for having soft leaves and a large green part, they're popular both as an ingredient in stews and as a garnish. According to their grower, Isao Otokawa, a traditional growing method known as Kirikae-negi is used here at Nishimura Nouen.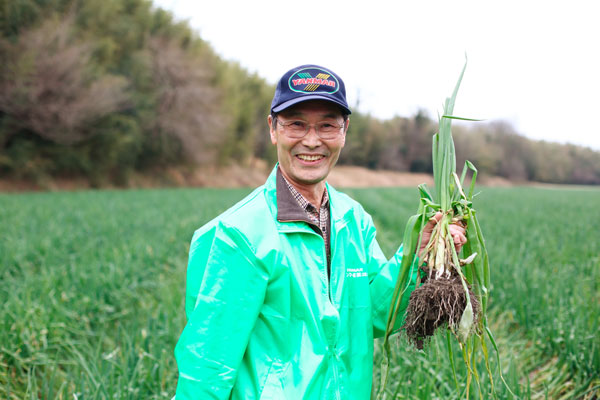 "We sow the seeds in October, then harvest the plants in March, dry out the bulbs, and replant them. Then, we harvest them again between April and October. This method requires a lot of time and effort before the crop is ready, but it's what gives us such sweet and strong-scented Kujo Negi."
The Kujo Negi here at Nishimura Nouen, grown with such time and effort, are said to have soft leaves and a delicious taste. "These are Kujo Negi that you can really take pride in," says Otokawa with a proud smile. Why does he use this method that requires twice as much work? "I just like growing good-tasting Kujo Negi here in Kyoto, that's all," he answers bashfully but proudly.
Kujo Negi can be eaten all year round, but the ones on the market during the winter season are said to be especially delicious. With their juicy centers and extra-sweet taste, these Kujo Negi are an indispensable feature of any winter stew.
Saikyo Shiromiso: Born from aristocratic culture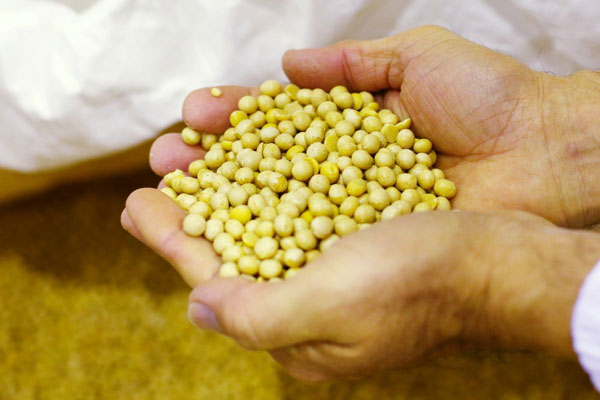 Here in Kyoto, Saikyo Shiromiso is used in a wide range of cooking, including in the ozoni soup eaten at New Year, in shira-ae salad, for glazing dengaku, and for pickling Japanese Spanish mackerel (Saikyo-zuke.) This high-class rice miso has a pale yellow tone, and a gentle, sweet taste.
Takeshi Yamada from Saikyo Miso, one of Kyoto's most famous miso brands and a veteran of the business since 1830, explained to us how the growth of shiromiso culture ties into the dynastic culture of Kyoto. "Shiromiso is made using more rice-malt than soybeans, which is what gives it its strong sweetness. Back in the time when Kyoto was the capital, rice was scarce. Shiromiso, which uses a large amount of rice, was a real delicacy, only used in court ceremonies, such as the New Year ceremony. I think it's fair to say that this type of miso was developed in an atmosphere based on miyabi values."
We had the chance to observe the shiromiso manufacturing process at the Saikyo Miso factory in Ayabe-shi. Whereas regular rice miso is made with a ratio of around 1:1 of soya beans to rice, the Saikyo Shiromiso made here uses twice as much rice as it does soya beans.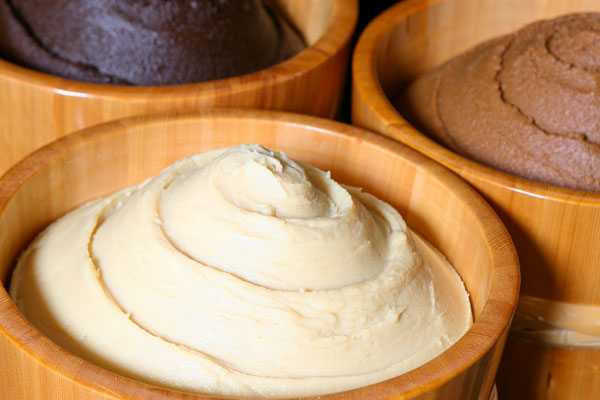 First of all, the rice is steamed and koji mold is added, then it is left for 48 hours to create rice-malt. Next, the rice-malt is mixed together with soya beans, salt, and the other ingredients. Once it has fermented, it is strained and then placed in a fermentation tank once more. Finally, it is left at room temperature to further ferment before completion.
"Other miso needs to be left to ferment for three to four months before it's ready, but shiromiso is unique in that fermentation only takes around 20 days. This is how shiromiso gets its beautiful paleness and light yellow tone," explained factory manager Naoto Otsuki. Shiromiso contains less salt than other miso, and as it also has the sweetness of rice-malt, it's used in Japanese confectionery as well as in cooking.
"Our company's main priority is to both maintain and enhance the quality of Saikyo Shiromiso. By continuing to create this traditional product here in Kyoto, we hope to continue to allow everyone to enjoy it for many years to come," says Yamada.
Packed with the seasons of Kyoto: Tsujigahana's Osuimono and Saikyo Miso-zuke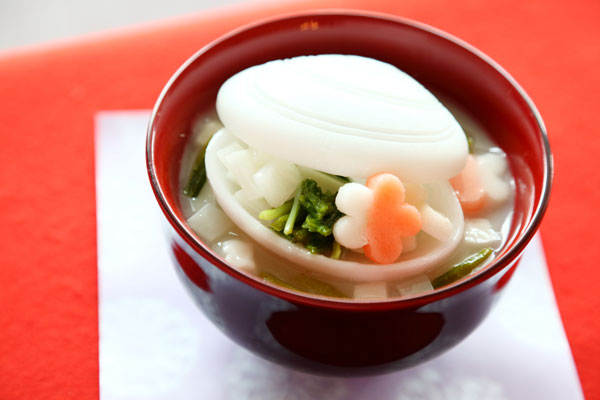 The traditions of Kyo-yasai and Saikyo Shiromiso have been proudly passed down through the generations for over 1000 years. Traditional ingredients such as these can be enjoyed in Kyoraku Tsujigahana's "Kyo-yasai no Osuimono Monaka" and "Keiun Gosai o Shozu" Saikyo-zuke selection.
The "Kyo-yasai no Osuimono Monaka" is a charming, pure white monaka wafer cake shaped like a clam shell. Split it open slightly, place it in a bowl, and add hot water to instantly enjoy an authentic shiromiso osuimono with Kyo-yasai.
There are a range of different combinations available, such as Shogoin Kabu and mibuna greens, or ebi-imo and sweet red kintoki carrots. Simply adding these to your dining table will allow you to easily experience the essence of Kyo-ryori.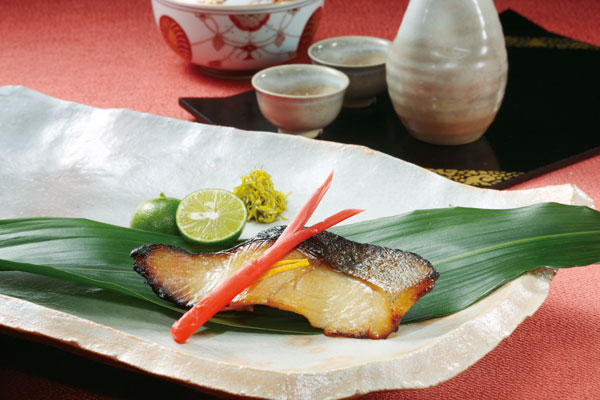 "With these different combinations of ingredients, as well as of course the taste, we take great care over the appearance and color. By freeze-drying Kyo-yasai harvested during the seasons when they're most delicious, we're able to offer them all year round with minimal loss to their taste, texture, and nutritional value. Genuine Kyo-yasai are only on the market during certain seasons, so it was a lot of work to secure a large enough quantity of them, but thanks to the help of farmers and market sellers who want to carry on the tradition of Kyo-yasai, we were able to create these products."
Masahito Tanaka , product manager at Tsujigahana, explained this to us. Freeze-drying makes it possible for people to enjoy the taste of seasonal Kyo-yasai no matter where they are. The result of a long trial and error process, these products from Tsujigahana were created out of the desire to deliver traditional Kyo-ryori to as many people as possible, in a way suited to the modern era.
"Keiun Gosai o Shozu" is a Saikyo-zuke selection, made using Saikyo Shiromiso. It contains a variety of pickled fishes, including splendid alfonsino, sablefish, and Chinook salmon, and allows you to easily enjoy authentic Saikyo-zuke with little need for preparation. The carefully-sliced fish are pickled at a low temperature for three days and nights in Saikyo miso together with a hint of yuzu, which brings out both the sweetness of Saikyo Shiromiso and the natural flavor of the fish. With this delicious new variation on an old classic, Tsujigahana have breathed new life into the long-held tradition of Saikyo-zuke.
These two products are packed with the history of the ancient capital, and the pride of the people who strive to ensure that it is not forgotten.
Located on the main street of Sanjo-Kawaramachi, Kyoto's largest shopping district, the Tsujigahana store offers not only "Kyo-yasai no Osuimono Monaka" and "Keiun Gosai o Shozu," but also a range of other products such as ocha-zuke (rice steeped in green tea,) which is known in Kyoto as "bubu-zuke." Each one comes in delightful packaging and makes for a perfect souvenir. Why not take a taste of Kyoto back home with you to remember your trip by?
 / 
Photographer
: CHIZU TAKAKURA