THE ROOTS OF SHUN (December 2014)
Satsuma-age is authentic Kagoshima home-town delicacy made from local produce
Kagoshima city in Kagoshima prefecture
(Month information was collected: October 2014)
The island of Sakurajima in Kinko Bay neatly illustrates how Kagoshima is surrounded by sea. The prefecture of Kagoshima is shaped like a horseshoe, with countless tiny islands dotted along the southern side. With some 2,722 km of coastline in total, Kagoshima has long had a very close association with the ocean. And being so far from the center of Japan, it has developed a unique culture of its own, as reflected in the local foods.
Satsuma-age is unique to the Kagoshima climate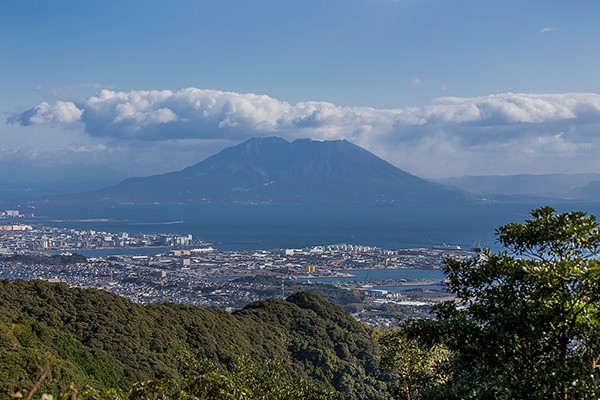 Satsuma-age is a well-known product of Kagoshima. Known locally as tsukeage, it commonly features as a snack with drinks and as an addition to the daily lunchbox. Satsuma-age started out in the Edo period as a way of preventing large harvests of tiny fish from spoiling in the hot southerly climate. The fish was ground into a paste, seasoned with local Kagoshima sake and sugar then shaped and deep fried in rapeseed oil, and this allowed it to be kept for much longer. There are several theories as to the origin of Satsuma-age. Some say it was inspired by the deep-fried ground fish cakes called chikiagi in the kingdom of Ryukyu (present-day Okinawa), while others maintain it was invented by Nariakira Shimazu, the leader of the Satsuma clan, as a means of showcasing the excellent quality fish in the region. We can't be sure which is true, but what we can say is that Satsuma-age is very much a product of the local climate in Kagoshima.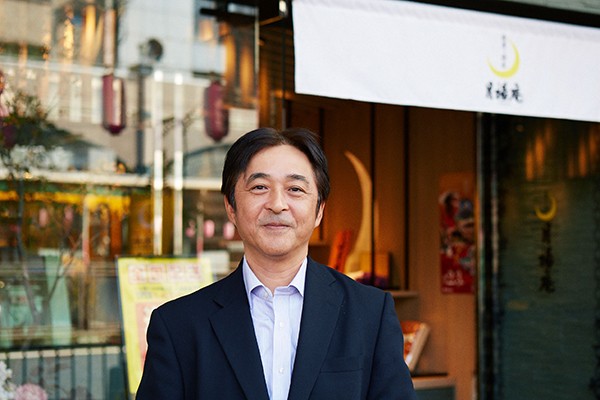 The Tsukiagean brand from Nankai Foods was created with the aim of expanding the appeal of Satsuma-age to a wider audience beyond the Kagoshima region. According to Nankai Foods director Takamitsu Samejima, Kagoshima has a long-established tradition of using plenty of sugar in recipes as a way to show hospitality towards guests.
"Satsuma-age is generally quite sweet, although our Tsukiagean product uses a little less sugar than most," explains Samejima. "We've kept the sugar content down so that it will appeal to people all over Japan, and also to accentuate the flavor of the fish and other ingredients. The unique taste of our Satsuma-age is due in no small way to our insistence on using only locally produced sake, shochu (spirits) and brown sugar." Satsuma-age has a long history and today is well established throughout the country. In this article, we go in search of the secrets behind the delicious and popular Tsukiagean brand of Satsuma-age.
The flavor comes from a traditional local sake known as Akumochi-zake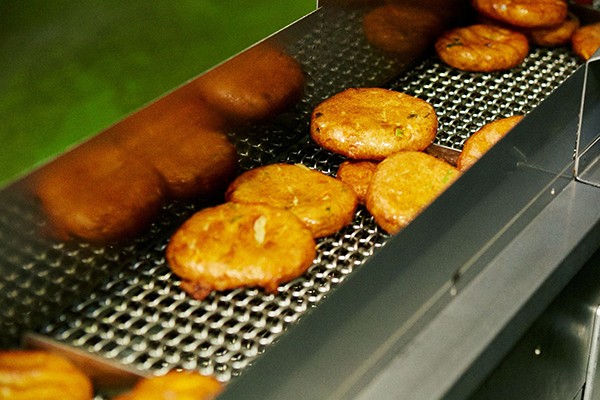 Satsuma-age is essentially very simple: simply grind some fish into a paste then deep-fry it. But this very simplicity means that the selection of ingredients is vital to achieving the best possible outcome. Tsukiagean insists on white fish species such as itoyoridai and sukesodara, because these have a more refined flavor than the blue-skinned species that are commonly used in the Kagoshima region. The oil for deep frying is a locally produced rapeseed oil, which produces a wonderful rich aroma after frying. The all-important seasonings, meanwhile, consist of local sake, shochu and brown sugar. The local sake, called Akumochi-zake, is what gives Satsuma-age its gentle sweet taste and beautiful glossy finish. Tsukiagean has only ever used one type of Akumochi-zake: Takaraboshi, which is made by local brewer Hombo Shuzo, which has been operating in the city of Minamisatsuma since 1872. Most people are familiar with shochu, but Takaraboshi is something of a mystery. We decided to pay a visit to the Hombo Shuzo brewery to find out more.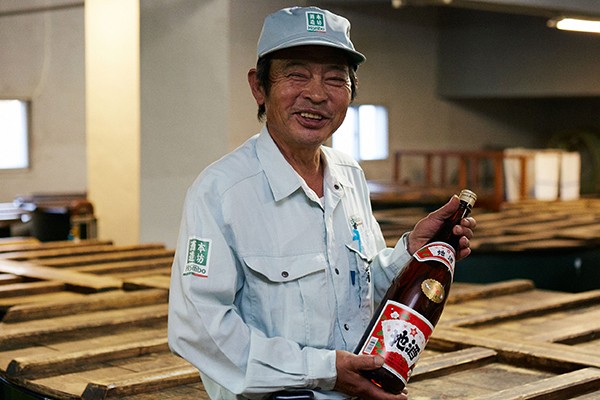 Right down the end of an atmospheric old street lined with solid stone warehouses is the Hombo Shuzo factory. According to legend, sake-making was introduced to the Satsuma region in the 1600s or 1700s, and today Akumochi-zake is produced using the exact same traditional methods as it was back then. We asked Kenzo Kawatoko, a veteran brewer with over 40 years of experience, to tell us a bit more about Akumochi-zake.
He began by explaining the origins of the name Akumochi-zake. The first character aku refers to lye, a preservative for sake made by fermenting a combination of water, yeast and koji (a starter made from Kagoshima rice). Whereas ordinary sake is sterilized via heating, Akumochi-zake is never heated, as per the traditional process. Instead, it is fermented slowly during the coldest period of the year, December to March.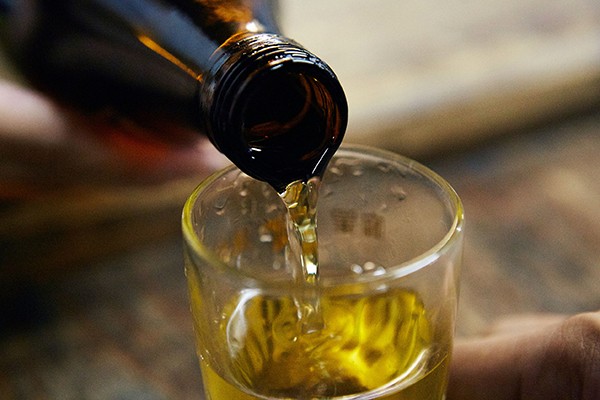 Pour it into a glass and marvel at the beautiful amber hue complemented by the sweet bouquet. Take a sip and note the rich, sweet aroma with a hint of sourness. Akumochi-zake made via the traditional method is used extensively in Kagoshima-style cooking, and is one of the defining features of Satsuma-age and many other local dishes.
Fresh-cooked seasonal goodness, only in Kagoshima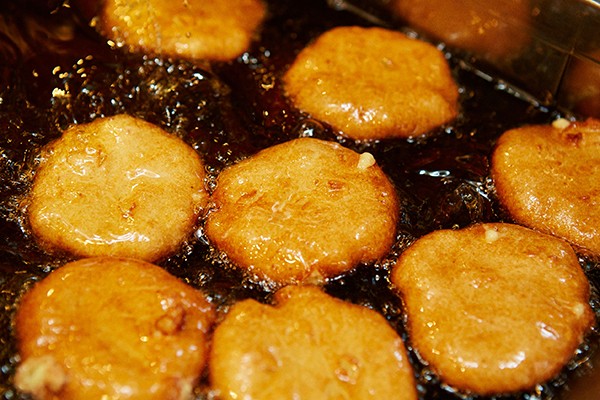 "Although satsuma-age can be eaten hot or cold, nothing beats the taste of the real thing made right in front of your eyes here in Kagoshima," enthuses Samejima. So we headed to the Tsukiagean store on Tenmonkan Dori street, right in the bustling heart of the city, to experience it for ourselves.
The glass showcase at the front of the store is lined with an array of tempting satsuma-age fishcakes giving off a mouth-watering aroma. There are several varieties on display, including the plain stick shape and one with vegetables, all stacked neatly in rows. Inside there are seats to rest your weary legs after shopping or sightseeing, plus free tea. We are provided with freshly-cooked cheese satsuma-age. It is tender and fluffy with a wonderful fish flavor. A delicious satsuma-age stick is the perfect thing to have in your hand as you wander through town.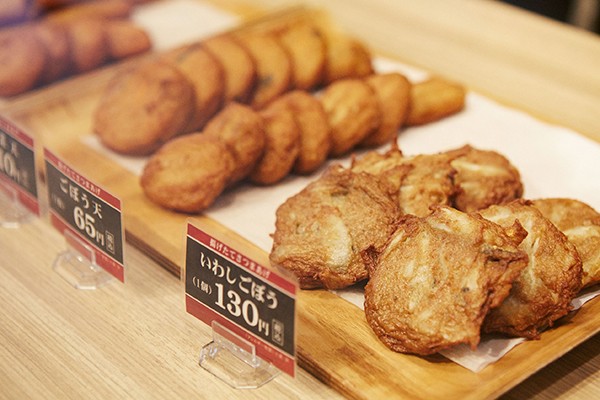 Tsukiagean produces a limited range of seasonal satsuma-age variants that contain seasonal produce and are therefore only available at certain times of year. At the time of our visit in autumn, we were able to try satsumaimo-ten featuring locally harvested satsumaimo (sweet potato). The sweet potato adds a soft, crumbly texture and an addition layer of sweetness that aligns perfectly with the fish paste. Other popular variants are rape blossom in spring, corn in summer and pumpkin in winter.
Tsukiagean also sells take-home packs. Samejima recommends roasting lightly over a flame to accentuate the heady aroma of the sake. He also says the very best way to enjoy satsuma-age is with imo-shochu (Japanese spirits distilled from sweet potatoes). So why not pay a visit to Kagoshima to try out the ultimate combination of local delicacies: freshly made satsuma-age together with imo-shochu.
 / 
Photographer
: KOJI TSUCHIYA