RECIPE (November 2022)
Autumn Washoku Recipe : Takiawase (vegetables cooked with meat, fish, or tofu) of Shiitake Mushrooms and Lotus Root
alarm
About 30 minute (excluding time for draining tofu)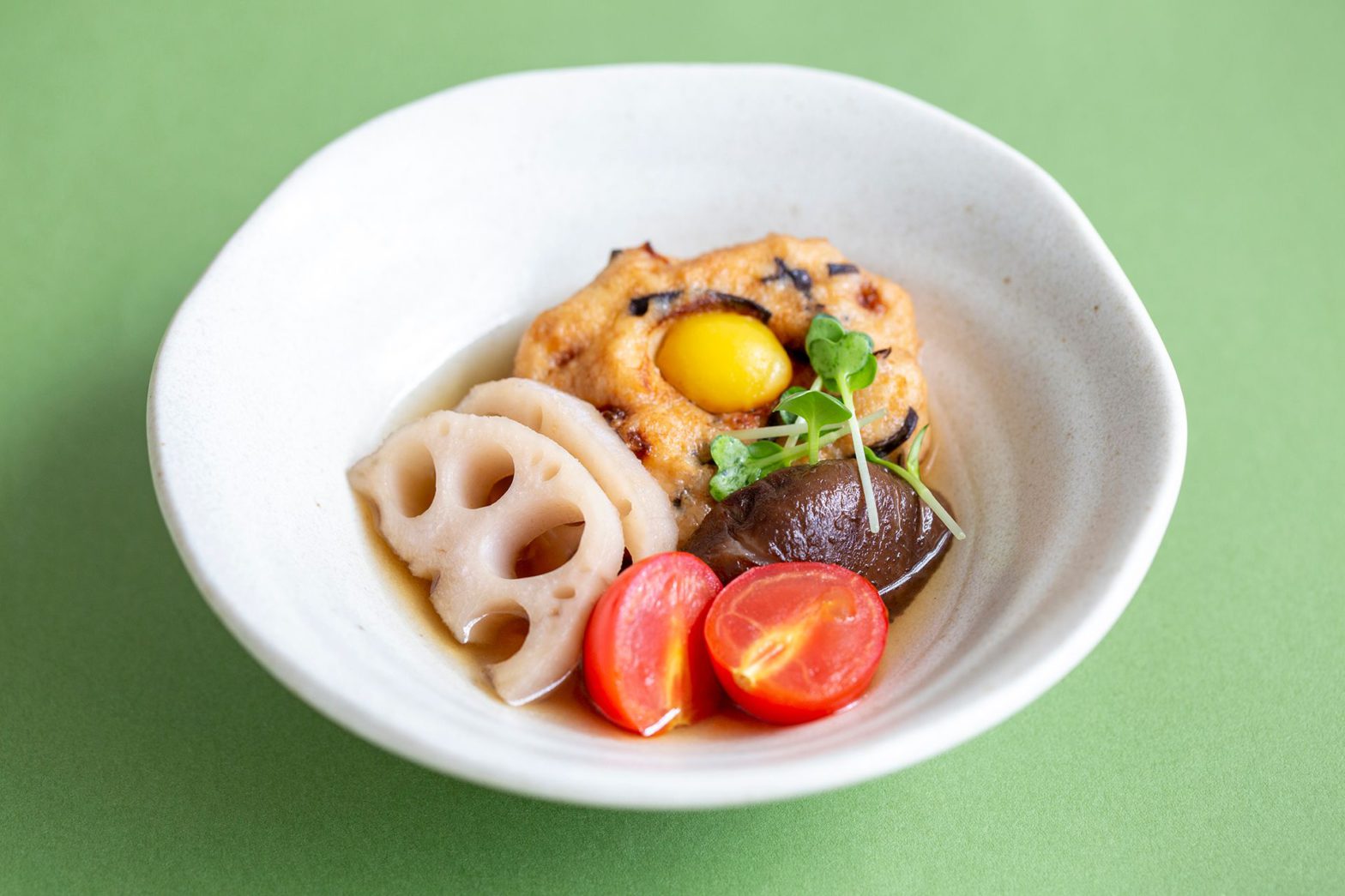 Prepared with vegetarian dashi and only plant-based ingredients.
Ingredients (Serves: 2)
Firm tofu

80g

Japanese yam

10g

Wood ear mushrooms (rehydrated)

4g

Carrot

5g

Boiled ginkgo nuts

2

Oil for deep frying

As desired

Dried shiitake (medium-sized)

1

Lotus root

30g

Cherry tomatoes

2

Daikon sprouts

As desired

Mustard

As desired

Vegetarian dashi (kelp, dried shiitake, and dried daikon strips combined)

300㏄

Soy sauce

1 tablespoon

Mirin

1 tablespoon

Sugar

1/2 teaspoon
Directions
Drain the firm tofu thoroughly. Julienne rehydrated wood ear mushrooms and carrot into thin strips.

Smooth the firm tofu in a food processor or the like. Grate Japanese yam and stir in thoroughly. Combine carrots and wood ear mushrooms to the mixture and divide into 2 equal portions. Shape into a ball, place a ginkgo nut in the center, and deep fry in oil at about 170°C.

Rehydrate the dried shiitake mushroom and slice it in half. Peel the lotus root and cut it into bite-size pieces.

Put dashi in a pot, season, and heat. Add ganmodoki (fried tofu fritter made with vegetables), shiitake mushrooms, and lotus root, bring to a boil, cover with a drop-lid, reduce heat, and simmer gently for about 15 minutes.

Once the lotus root is cooked, add the halved cherry tomatoes and simmer briefly.

Serve in a bowl and garnish ganmodoki with chopped daikon sprouts and mustard if desired.
Recipe from : 「Japanese restaurant Itto」Hayahisa Osada