RECIPE (October 2019)
Mackerel Sandwich —Homemade Yuzu Mayonnaise Sauce—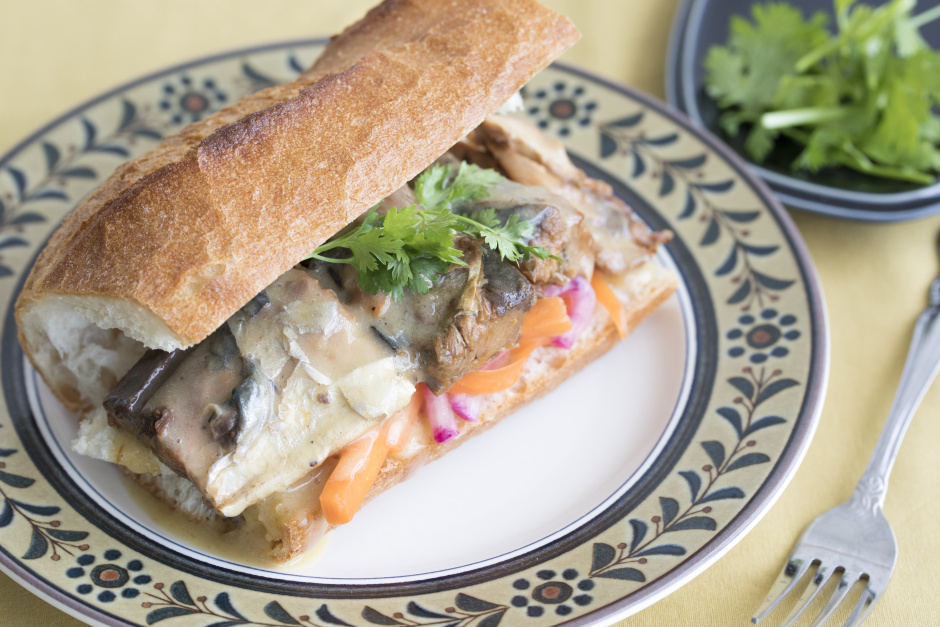 We introduce the Two Types of Canned Kito Yuzu Winter Mackerel Set, manufactured by the OGON no mura Co., Ltd.in the Kito region.
Ingredients (Serves: 1)
Mackerel (mackerel can)

180g (drained weight for one can)

Yuzu mayonnaise

15g (ingredients listed separately)

Carrot

30g

Japanese radish

30g

Lemon juice

2 tbsp

Thai fish sauce

1 Tbsp

Sugar

1 Tbsp

Salt

A pinch of

Black pepper

A pinch of

Butter

10g

Baguette

1/2
Yuzu mayonnaise
Drained liquids from the mackerel can

36g

Egg yolks

1

Dijon mustard

1 teaspoon

Grapeseed oil

120cc (or may be substituted with vegetable oil)

White wine vinegar

2/3 tablespoon

Salt

A pinch of
Directions
Slice the carrot and radish into 3 mm strips, sprinkle salt and massage in.

Combine lemon juice, Thai fish sauce, sugar and salt, mix well, pour on step 1 and toss.

Cut the baguette horizontally and lightly toast with a toaster.

Spread butter on the cut area of the baguette, and sandwich step 2 and the mackerel before drizzling with yuzu mayonnaise.

Add coriander to taste and serve.
Directions(Yuzu Mayonnaise)
Combine room-temperature egg yolk, mustard and salt into a bowl and mix.

Add grapeseed oil a little at a time to prevent separation and mix.

As the mixture solidifies, add the drained liquids from the mackerel can and white wine vinegar a little at a time while mixing.

The mayonnaise is completed when the mix thickens (adjust the thickness with moisture and the amount of oil added).
A useful tips
When substituting salad oil for the mayonnaise, please note that storing in the refrigerator may cause the mixture to thicken. Using olive oil for mayonnaise is not recommended, as olive oil does not emulsify well. Adding vinegar in the later step of making mayonnaise will prevent the mixture from separating.