RECIPE (December 2018)
Beniharuka Sweet Potato Potage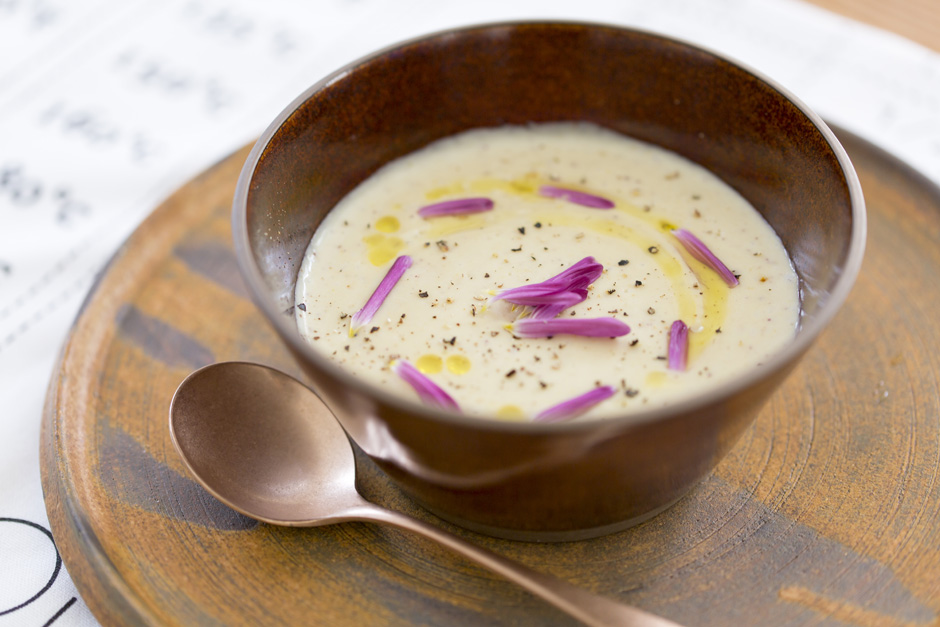 Beniharuka Sweet Potato Potage
Ingredients (Serves: 2)
sweet potatoes (Beniharuka)

200g

Fresh cream

100ml

processed soy milk

300ml

Salt

2 teaspoons

cumin

1 teaspoon

Black pepper

Right amount

Olive oil

Right amount

One's preferred edible flowers

Right amount
Directions
Dice unpeeled sweet potatoes into 5 cm cubes before placing into a heat-resistant container with a small amount of water. Cover with plastic wrap and microwave until soft. (Approximately 10 minutes)

Place the softened sweet potatoes, fresh cream and soy milk into a blender and mix thoroughly until the potato skin becomes fine.

Pour Step 2 into a pan and flavor with salt and cumin.

After the soup is warmed, pour into a dish and add black pepper, olive oil and edible flowers. Serve.
A useful tips
-Other sweet potato types may be used, if Beniharuka sweet potatoes are not available. When using other types of potatoes, adjust the amount of salt–more salt for sweeter potatoes will create a more delicious soup. -If there is no cumin, garam masala, curry powder or other spices may be used as an alternative.
Recipe from : Cooking specialist Yukiya Terai