RECIPE (October 2017)
Sumptuous rice bowl with three grilled meats (Omi beef, pork and Omi Black chicken)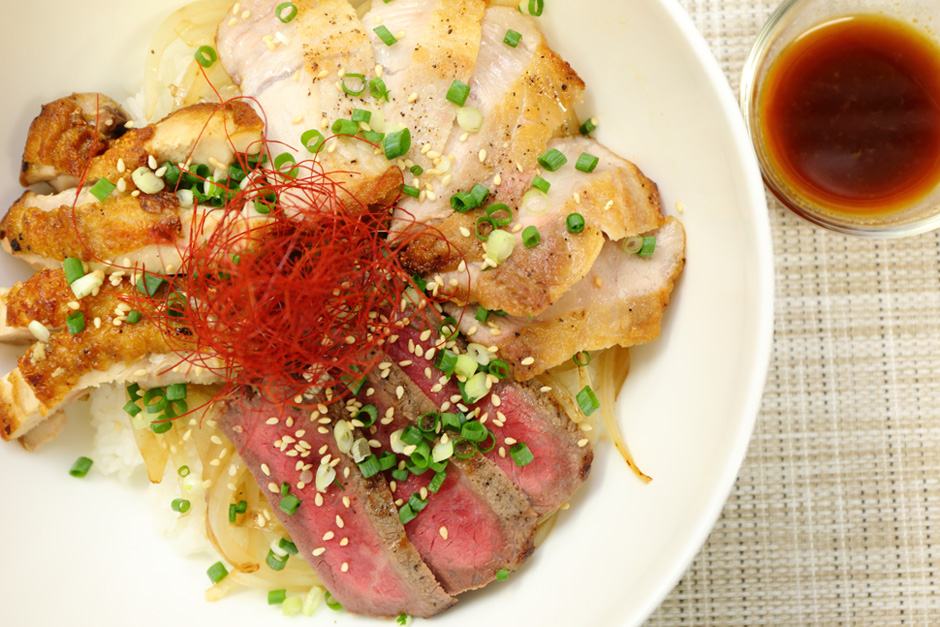 Sumptuous rice bowl with three grilled meats (Omi beef, pork and Omi Black chicken)
Ingredients (Serves: 1)
Omi Beef: ※Can be replaced with general beef leg

30g

Pork loin: ※Can be replaced with any general pork loin

50g

Omi Black chicken: ※Can be replaced with general chicken leg

50g

Yuzu and pepper

as needed

Salt and black pepper

as needed

Olive oil

as needed

Onion

1/2

Sesame oil

as needed

Fine chili pepper shreds

as needed

Soy sauce

25g

Sake

25g

Japanese rice wine (mirin)

20g

Sugar

10g

Miso

5g

White roast sesame seeds

as needed

Green onion

as needed

Rice

one serving
Directions
Sprinkle Omi beef and pork loin with salt and black pepper and fry in a frypan until the beef is medium-rare and pork is thoroughly heated.

Spread yuzu pepper on the non-skin side of the Omi Black and fry the skin side on low heat until crispy.

In a frypan with sesame oil, sauté the onion sliced into 5 mm strips, on high heat.

Put rice in a bowl and put the onion and meats on top.

Sprinkle chopped green onion, fine chili pepper strips and white roast sesame seeds on top.

Put (A) in a saucepan and bring to a boil. When it gets thick, put it in a small bowl. The sauce is to be put on the side and added to the rice bowl if so preferred.
A useful tips
If the onion is sautéed with some of its crispiness intact, the final rice bowl will have many enjoyable textures.
Recipe from : Koishikawa Terrace