RECIPE (July 2017)
Tomato and Yogurt Marbled Ice Cream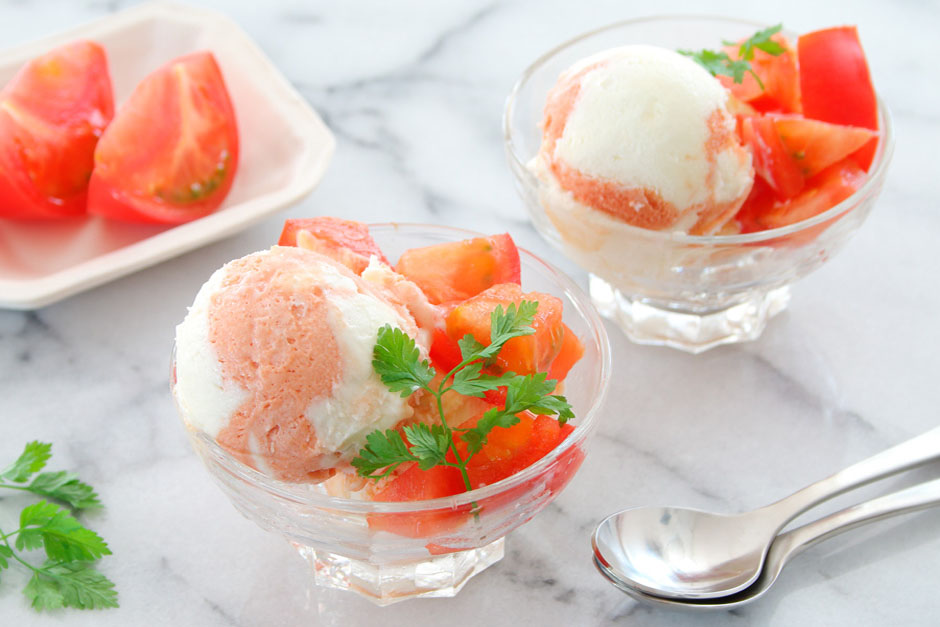 (Month information was collected: July 2017)
Tomato and Yogurt Marbled Ice Cream
Ingredients (Serves: 4)
Tomatoes

2 (about 300g)

starch syrup

110g

yogurt

100g

Fresh cream

160g

Sugar

30g
Directions
Wash the tomatoes, remove the caps and chop roughly.

Put (1) in a heat-proof bowl.

Heat in a 600 W microwave oven for 10 minutes to remove moisture. Open the oven every few minutes to make sure the boiling tomatoes do not spill out.

Grind (3) in a food processor until the tomatoes become a puree.

Measure 120 grams of the pureed tomatoes and put it in a bowl. Add 60 grams of starch syrup. Put the yogurt and 50 grams of starch syrup in another bowl. Stir both bowls until the starch syrup is completely dissolved.

Add sugar to the fresh cream and whip until it is 80 percent solid.

Add 70 grams of fresh cream to the tomato puree, and 120 grams of the fresh cream to the yogurt.

Stir until even.

Put the yogurt ice cream in a large bowl and pour the tomato ice cream on top.

Refrigerate for half a day to overnight. Use an ice cream scoop to put the ice cream on a plate.
A useful tips
Microwaving the tomatoes will remove the moisture and condense the taste. If you add starch syrup to ice cream it will eliminate the stirring process while freezing it and it will have a soft texture.
Recipe from : con-fectionery researcher marimo