RECIPE (August 2016)
Zeppole with baby sardines and sticky kombu seaweed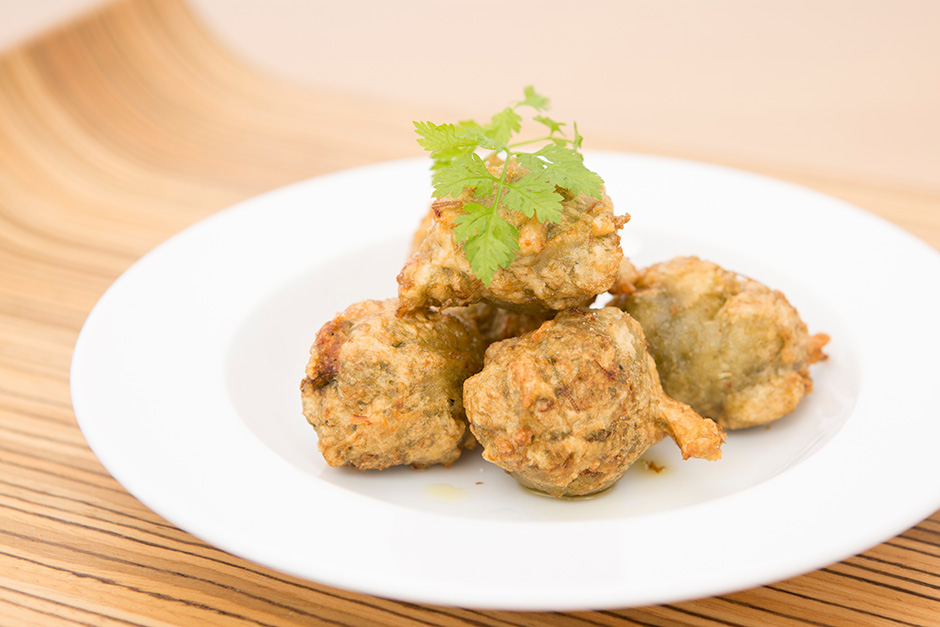 Zeppole with baby sardines and sticky kombu seaweed
Ingredients (Serves: 2)
Baby sardines

40g

Sticky kombu seaweed

40g

Low-gluten wheat flour

200g

High-gluten wheat flour

100g

Yeast

10g

Salt

2g

Granulated sugar

4g

Warm water

260cc

Cooking oil (for deep-frying)

As appropriate
Directions
Put all the ingredients in a bowl and mix them together with a rubber spatula until they become uniform, to make dough.

Scoop the dough with a spoon and deep-fry in oil at 180°C.

When it becomes golden brown, put a skewer through and if it does not pick up any dough, it is ready to serve.
A useful tips
When scooping the dough with the spoon, it is best to make it about 4 cm in diameter because if it is too large it is hard to cook it thoroughly. When the dough begins to float to the surface while deep-frying, and the bubbles around the dough begin to get smaller, it is a sign that it will be ready soon. When it is ready, lightly sprinkle salt over it. That will bring out the taste of the baby sardines and sticky kombu seaweed, making it even tastier.
Recipe from : Koishikawa Terrace