THE POWER OF SHUN (July 2015)
Ekiben—the railway station boxed lunch that sustains a nation ―Momotaro no Matsuri-zushi from Okayama City in Okayama Prefecture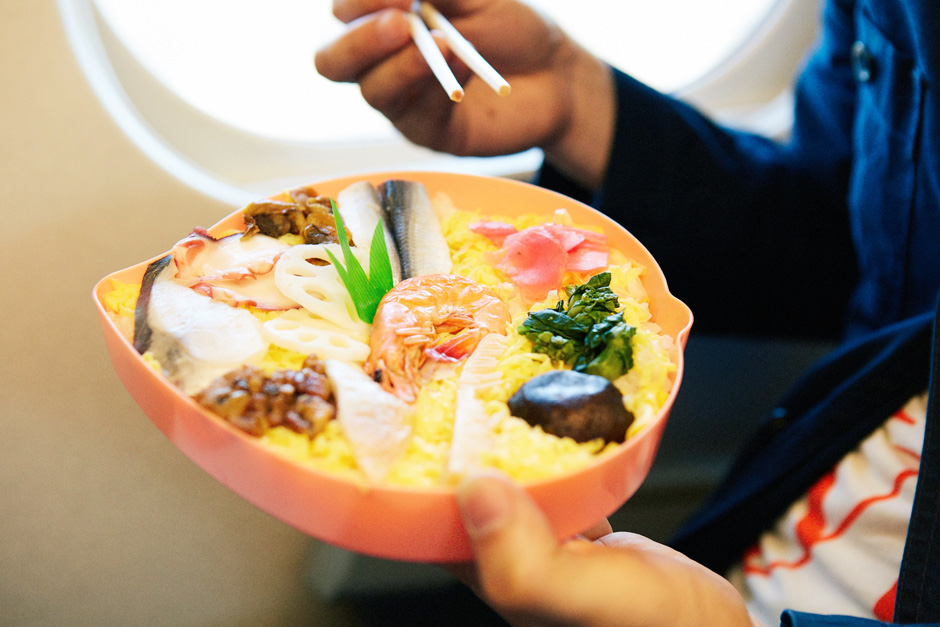 Swaying gently on the train, staring out the window and tucking into a delicious ekiben.
These legendary railway station lunchboxes are a feast for the eyes, featuring regularly changing produce in line with the seasons. Make the most of your ekiben because next week it might be replaced by a new variation! It's the ultimate seasonal travel experience.
Local home-style cooking presented in a unique peach-shaped container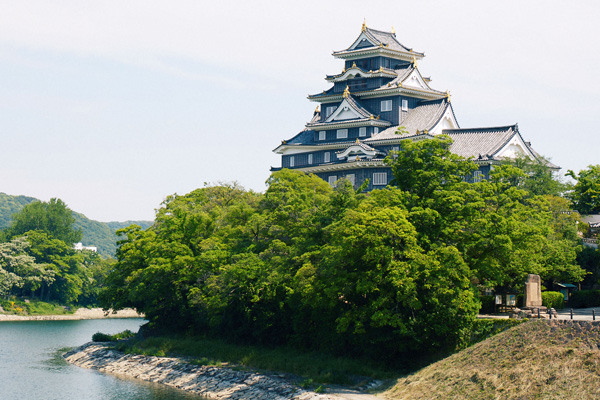 Okayama prefecture is famed as the home of the legendary Momotaro. There are countless popular tourist destinations in Okayama prefecture such as Kibitsu Jinja shrine (believed to be the origin of the peach boy Momotaro), Okayama Castle, Korakuen (hailed as one of the three finest gardens in all of Japan), and the historical quarter of Kurashiki, with its beautifully preserved whitewashed homes and warehouses.
Framed by the Chugoku Mountains and the Seto Inland Sea, Okayama is an area of outstanding natural beauty.
The cuisine here is reflective of the ready access to produce from both land and sea, with a prime example being the local sushi variant known as bara-zushi.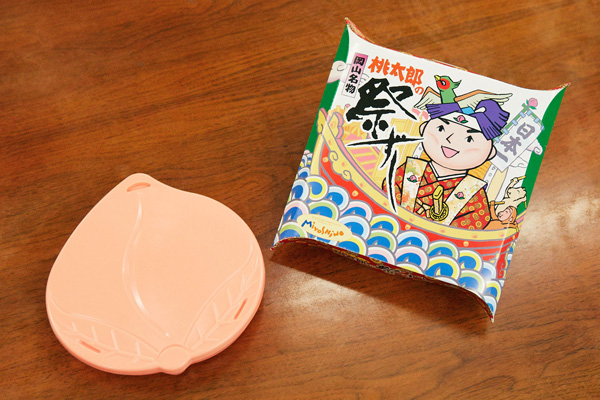 Bara-zushi is a colorful and vibrant meal that combines a mix of fresh produce from both land and sea with vinegared sushi rice. It is commonly featured at ceremonial occasions and as a meal served to guests. Momotaro no Matsuri-zushi, meanwhile, is a special form of bara-zushi served as an ekiben (railway station boxed lunch) that has proven highly popular with tourists and locals alike.
The Momotaro no Matsuri-zushi ekiben is presented in brightly colored wrapping paper that depicts the familiar visage of young Momotaro. Inside is a unique pastel pink container in the shape of a peach, in a homage to the Momotaro fairytale.
Open the lid to reveal a sea of thin omelet strips over a bed of rice, topped with a variety of tantalizing pieces in a riot of color that warms the heart and stimulates the taste buds.
The hint of sweetness in the vinegared rice is complemented perfectly by the array of exciting flavors on offer. The boiled pieces are steeped in flavor while the vinegar pickles add a pleasing sharp edge. All the ingredients go together perfectly with the vinegared rice, so much so that you could never get sick of the flavor.
The unique peach-shaped container is made of plastic, and therefore can be taken home and kept as a memento of the journey. Some visitors to Okayama prefecture even go to the extent of buying up several of these lunchboxes to give out as souvenirs.
A truly unique ekiben created by one of Okayama's oldest establishments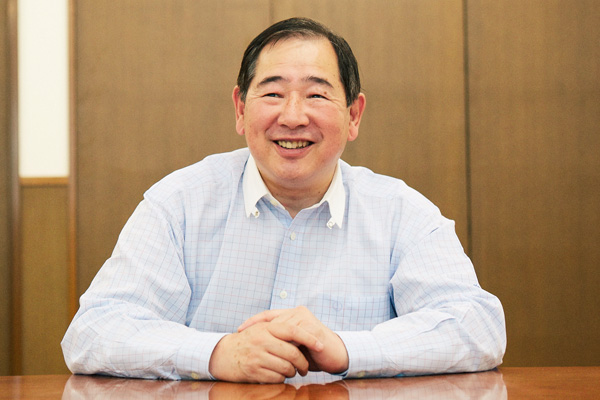 「Momotaro no Matsuri-zushi is produced by Miyoshino Honten, a long-established retailer based in Naka-ku in Okayama. Miyoshino Honten boasts a proud history stretching back as far as 1781, when the company was founded as a rice wholesaler.
During the Edo era, Miyoshino Honten is said to have been chosen as the official purveyor of rice to the Matsudaira government. In the Meiji era, Miyoshino Honten moved into hospitality, opening a high-class ryokan inn to service travelers. When steamships were replaced by steam trains and the new Okayama railway station was opened, the company had the foresight to spot a market for lunchboxes to be sold on the station platform. Miyoshino Honten was selling ekiben at Okayama station from the very first day.
We asked Miyoshino Honten president Shogo Wakabayashi to tell us about the origins of the Momotaro no Matsuri-zushi lunchbox.
"Okayama station was opened back in my great-great-grandmother's time," explains Wakabayashi, "and just near the station there was a sort of waiting room that doubled as a restaurant, where travelers could fill up while they were waiting for the train to arrive. It was there that Miyoshino Honten sold our very first ekiben, consisting of onigiri rice balls made with narazuke (pickled seasoned in sake lees). Much later, in 1963 to be exact, we decided that we should bring out an ekiben that was more representative of Okayama as a prefecture. This was the Matsuri-zushi lunchbox, featuring the bara-zushi style sushi that is particular to the Okayama region. Normally you have all the ingredients mixed together in bara-zushi, but due to concerns that the product might spoil too quickly, our ekiben version has the rice and egg underneath with the pieces arranged on top. We decided to acknowledge this point of difference by making up a new name for it: Matsuri-zushi. And then we introduced the peach-shaped box, which is designed to give the product a distinctively Okayama feel. The peach is of course a nod to the famous tale of the peach boy Momotaro, and so the name was changed once again, to Momotaro no Matsuri-zushi."
Enduring popularity through the ages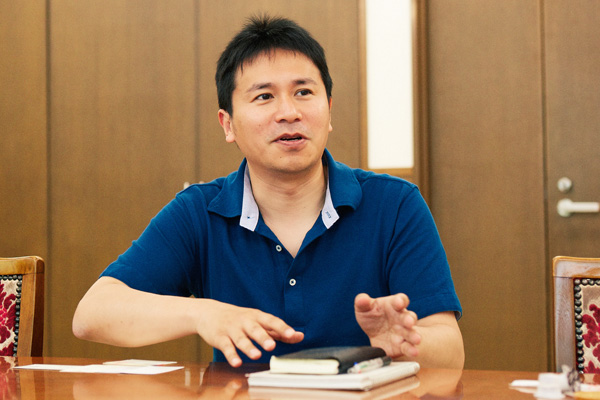 Miyoshino Honten takes great care in assembling the selection of delicious offerings that adorns the Momotaro no Matsuri-zushi lunchbox.
Every few years the selection is updated. Currently it consists of 13 different food varieties: boiled prawn, eel, bamboo shoots and shiitake mushroom; vinegar-pickled Spanish mackerel, sardine, sweetened small sea bream, octopus and renkon (lotus root); rape blossoms pickled in soy sauce; and red pickled ginger, shellfish and finally string omelet.
"Every household makes bara-zushi a different way, depending on how they prepare the vinegared rice, what pieces they mix into it," notes product development manager Tomonori Matano. "Okayama people are particularly fond of Spanish mackerel, so this commonly features in bara-zushi. Spanish mackerel has long been a staple of the local cuisine in this area."
According to Matano, many customers will buy Momotaro no Matsuri-zushi on multiple occasions, and are delighted whenever the product is updated with a new selection of pieces on top.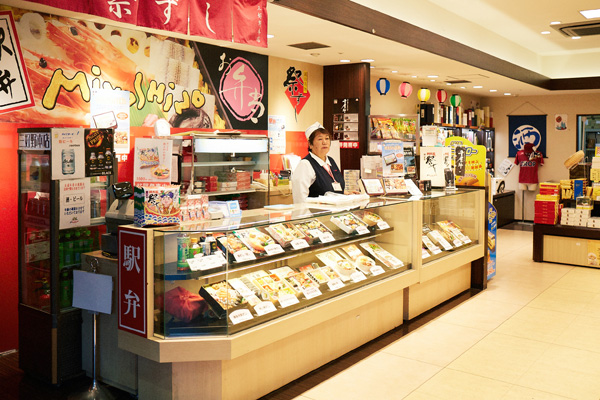 "We get all sorts of feedback on the product. We get people telling us what they'd like us to put in, or that they miss some particular thing that we've taken out. When it comes time to refresh the product, we have to consider the balance between the pieces on top and the rice below, and also how it looks, particularly with respect to the arrangement of colors. Customer feedback is a very important part of the process."
Momotaro no Matsuri-zushi is a simple and unpretentious ekiben, consisting of no more than vinegared rice topped with a selection of delicacies; and yet, it has been successful for over 50 years and is still going strong today. Surely this enduring popularity is due in no small part to the fact that Miyoshino Honten is prepared to listen to customer feedback and is constantly striving to improve the product.
In addition to the legendary Momotaro no Matsuri-zushi, the Miyoshino Honten store in Okayama station sells around 15 other types of ekiben featuring a range of local produce such as chiyagyu beef and bichu-shinrin chicken.
An ekiben from Miyoshino Honten is surely the perfect way to add a bit of local flavor to your journey.