RECIPE (August 2016)
Sanriku seafood and seasonal vegetables in aluminum foil, acqua pazza style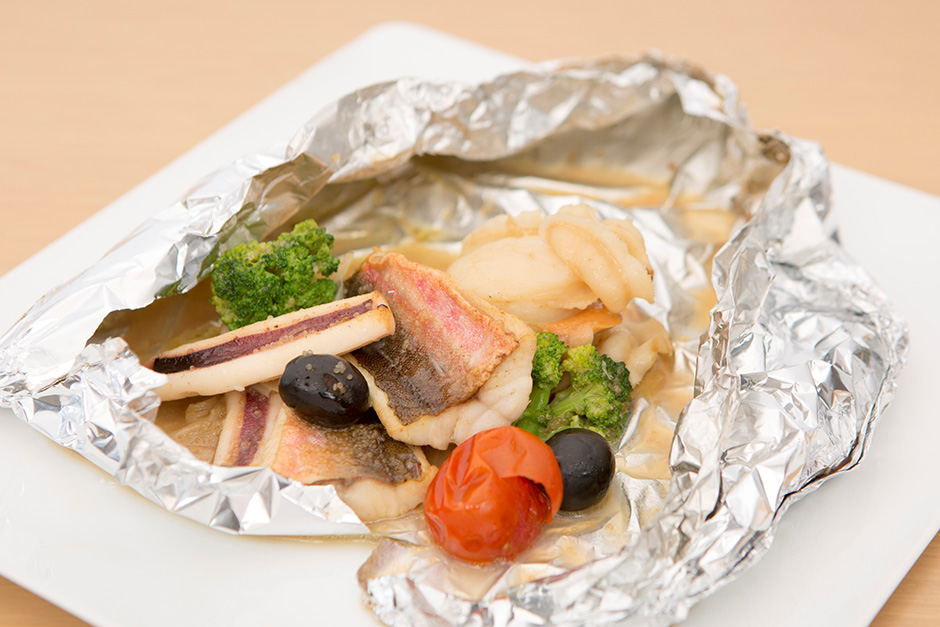 Sanriku seafood and seasonal vegetables in aluminum foil, acqua pazza style
Ingredients (Serves: 2)
Gurnard fillets

4 (about 200 g)

Scallops

2 large scallops

Japanese common squid (edible part)

About 100 g

Amaranth (grain)

20g

Magari negi (spring onions from Sendai)

6g

Broccoli

40g

Cherry tomatoes

2

Black olives

4

Olive oil

40cc

Garlic

2 cloves

Thyme

2 stalks

Salt

As appropriate
※For the clam soup broth (200 cc)
Clams

400g

Water

400cc

Herbs of choice

As appropriate (1 stalk each of Italian parsley and thyme recommended)
Directions
Simmer the clams and herbs in the water for 30-40 minutes. Sieve and keep the clam soup broth.

Cook the amaranth for about 10 minutes until it softens.

Remove the guts from the Japanese common squid and chop into bite-sized pieces with the skin on. Chop the onions diagonally into thin slices. Cut the broccoli into bite-sized pieces.

Salt the seafood (gurnard, scallops and squid).

Using the side of the knife, crush the garlic. Put it in an oiled frying-pan and sauté on low heat until golden brown.

Take the garlic out. Sauté the seafood on high heat. Add the clam soup broth (200 cc) and the rest of the ingredients (amaranth, spring onions, broccoli, cherry tomatoes, black olives and thyme) and let them simmer.

After it comes to a boil, simmer on medium heat for about 3 minutes. Wrap it in a piece of aluminum foil with the soup, and bake in the oven at 180°C for about 5 minutes.
A useful tips
To make the most of the Sanriku seafood like this delicious fat gurnard and fleshy scallops, acqua pazza, the local dish from southern Italy, is the perfect choice. I also added my personal touch and used aluminum foil to further condense the taste. Make sure to sauté the garlic slowly, taking as much time as you can, on low heat. This way, the aroma and taste of the garlic transfer well to the oil and enhances the taste of the other ingredients.
Recipe from : Koishikawa Terrace