RECIPE (February 2016)
Tofu Steak with Pine-Nut Miso Sauce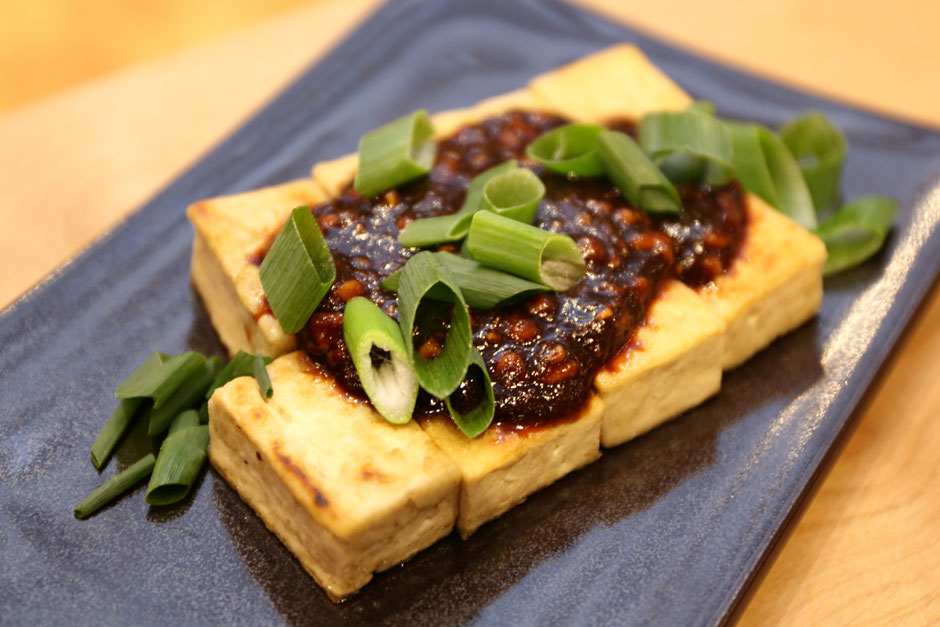 Tofu Steak with Pine-Nut Miso Sauce
Ingredients (Serves: 2)
Tofu Steak with Pine-Nut Miso Sauce
Cotton tofu

1 block

Cake flour

2 tbsp

Japanese sake

1 tbsp

Rice wine (mirin)

1 tbsp

Sugar

1 tbsp

Pine nuts (can be replaced with walnuts)

2 tbsp

Ground sesame seeds (white)

1 tbsp

Red miso paste

1 tbsp

Spring onions

as needed

Vegetable oil

as needed
Directions
Stir-fry the pine nuts in a frying pan (it can be replaced with walnuts).

Chop the stir-fried pine nuts finely, and mix with other seasonings (Japanese sake, rice wine, sugar, ground sesame seeds and red miso paste) to make a pine-nut miso sauce.

Wrap the cotton tofu in a paper towel. Put a weight on top to remove excess moisture.

Cover the tofu with the cake flour, and fry in a frying-pan with vegetable oil, until both sides are brown.

When the tofu is brown, put it on a plate and pour the pine-nut miso sauce made in step (2). Sprinkle spring onions as needed.