THE POWER OF SHUN (February 2016)
Tofu: A Healthy, Essential Part of the Japanese Diet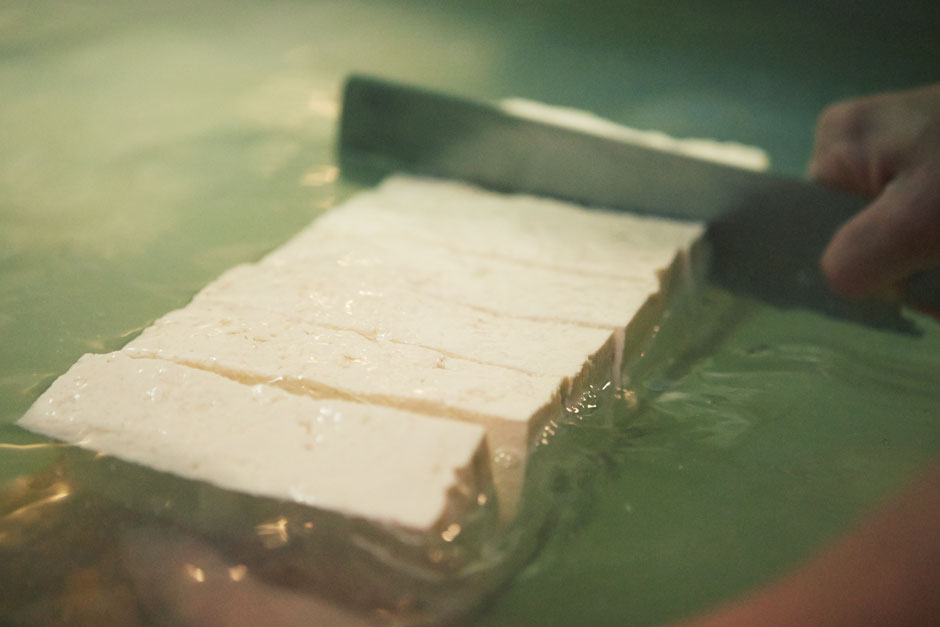 As a high-protein, low-fat health food, tofu is gaining popularity the world over. Tofu, which is made from soybeans, diffused widely among the general public from as early as Japan's Edo period (1603-1867), and was an important source of protein at that time.
Even now, tofu is an integral part of the Japanese diet throughout the year. It is served cold in the summer and boiled in broth the winter. To discover more about the appeal of this food beloved by Japanese from small children to seniors, we visited "Tofu-no-Futaba," a well-established tofu store in Ningyocho, Tokyo.
Making tofu for over a century in downtown Tokyo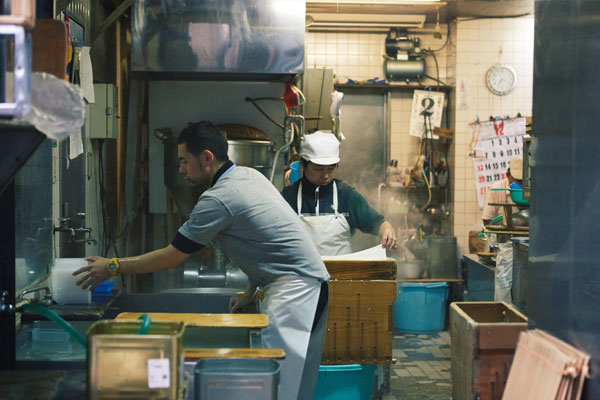 Although tofu is now widely available in supermarkets and even convenience stores, Japan still has establishments that have long been dedicated to making and selling tofu. Minoru Tanaka, the fourth generation proprietor of Tofu-no-Futaba (or "Futaba"), which was founded in Ningyocho, Tokyo in 1907, is one of the few craftsmen who carry on the tofu-making legacy.
"Tofu is an integral part of the traditional food culture of Japan and must not be allowed to disappear. Tofu can be used in a variety of dishes, from miso soup to chilled tofu and simmered dishes. That's why it's an inseparable part of Japanese life. I continue to make tofu because I wish to protect this food culture."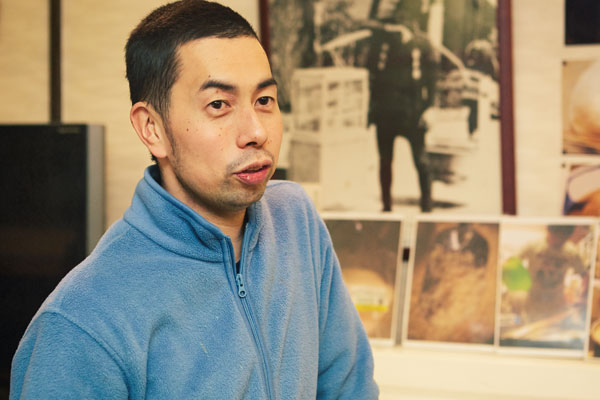 Days start very early in the morning for tofu craftsmen. This is a holdover from the days when customers would come early in the morning to purchase tofu for breakfast. Tanaka's work starts before the sun rises at 4 in the morning. The kitchen wafts with steam and the sweet fragrance of steamed soybeans.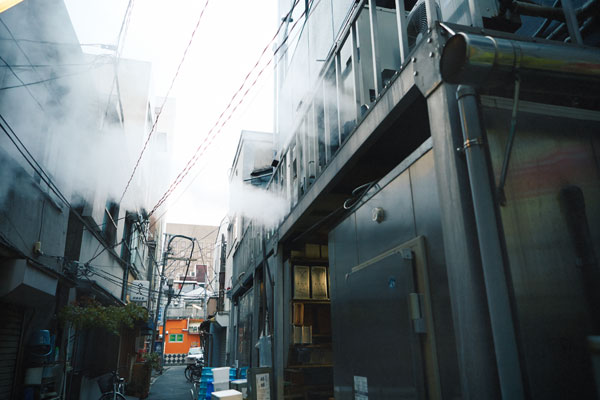 First, soymilk, the base ingredient for tofu, is made. Soybeans soaked in water from the previous day are ground, cooked and passed through a machine to make smooth soymilk. Bittern, magnesium chloride used as a tofu coagulant, is added several times while the soymilk is still hot and the mixture is stirred slightly and coagulated to set the tofu.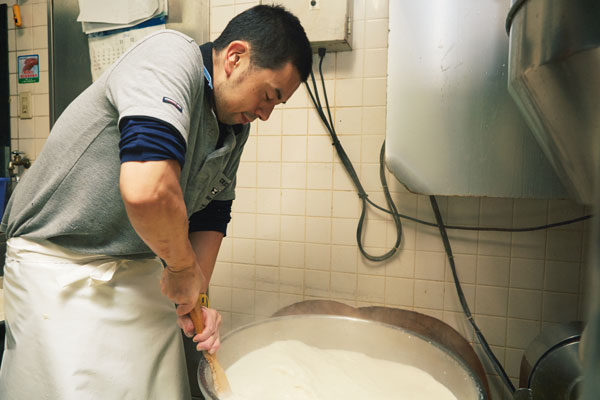 The amount of water absorbed by the soybeans differs according to the day's temperature and humidity thus requiring the amount of bittern to be adjusted according to the thickness of the soymilk. Knowing exactly when the firmness of the tofu is at its best while constantly stirring the mixture with a wooden stick is proof of a craftsman's skill.
Following this, the mixture is poured into separate molds to make silk and cotton tofu, and set for a short period of time, producing milky white, exquisite tofu. As the entire process requires his unwavering attention, Tanaka laughs and says, "Making tofu is labor intensive," and quickly goes about his work.
Flavor created by selected ingredients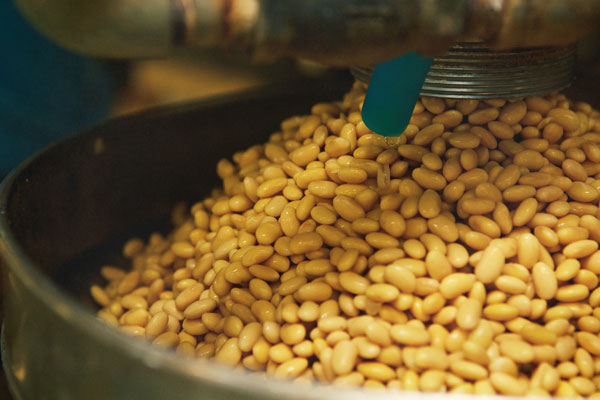 Tofu can be largely classified into two types. One is called "silk tofu" (kinugoshi-dofu) made by pouring soymilk coagulated with bittern into a wooden mold, and the other is "cotton tofu" (momen-dofu) made in a wooden mold lined with cotton cloth and pressing to remove excess water.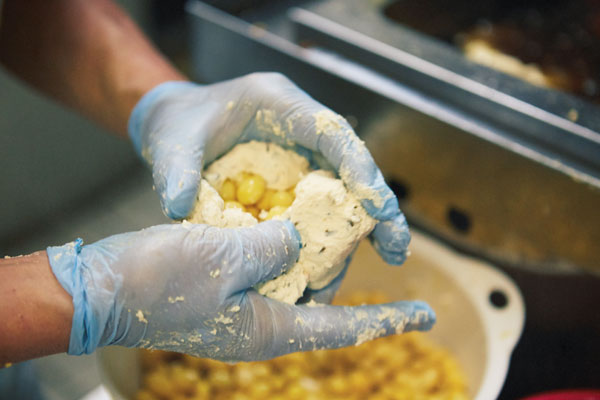 For soybeans, the most important ingredient of tofu, Futaba uses "Osuzu" brand from Aomori Prefecture. With a good balance between sugar and fat, Tanaka believes that Osuzu is perfect for achieving the taste and texture he aims for. The bittern used to coagulate the tofu is mainly natural bittern taken from seawater at Muroto in Kochi Prefecture. Because tofu is so simple, its flavor is easily swayed by the quality of the ingredients.
"Our silken tofu is firm, and our cotton tofu is soft. Different soybeans and bittern are used depending on the product, but domestic ingredients produce the tastiest tofu by far. Domestic soybeans, especially, have a rich flavor and sweetness, and a good balance of sugar and protein as well."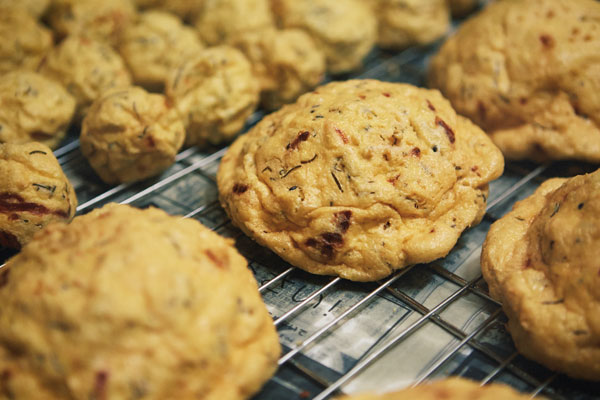 A product at Futaba that is as popular as regular tofu is ganmodoki tofu fritter, which consists of deep-fried vegetable tofu. It was originally created as a substitute for meat in Buddhist vegetarian meals. It is commonly made by crushing leftover tofu in paddies, adding ingredients and deep frying. But at Futaba, tofu is specially made just for preparing fritter. One unique product is jumbo fritter, a fluffy patty the size of your palm filled with ginkgo nuts, chestnuts, kombu seaweed, carrots and sesame. The fluffiness comes from Japanese yam, which is used as a binding agent. After boiling it and draining off the hot water, it can become the meal's main dish by cooking it in a broth, or baking it in a toaster oven and serving with ginger and soy sauce.
Preserve the old and take up new challenges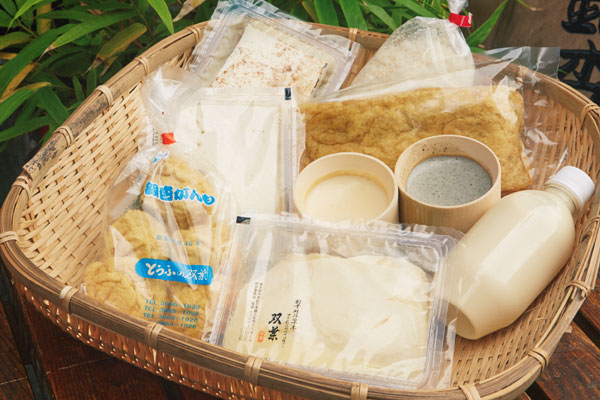 Ningyocho in the old downtown part of Tokyo is an area where various people gather, from homemakers to businesspeople and tourists. To meet each of their needs, even a venerable establishment like Futaba has a variety of products ready.
In addition to tofu and tofu fritter for the locals, there's soymilk for businesspeople who stop by on their way to work along with flavored tofu in bamboo containers and soymilk soft serve ice cream, which is popular with tourists and can be eaten right at the store. On the second floor, there's a restaurant specializing in tofu dishes frequented by many, including vegetarian tourists.
"While cherishing tradition, we have to continue evolving to match changes in customer lifestyles and in the city. As a tofu craftsman, I wish to continue making select tofu that keeps abreast of these changes. Japanese tofu is truly delicious and very healthy. I sincerely hope foreign visitors will try it," says Tanaka.
Make sure to visit Tokyo's downtown area to savor tofu, Japan's proud health food.