THE POWER OF SHUN (April / BACK NUMBER 2020)
The In-Season Fish, Sakuradai (Cherry Bream)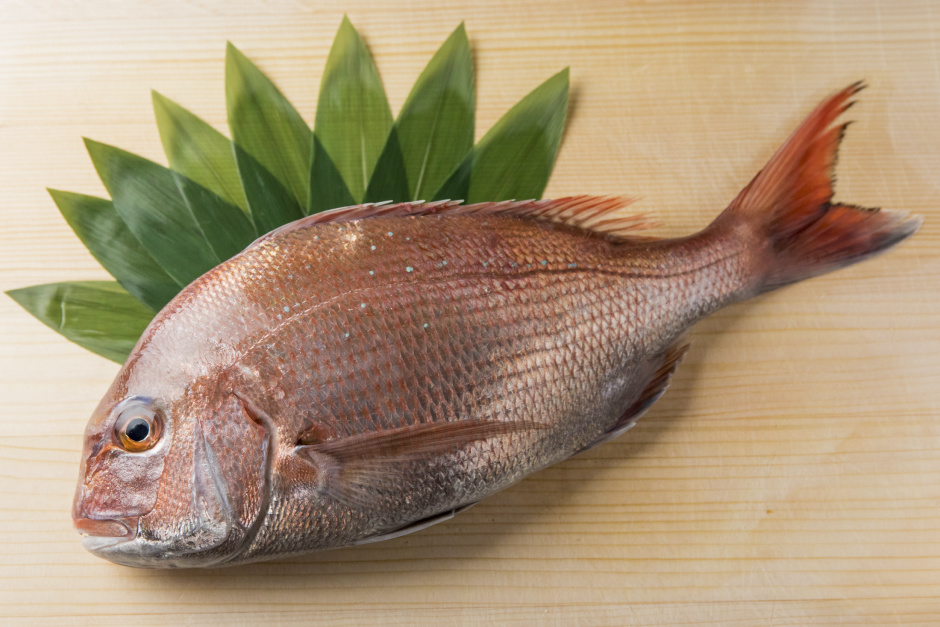 This series, "A Connoisseur Speaks on Seasonal Seafood" details the appeal of seasonal seafood as seen by connoisseurs. The selected fish for this article is sakuradai (cherry bream)—a fish that ushers in the spring season, offering delights for the eyes and taste buds. Kazuya Negishi, the sushi chef who runs Negio-zushi in Kamagaya, Chiba prefecture and is also trained in fisheries science and Edo-style sushi, gave us tips on selecting good cherry bream and delicious ways of preparing the fish. We visited his store, where high-quality, wild cherry bream was waiting for us.
With the cherry bream arrives the flavors of spring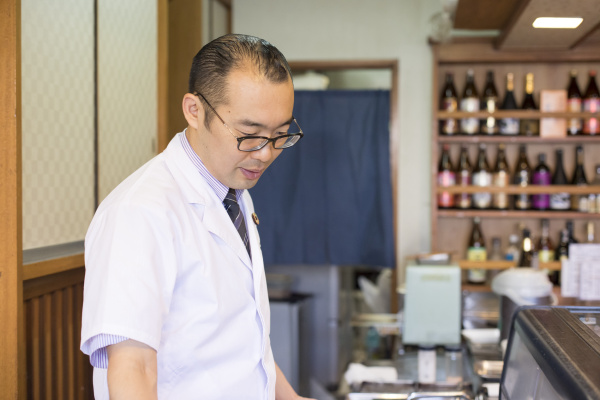 As its name goes, tai (sea bream) is often featured as a main dish for celebratory (omedetai) occasions. It is not only a play on words, as sea bream has white and delicate meat with a refined taste.
Usually, what we casually call "tai" points to red sea bream. It is said that there are hundreds of different types of sea bream, including parrot bass and splendid alfonsino. Of all the sea breams found in the world, Negishi says that "Nonetheless, red sea bream is most suitable for Japanese cuisine."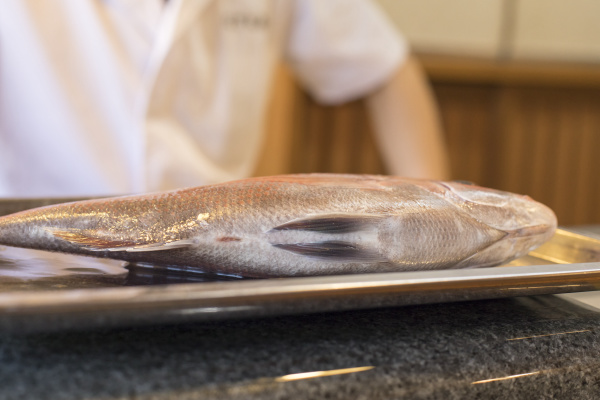 "Red sea bream can be caught all over Japan throughout the year. Farming red sea bream is also popular, making it very accessible and easily found in supermarkets. However, if you are looking for a quality fish, I recommend choosing a wild red sea bream. There are many famous areas for catching the fish in southern Japan."
Look at the abdominal fin and tail to tell wild and farmed fish apart. Both fins are intact for wild fish, but farmed fish tend to bite each other, causing their fins to fray. For wild fish, fish that were caught by pole-and-line fishing instead of nets suffer less damage, making them increasingly high-grade produce.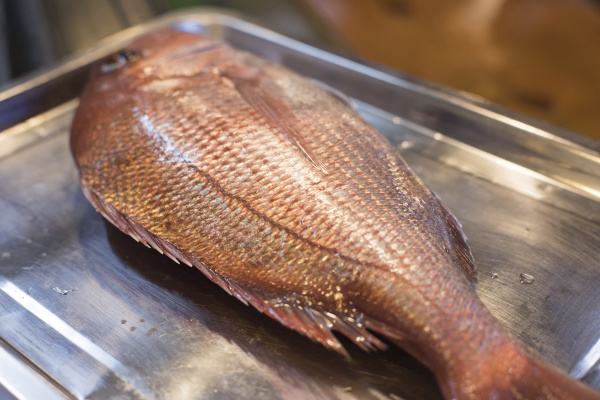 "The season for wild fish is spring and autumn. The fish migrate to shallow areas near the shore, allowing them to get caught during these seasons. Red sea bream in particular are called sakuradai in spring and momijidai (autumn leaves bream) in autumn."
Selecting good sakuradai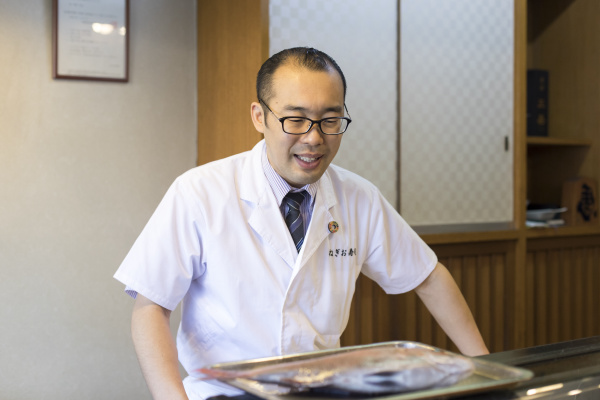 "The best part of having in-season sakuradai during this time of year is being able to eat younger sakuradai, skin and all. That is why I recommend selecting smaller fish that are less than one kilogram. Young sea bream has soft skin, and the fatty part underneath the skin has a refreshing flavor. Meanwhile, female sea bream carrying eggs right before spawning is not as good to eat, so I recommend avoiding it. Look at the spots on the dorsal fin to pick out younger fish. Young fish have beautiful spots with a blue tinge, but the color dulls as the fish grows older."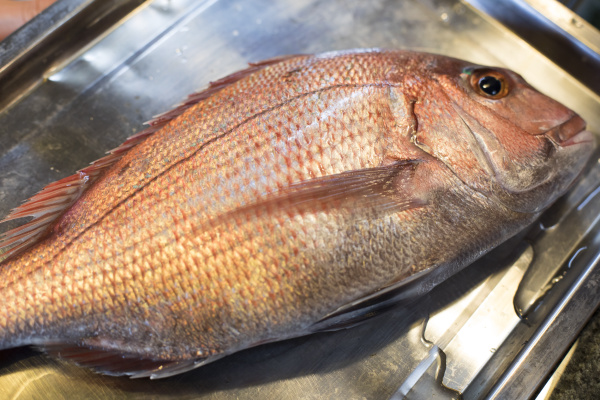 According to Negishi, select sakuradai that is thick and firm, even if it is on the smaller side. He instructed us to instinctively "select fish with smaller faces and clear eyes, looking as if it was smiling," as all fish seem to have relatively smaller faces if it is a well-fleshed fish.
"As with today's purchase, one cannot tell whether this is a male or female sea bream by only the face for fish under one kilogram. The fish needs to be cleaned to see which gender it is. As you can see here, fish with thick underbellies and tail fins mean that it is nice and fat. Fish with a protruding back mean that it is muscular and firm, promising a good flavor."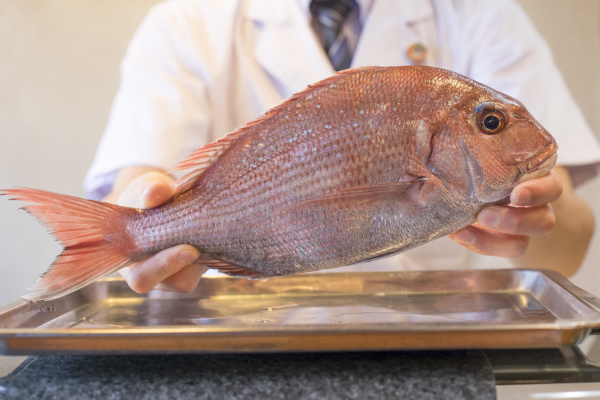 For this day, Negishi went to the market and selected a wild sakuradai from Awaji. The Seto Inland Sea has a current that goes so fast, some fish even break their bones. The fish here move their bodies more, resulting in firmer bodies, making the area one of the famous areas for sea bream. Both male and female red sea bream take on a light pink color in the spring, which gives off a vivid shine. This is also one of the reasons the fish is called sakuradai.
In-season sakuradai—take one extra step for further enjoyment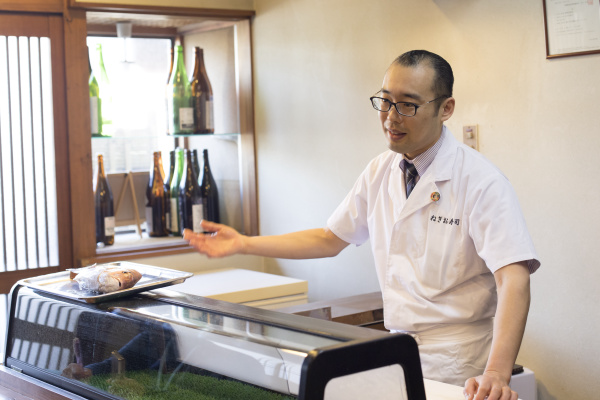 Sea bream have a mild scent, and the scent of what they ate often comes out in their meat. It is said that young sea bream sometimes has a fragrance of scallops or shrimp. Negishi says that this is the reason he recommends grilling sakuradai to enjoy the fragrance.
For this article, our connoisseur taught us a recipe for Grilled Sakuradai Skewers, which grills sakuradai with its skin on large bamboo skewers.
Red sea bream
Source:Negio-zushi Kazuya Negishi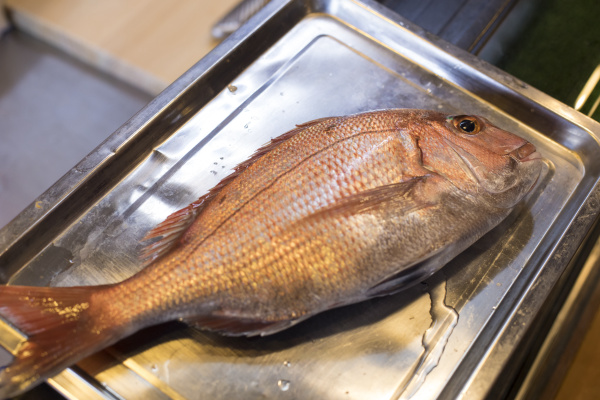 Peak Season
Around March–June sakuradai
Around September–November momijidai
Tips
・Smaller fish under one kilogram
・Fish with a smaller face when compared to the body, fish with fat, thick and firm bodies (fish with fat underbellies and tail fins are fatty, and fish with a protruding back are muscular, firm and very tasty)
How to enjoy them
Salt-grilled with the skin on
Bear in mind Negishi's hints and select sakuradai for celebratory spring occasions!
 / 
Photographer
: CHIE MARUYAMA