OKURIMONO (July 2020)
Omi Beef Hamburger Steak Offers the Many Blessings of Shiga Prefecture
Kitchen Pal's Mochimochi Gyu-toro Hamburger Steak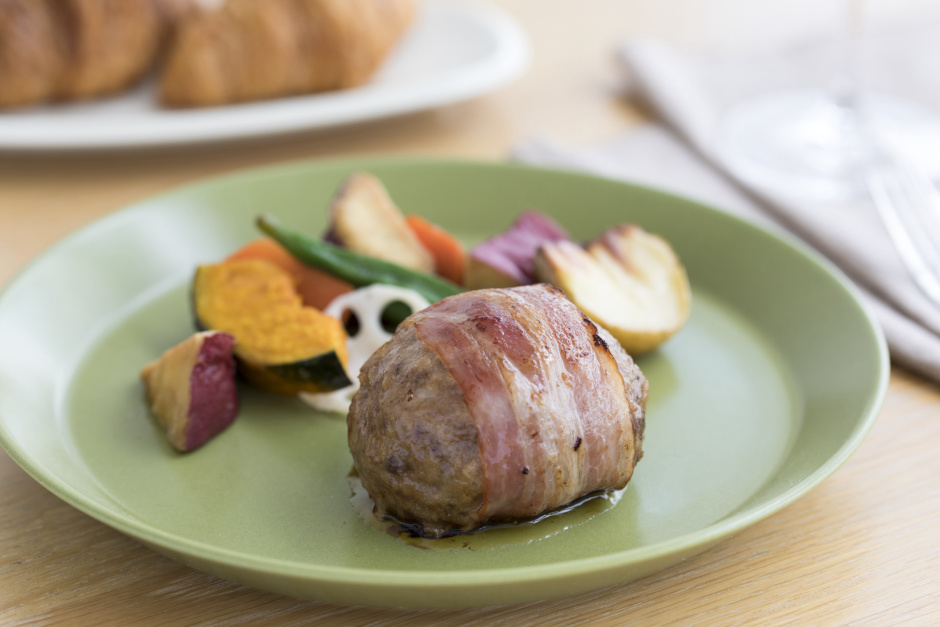 < PACKAGE >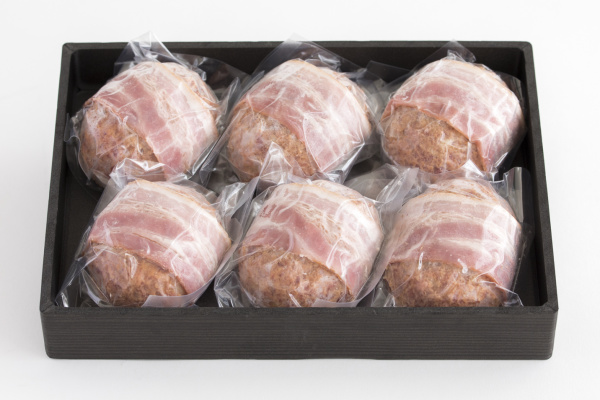 Kitchen Pal manufactures and sells ready-made dishes using Omi beef and Omi rice and other local foods in the city of Omihachiman, which is located on the eastern banks of Lake Biwa in Shiga Prefecture. For this article, we will introduce the Mochimochi Gyu-toro Hamburger Steak, which uses ground Omi beef and the Omihachiman specialty chojifu (dried, bread-like wheat gluten) mixed in as a filler, which makes an extremely tasty gift.
Here are some reasons why Kitchen Pal's Mochimochi Gyu-toro Hamburger Steak is recommended as a gift.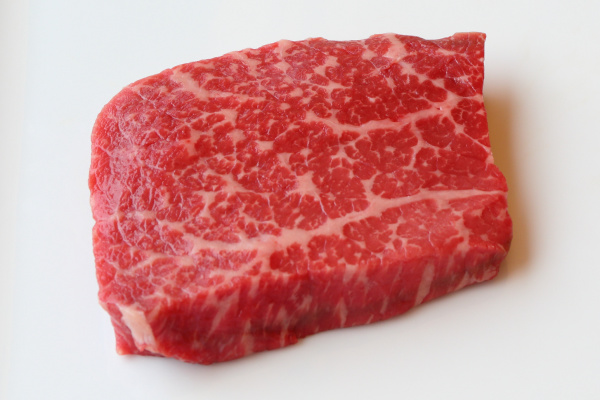 Soft meat and sweet fattiness
The patties are made from 100% local Omi beef. Omi beef is a type of Japanese black breed of cattle raised in the natural habitat of Shiga Prefecture. It offers soft meat and rich fragrance, with a sweet fattiness that melts in one's mouth. This type of beef creates the fluffy and melting sensation that is the major characteristic of Mochimochi Gyu-toro Hamburger Steak.
A chewy texture by using chojifu as filler
During Japan's Age of Warring States (1467–1615), dried gluten cakes were valued for their nutritional content, and chojifu was said to be made in squares for easier transportation. Chojifu is used as a filler for the Mochimochi Gyu-toro Hamburger Steak, and works to seal in the taste and fattiness without impacting the flavor of the meat, and also offers a unique texture that is both fluffy and chewy.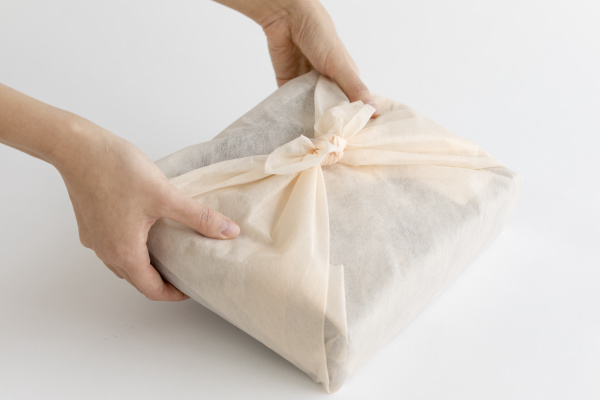 Wrap in a traditional furoshiki (Japanese wrapping cloth) for a heartfelt and courteous gift
When this product is ordered as a gift, Kitchen Pal offers two choices—to wrap with non-woven fabric alike a furoshiki, or with noshi formal wrapping paper. The sender is able to select wrapping preferences according to the recipient, to add more of a personal touch to the gift.
The food culture of Shiga Prefecture, which developed in the natural habitat of Lake Biwa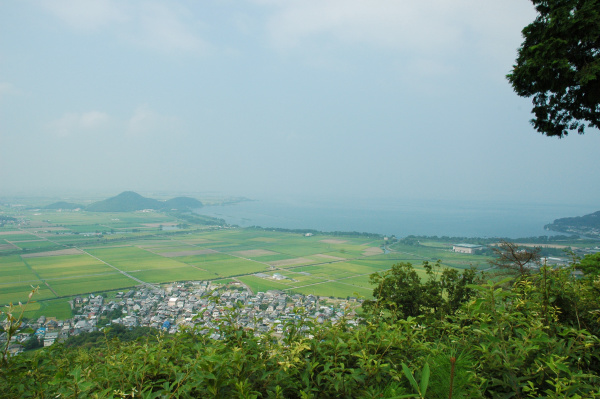 The area now known as Shiga Prefecture and the rich natural environment that surrounds Lake Biwa, used to be called the Omi Province. Azuchi Castle was built here, in which Oda Nobunaga, who unified the country, used to reside. As a result, the castle town flourished and the town's businesses, along with the rich bounties of the land, developed the area's food culture.
Lake Biwa is Japan's largest lake, with freshwater flowing in from over 4,000 rivers. This rich water resource and ecosystem made freshwater fishing, rice farming, agriculture and livestock farming popular in this area for many years.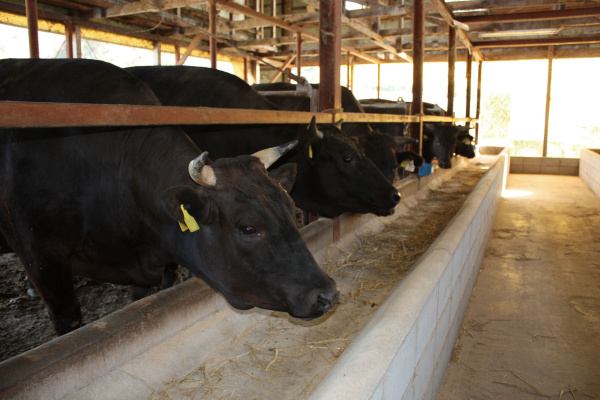 Although there are many foods unique to Shiga Prefecture, Omi beef may be one of its most famous products. Omi beef has the longest history of Japan's three major beef types, and is said to have existed for over 400 years. Cattle for food is raised throughout the Shiga Prefecture, but the number sold as Omi beef is limited to only 6,500 head of cattle a year. Only beef that has passed extremely strict quality standards is recognized as Omi beef.
Omi beef is known for its sweet, marbled meat that melts in your mouth, along with its soft texture and powerful, rich fragrance.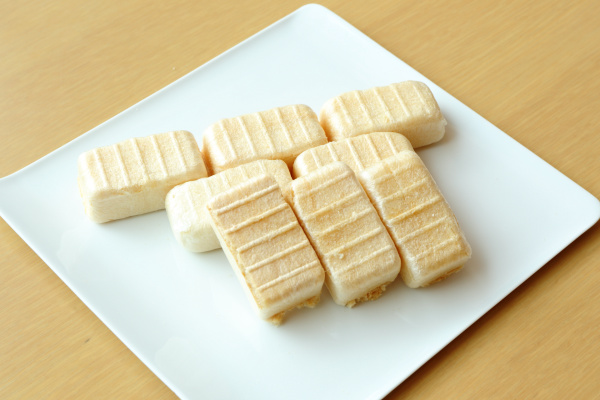 Furthermore, although there are many round-shaped, dried gluten cakes in Japan, chojifu has a square shape unique to the Omi region. It is said that during Japan's Age of Warring States, dried gluten cake was valued for its nutritional content, and chojifu was said to be made in squares for easier transportation. There is also another theory that the shape is modeled after the townscape of Omihachiman, which took after the checkered-pattern of Kyoto by Toyotomi Hidetsugu.
Ready-made dishes using only local ingredients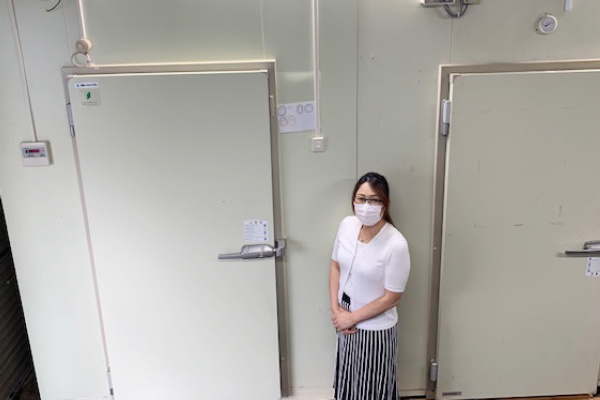 Kitchen Pal was established in Omihachiman, Shiga Prefecture in 2017. The company manufactures ready-made dishes using Omi beef, Omi rice, and other local foods, and offers mail-order services as well. It is a new business that has set its roots down locally.
"We make efforts to have our products use local foods and ingredients as much as possible. The Omi rice and black soybeans we use are from contracted farmers. We only select ingredients we have actually tasted and like," says Hisako Moriyama, the company representative.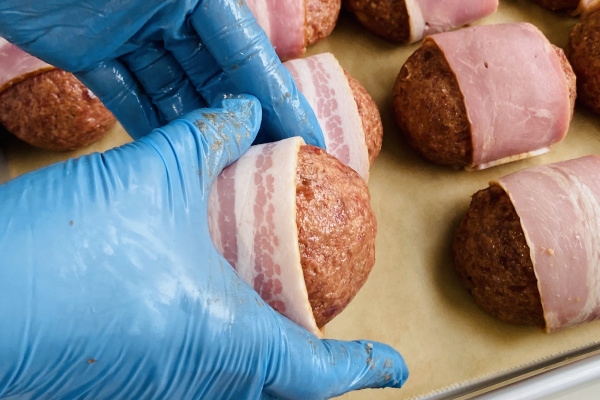 One of the popular products of Kitchen Pal is the Mochimochi Gyu-toro Hamburger Steak, which uses 100% Omi beef with chojifu and other ingredients as fillers.
The product uses 100% Omi beef, which guarantees the meat's quality. More than two types of meat parts are used to create texture, and the patties are a combination of both coarse and fine minced meat.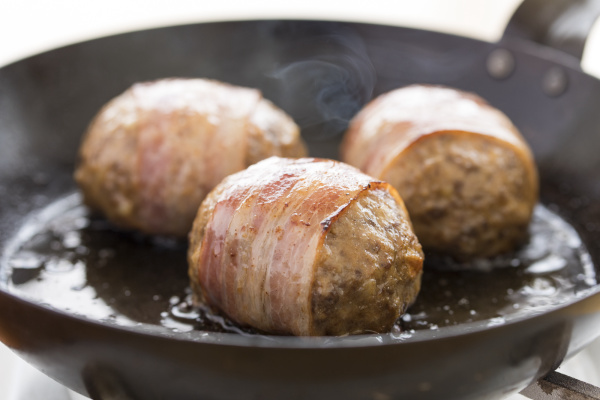 The company also puts much weight on using the local specialty chojifu as a filler for the patties. Using dried gluten cakes seal in the flavor of the meat and create a chewy texture. The soft and mild-flavored patties are wrapped in bacon seasoned with the perfect amount of salt to create accents in taste and texture.
"As a matter of fact, there is only one person who knows the recipe for the hamburger patties. How it is made is top secret. We freeze the patties quickly after shaping them, and ask customers to thaw the patties for about half a day in the refrigerator before slowly sautéing them in a frypan until completely cooked. The patties are pre-seasoned, so enjoying them as they are after cooking is highly recommended," says Moriyama.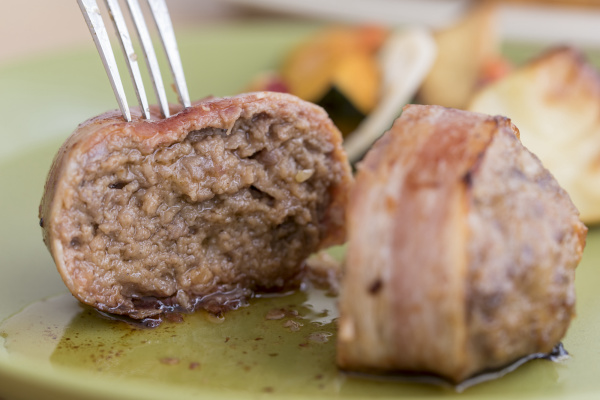 Customers will be surprised at the softness of the patties when cooking. After placing the patties on a frypan carefully without breaking them, the savory scent of bacon and sweet fragrance of fatty beef will stimulate your appetite. The patties are quite thick, so they need to be sautéed slowly to be cooked through. Once served and cut with a knife, you can enjoy the juicy cross section and its fluffy but chewy texture.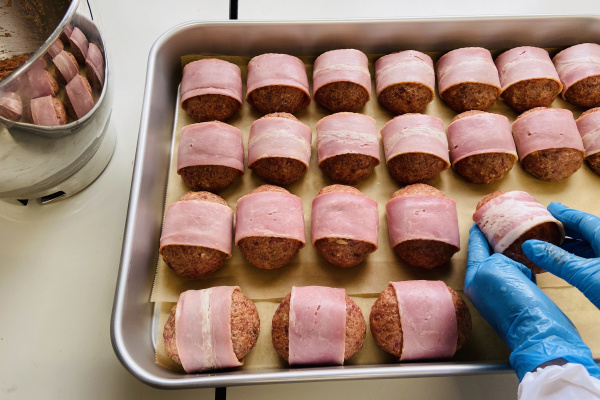 Although the patties are 100% beef, they are soft and have a mild flavor that will appeal to both young and old. "We went through much trial-and-error until arriving at the flavor we wanted. The patties are offered through mail order, and it is wonderful to receive comments saying that it was delicious, and to have customers coming back for more. As each patty is handmade, we unfortunately cannot mass produce these hamburger steaks, but we do our best to continue producing them because so many people look forward to them. We hope to continue to create products that make people happy," says Moriyama.
Kitchen Pal's Mochimochi Gyu-toro Hamburger Steak is full of the goodness of the Omihachiman area, and is sure to delight anyone who receives it as a gift. How about choosing it as a gift for someone special?
 / 
Photographer
: CHIE MARUYAMA