THE ROOTS OF SHUN (November 2015)
A new kind of seasoning that allows you to enjoy a smoky aroma
SOHOLM Smoked Oil by SOHOLM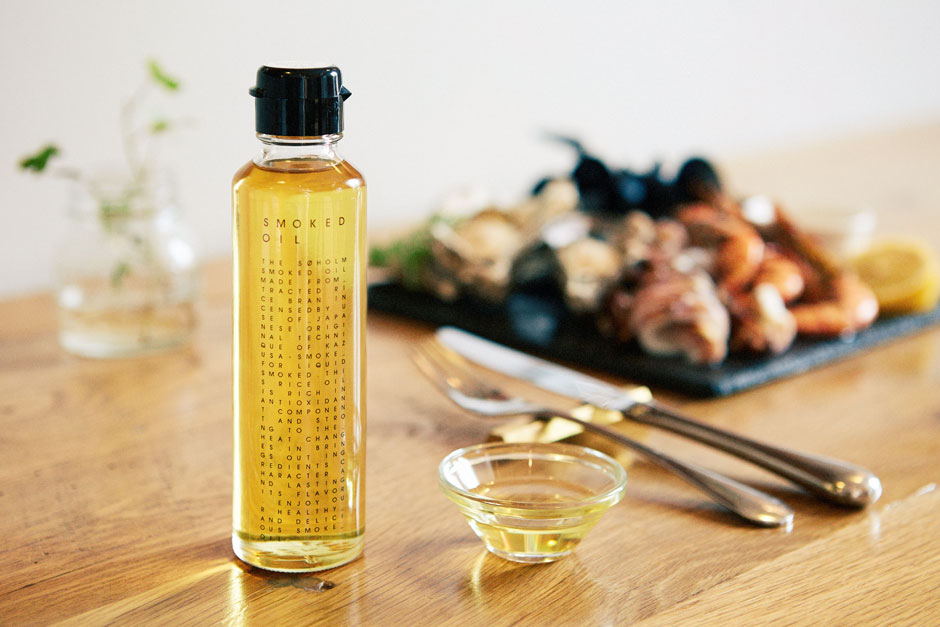 < PACKAGE >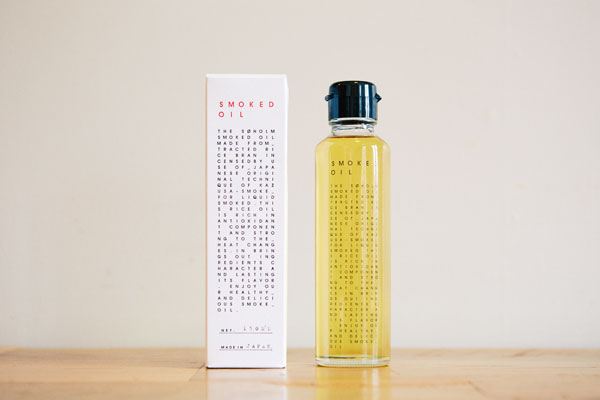 *Package shape varies according to price.
*Packaging design may vary depending on the season.
There are probably a lot of people who want to enjoy smoked food at home
but have given up the idea because preparing such dishes seems to require so much time and effort.
Here we will introduce an amazing seasoning, SOHOLM Smoked Oil, which allows you to enjoy the flavor of smoked cuisine by just drizzling it over your food.

SOHOLM, a restaurant located on the waterfront of Tennozu Isle in Tokyo, offers game cuisine, wine, and dishes prepared from seasonal ingredients. SOHOLM Smoked Oil is a product developed through a collaboration between SOHOLM and Kazusa Smoke, a holder of patented technology for smoked liquids. Another attractive feature of this smoked oil is that it uses Japanese domestic oil extracted from rice bran, an ingredient that is said to have beauty benefits.

Because this smoked oil is a liquid seasoning, not only does it goes well with food such as cheese, seafood, bread and sashimi, you can also enjoy new flavors by mixing it with other seasonings such as mayonnaise and dressing. You could say that the pleasure of discovering your favorite smoked dishes is another plus point of SOHOLM Smoked Oil.
The editorial team here at SHUN GATE was lucky enough to receive some SOHOLM Smoked Oil to try. In this article, we give you our impressions of this product, including taste, appearance and other important considerations.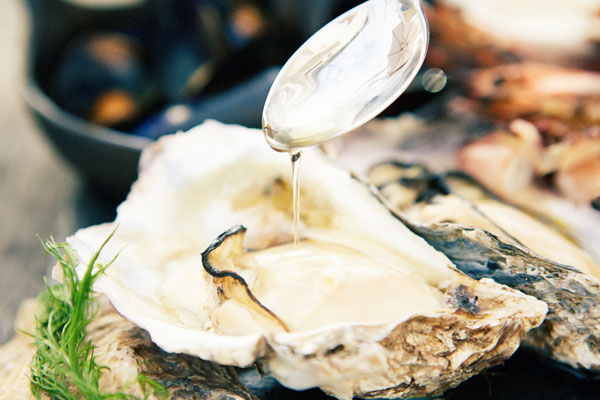 Use just a few drops for a new culinary experience
The unique aroma of SOHOLM Smoked Oil will make you want to try it out on a variety of foods, but in this case we selected seafood.
Eating oysters drizzled with SOHOLM Smoked Oil astonished us by the smoky aroma lingering in our mouths. In addition, because the oil is made from rice bran oil, it is milder than standard oils and helps bring out the taste of the ingredients.
Since just a few drops will deliver a smoky flavor, it might be fun to use it to serve food in a different way than usual, such as serving a dish without SOHOLM Smoked Oil and then adding it at the end to change the flavor.
This will also make a wonderful gift. Not only is the oil tasty, but the stylish bottle design will also look great in the kitchen.
A new concept made possible through the experiences of an engineer and cook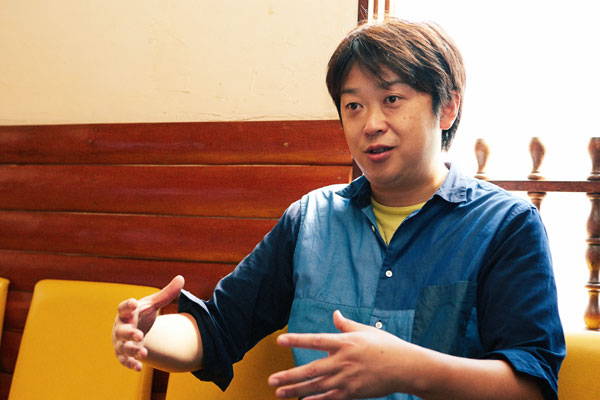 We went to Kisarazu City, Chiba Prefecture, to meet Masahide Ichikawa, Representative Director of Lio Co., Ltd., which developed the Kazusa Smoke technology, a process for creating smoked liquids.
Ichikawa was born and raised in Kisarazu. At his local high school he studied mechanical engineering and became an engineer, but some time after graduating he took over the restaurant operated by his family. We asked Ichikawa about what led to him developing technology for smoked liquids.
"Because of my line of work, I naturally like going out to eat. One day, I tried smoked soy sauce for the first time, which made me want to develop a method to smoke liquids. The smoked soy sauce I had was processed by marinating smoked dried bonito in the soy sauce, but I wanted to find some way to add a smoky flavor to the liquid itself. I then started doing a lot of research on this by making various devices."
Experience as an engineer and interest in food as a cook led to Ichikawa's developing a process for smoked liquids.
Ichikawa explained the attractions and potential of smoked food. "Smoking is a method of cooking that has been around since the Neolithic era and is part of our lives. When you think of it that way, you could say that it's in our genes to seek out smoky aromas (laughter). However, the primary and traditional method of smoking food requires wood chips, fire and smoke, and this takes time and effort. I believe there are still many possibilities for casually enjoying the aroma of smoke, which so many people like."
An enthusiastic collaboration to let people know about superior local products
The development of this smoking process started off with Ichikawa wishing to serve various smoked dishes to the customers at his restaurant. But when his technique was patented, its reputation spread.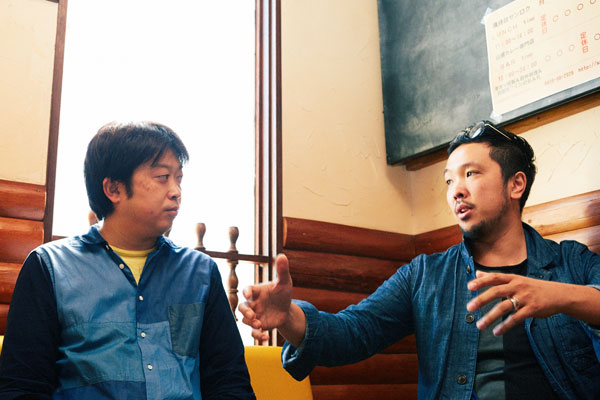 After hearing about this technology, Shota Kawai, in charge of operations of SOHOLM, a restaurant produced by ACTUS that is located in Tokyo's Tennozu Isle, came to see Ichikawa in order to make a request concerning development of smoked oil using Japanese domestic rice bran oil. Ichikawa says that he was at first very wary about this sudden visitor from Tokyo, laughing as he recalls that occasion.
With the wish to collect superior local products and let people know about them, Kawai visits locations throughout Japan to discover ingredients particular to each region. He also holds activities such as workshops to support local Japanese food culture.
Kawai's aspirations and activities resonated with Ichikawa. The collaboration between Kazusa Smoke and SOHOLM led to the birth of SOHOLM Smoked Oil, a new seasoning made from domestic rice bran oil.
"My first impression of Ichikawa was that he is not a very friendly person (laughter). However, since his technology was vital for the 'smoked oil' that I wanted to make, I didn't give up and negotiated with him several times. The more I heard him speak with pride about his technology and of his devotion to the local community, the more I came to believe that I wouldn't be able to create my product unless I partnered with him."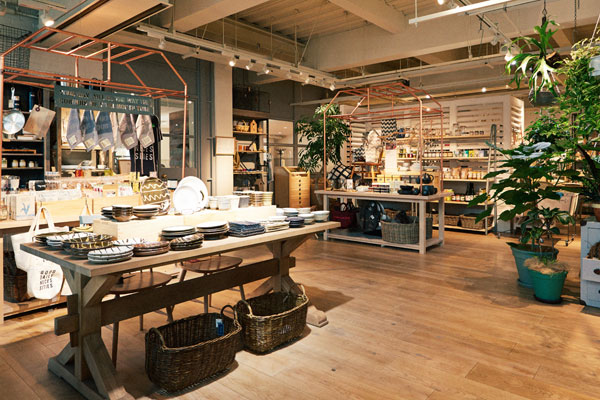 Even during the interview, there was no end to the ideas coming from these two men. "It might be interesting to mix it with that dish." "Do you think we can combine it with that liquid?" It appears that their collaboration will continue for some time to come.
The product of their enthusiasm, SOHOLM Smoked Oil, is currently available for purchase at our online shop or at SLOW HOUSE, the shop at SOHOLM. We definitely recommend that you try out this new smoked oil and experience its deep rich flavor.