OKURIMONO (October 2014)
All-new wafer treat from the confectionery masters of Tokyo
Tokyo Carameliser, new from Ueno Fugetsudo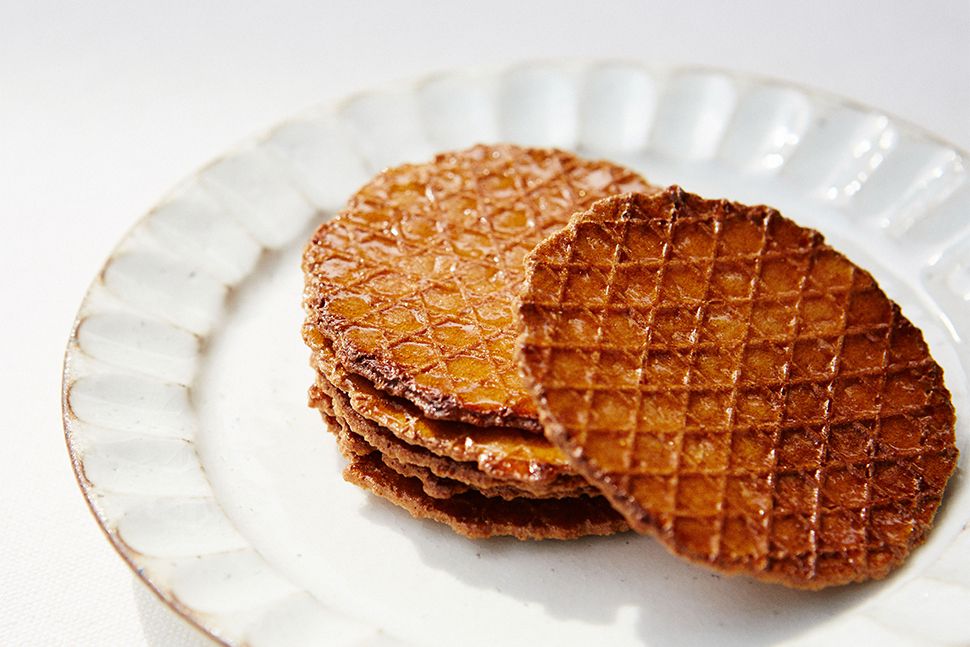 < PACKAGE >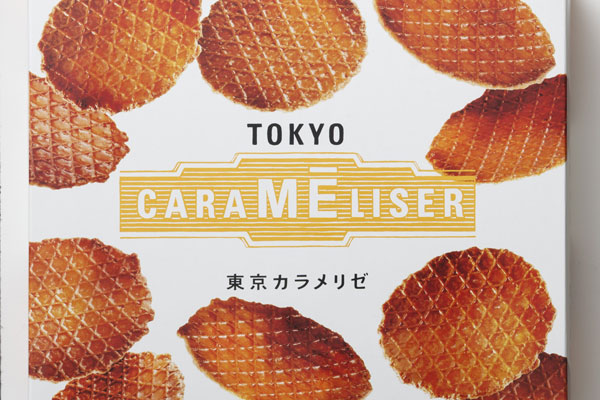 – Package shape varies according to price.
– Product design is subject to seasonal variation.
Ueno Fugetsudo is a long-established confectionery store in Tokyo with years of experience in producing the finest Western and Japanese confectionery lines. Confectionery makes the ideal gift, and now Ueno Fugetsudo is proud to announce the arrival of Tokyo Carameliser, a new addition to the Tokyo Carameliser brand of caramel confectionery created in 2010.

The new Tokyo Carameliser features specially developed crunchy wafer biscuits imbued with delicious caramel. Since it comes from Ueno Fugetsudo, you can be assured of the finest quality. And Tokyo Carameliser also offers that special surprise value of an all-new product, making it the ideal gift to take when you go visiting.
The editorial team here at SHUN GATE was lucky enough to receive a box of Tokyo Carameliser to try. In this article, we give you our impressions of this new wafer treat, including taste, appearance and other important considerations.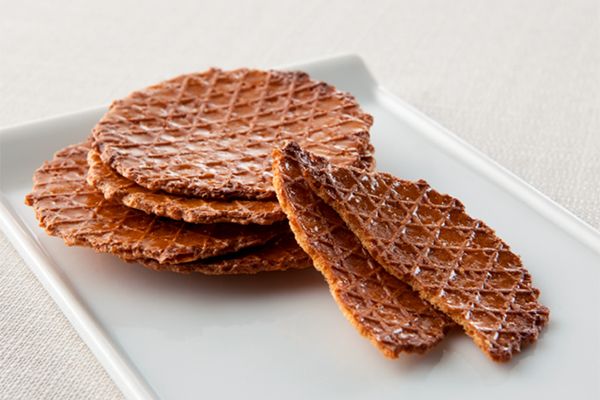 You'll savor that moment when your mouth says "thank you" for the light yet sweet burst of flavor.
The rich aroma of caramel that bursts out of the packet. The crunchy sound as the wafers disintegrate deliciously in your mouth. We all thought it was great. Each mouthful brings a fresh burst of caramel flavor. Yet it isn't too overpoweringly sweet, as one of our female colleague was happy to attest by reaching quickly for another. Tokyo Carameliser was adjudged to be qualitatively different to a conventional gaufre wafer, the perfect balance of delicacy and sweetness. Whether you have tried gaufre wafers before or not, Tokyo Carameliser makes the perfect gift for any occasion.
Attractive packaging with wide appeal
The square box is attractively packaged with the product featured prominently on the lid. The editorial team was also impressed with the lightness of the product; even the largest size containing 36 pieces seems to weigh next to nothing inside a carry bag. Being easy to carry is an important advantage when it comes to selecting a gift for visiting.
New creations from traditional techniques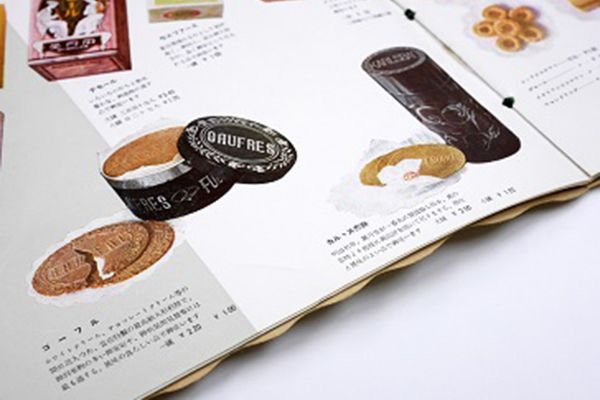 So how was this unique product created? We spoke with President Yusuke Osumi.
"Ueno Fugetsudo was founded in 1747," says Osumi. "We have a long history of creating new and exciting confectionery delights, one which we are proud to uphold today. Our ever-popular gaufre wafers, for instance, are produced using the press-baking method originally developed for the thin Karlsbad senbei (Japanese cracker), which we have been making since the start of the Meiji era in the late 1860s. The gaufre also features cream filling. Now, the Tokyo Carameliser takes the press-baking method to a new level, by adding a delicious caramel coating to create an all-new confectionery treat that is sure to appeal. We considered many different ideas, but in the end we felt it was important to retain a link with the core confectionery-making techniques of Ueno Fugetsudo."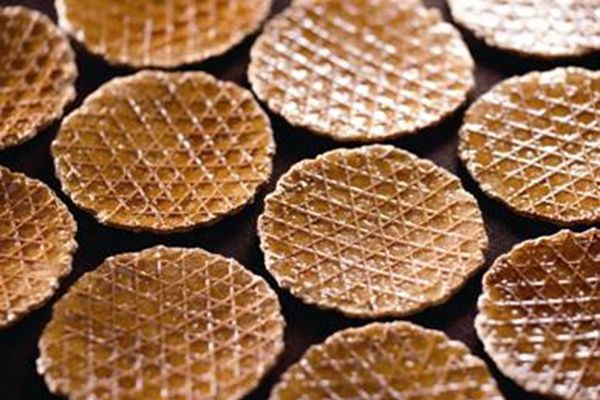 This gives us some insight into how the unique taste of Tokyo Carameliser is both new and somehow nostalgic at the same time. Perhaps this is why Tokyo Carameliser appeals to young and old alike.
Our goal was to create a sense of satisfaction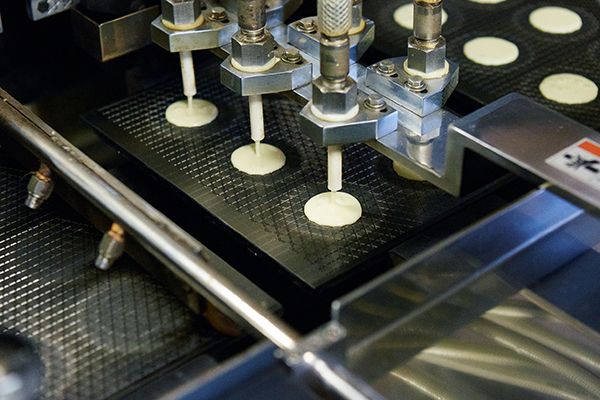 We paid a visit to the Ueno Fugetsudo factory to get a first-hand look at the press-baking process. Both gaufre and Tokyo Carameliser are made from a batter called mizu-dane. We asked Yusuke Osumi the secret to achieving that fabulous crunchiness.
"The batter has quite a high water content," he told us. "It's important to get the water ratio just right; if the batter is too soft the wafer won't be crunchy. For very thin wafers, getting the batter mix right is paramount." Press-baking is a simple process that involves pouring the batter onto a hotplate and pressing down with a second hotplate. The hotplates do not have molds, which means that the finished product is often not perfectly round.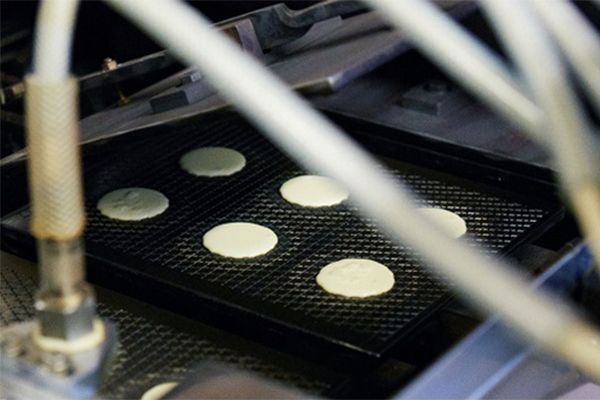 "The consistency of the batter has a major bearing on how it turns out," notes Osumi. "It's such a simple process yet we had to experiment a great deal before we could successfully make a wafer that was suitably round."
After press-baking, the wafers are then coated in caramel sauce. Tokyo Carameliser represents the perfect combination of delicate crunchy wafer and lightly sweetened caramel sauce. "Tokyo Carameliser does not have a cream filling like the gaufre, so the taste experience comes down to a single wafer," explains Osumi. "It took us a long time to get the wafer to that perfect point where it was nice and crunchy but not too hard to munch on."
The light and crunchy Tokyo Carameliser wafer is the culmination of a great deal of time and effort, which epitomizes the rich and proud history of Ueno Fugetsudo.
Tokyo Carameliser is available for purchase at the main railway stations in Tokyo as well as airports, freeway service areas and landmark attractions such as Odaiba.
Why not pick up a pack of Tokyo Carameliser, the all new confectionery creation from one of Tokyo's oldest and most respected brands. It's the perfect gift for your next leisure or business trip.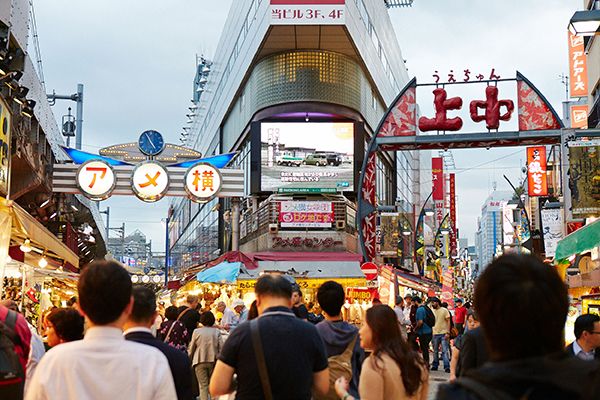 Ueno Fugetsudo Main store
Tokyo's Ueno district is packed with popular tourist destinations such as Ueno Koen park, a riot of color in spring when the cherry blossoms come out, and the Ameyoko precinct, which is particularly busy over the New Year period. Located in the heart of Ueno, Ueno Fugetsudo Main store is the ideal place to pick up gifts and souvenirs of your visit to Tokyo, such as boxes of gaufre and Tokyo Castella cake as well as a number of limited-edition products available only at the Main store.
Ueno Fugetsudo Main store is a place where you can sense the challenge of making new confectionary products while maintaining a proud history and tradition.
Note: Tokyo Carameliser retails under the Tokyo Carameliser brand and is not stocked at the Ueno Fugetsudo store in Ueno.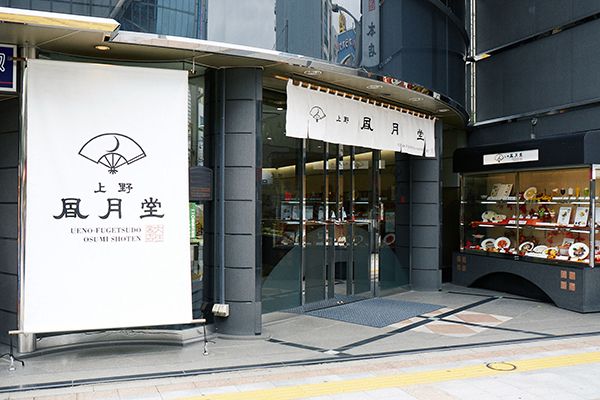 Location
〒110-8539
1-20-10 Ueno, Taito-ku, Tokyo 110-8539
Approx. 30 m from the exit of Ueno Hirokoji station
TEL
03-3831-3106
Hours
Monday to Saturday, 10:00 am-8:00 pm
Sunday 10:00 am-7:00 pm
URL
http://www.fugetsudo-ueno.co.jp/
 / 
Photographer
: KOJI TSUCHIYA