THE ROOTS OF SHUN (August 2018)
The Ingrained Power of Tokachi's Wheat Supported by Producers and Manufacturers
Obihiro, Hokkaido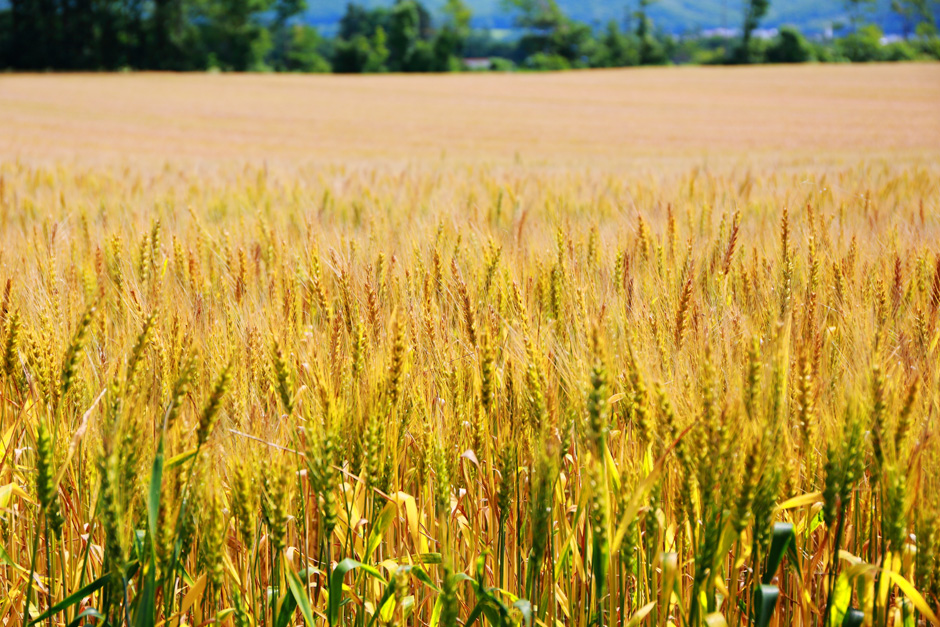 (Month information was collected: July 2018)
We see food made of wheat flour everywhere in our lives, from bread, udon noodles and pasta to confections. Wheat is essential for making this flour. Most of the domestic wheat in Japan is produced in Hokkaido, with over 600,000 tons produced in 2017, equivalent to about 60% of total wheat production in Japan.

Tokachi is one of the largest wheat-producing regions of Hokkaido. With the Hidaka mountain range, Daisetsuzan mountain range and the Pacific Ocean, Tokachi's average temperature throughout the year is about 10 degrees Celsius lower than Tokyo, with less rainfall. For wheat that grows well in cool and dry climates, Tokachi is the perfect environment.
Maeda Nosan, an evangelist for Hokkaido's wheat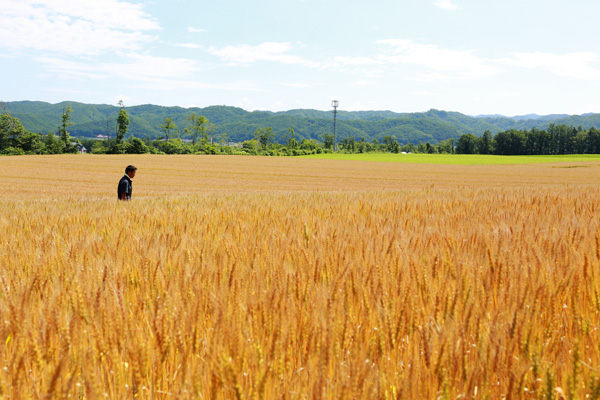 Surprisingly, Hokkaido's history as a wheat region is only about 50 years old. In the 1970s, Hokkaido's wheat producing area expanded rapidly, triggered by the agricultural policy that was put in place to counter the declining domestic food supply rate.
One of the farms that support wheat production in Hokkaido is Maeda Nosan, in the town of Honbetsu in Tokachi. The founders moved to Honbetsu in 1899 during the pioneering period of Hokkaido, and have been producing wheat for over 40 years after engaging in processing potatoes.
"My father started growing wheat—he was the company's third-generation successor. The varieties created in Hokkaido and new agricultural technologies encouraged wheat farming," says the fourth-generation successor of Maeda Nosan, Shigeo Maeda.
Maeda Nosan owns 120 hectares of farming land, of which it uses 80 hectares to grow wheat. From early July to the end of August, just before harvest, the wheat field is golden and sways in the cool wind like a carpet.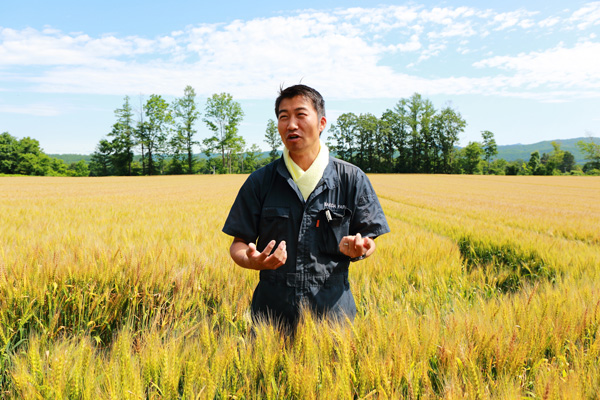 There are three categories of wheat. The varieties that take only a short time from sowing through to harvest are called wase, the ones that are harvested late are called okute, and the ones harvested in between are called nakate. Maeda grows several varieties for efficient harvest.
"If you grow only one variety, you have to harvest it all at once. Harvesting will be difficult as well because you will need a large area of land. That is why I have several varieties and harvest them at different times. Honbetsu has fluvial terraces, so there are different altitudes. Even if you grow the same variety, you harvest it at different times if it is grown in different altitudes. You need to plan it carefully, with the soil quality and temperature of several farming fields in mind."
Different varieties require different soil. Every year, Maeda analyzes the soil from every field, amassing data. To balance the soil composition, he adds calcium, magnesium and minerals appropriately and creates soil with a balanced blend of minerals.
In addition to years of experience and intuition, Maeda also uses technology. With a laser-style chlorophyll sensor for wheat mounted on his tractor, he works out how much fertilizer to give to his wheat and analyzes the wheat's protein level. He also uses the data as an indicator for wheat farming.
Wheat is a relay race product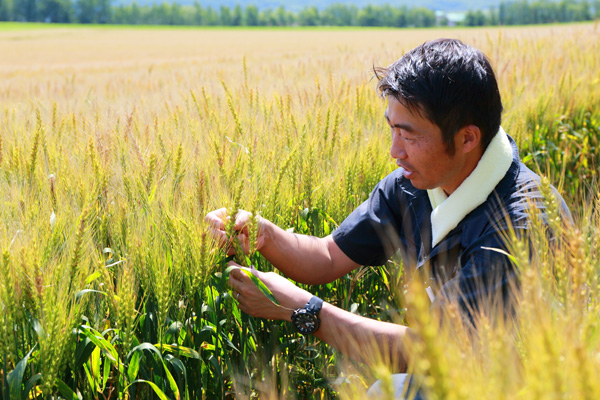 Maeda Nosan grows five major wheat varieties of Hokkaido; Kita No Kaori, Yume Chikara, Kita Honami, Haruyo Koi, and Haru Kirari. Some have a stronger wheat smell than others when milled, some are sweeter than others, and some are better for udon noodles and confections, offering a wide variety of features to match every need of food manufacturers. The one that Maeda raves about as "the ace of Hokkaido wheat for bread" is Yume Chikara, still a new variety registered only recently in 2009.
"Yume Chikara is resistant to illness and does not fall easily. You can also expect a lot of yield. It makes a very strong flour, which is rare for domestic wheat, as it contains a lot of gluten. When you blend it with Kita Honami, one of the major varieties of Hokkaido, you can make very strong dough for bread."
Maeda Nosan's challenge doesn't stop at wheat production. It distributes its original wheat flour Komi Bakusen to bakeries, mostly in Tokyo. This style is actually very unusual for local farmers. Usually, the wheat producers harvest is shipped to their local agricultural co-op. The gathered wheat is floured altogether and distributed to the market. Maeda however, is expanding his own sales channel.
"Japanese agriculture will not be the winner if it is all about producing more. I wanted to know whether my wheat is tasty or not. I wanted to check the demand for my wheat. So in 2008, I gradually began to distribute my wheat flour to bakeries. I expanded the sales channel and listened to what the bakeries wanted. It made me think about what I could do in my wheat field."
Maeda Nosan has its own harvester and a drying/filtering/storage facility. It also established a system to ship wheat flour all year round, outsourcing the milling to Ebetsu Flour Milling, the key company that promotes Hokkaido wheat.
"Wheat is a relay race product," says Maeda.
The wheat comes from breeding organizations that study disease, yield and taste, to wheat producers, harvesters, milling companies, processors and finally to consumers—each responsible for its leg of the race. "I would be happy if consumers could picture the wheat fields of Hokkaido when they enjoy good bread," says Maeda, with growing dreams.
Challenge of Masuya Shoten, the bakery that focuses on Tokachi ingredients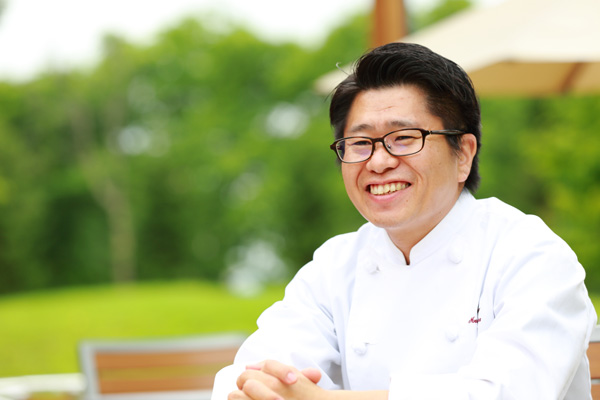 We visited a bakery in Obihiro as we had heard it makes and sells bread using Maeda Nosan's wheat. The bakery is Masuya Shoten, established in 1950. The ingredients it uses for baking, including wheat flour, yeast, water and dairy products are all from Tokachi. Inside the store is an array of producers' photos. Indeed this is a bakery directly linked to Tokachi's producers.
Masuya Shoten opened the Main Store, its first store, in Obihiro. It then expanded to other regions, mainly in Tokachi, to the point that it became a local household name. It uses Tokachi wheat for all its bread.
Nowadays we see quite a few bakeries that claim they only use domestic wheat flour. But Masuya Shoten's desire to use 100% Tokachi wheat started almost 20 years ago.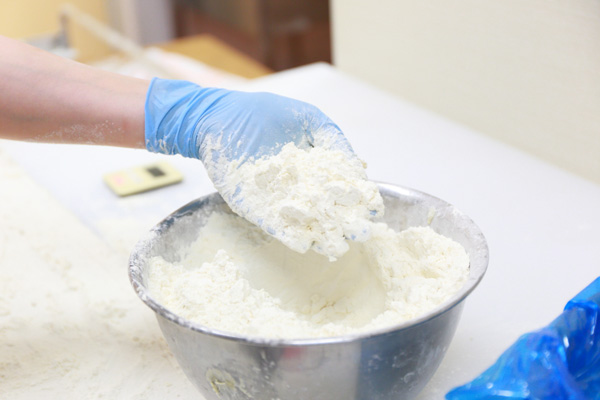 "We started using Tokachi wheat around 1989. In those days imported wheat was the norm. People also thought bread was an overseas food and even the industry had little interest in domestic wheat," says Masanori Sugiyama who represents Masuya Shoten.
Firmly believing "A Tokachi baker should use Tokachi wheat," Sugiyama continued to take on this challenge with his parents and finally in 2012 the effort bore fruit.
There is considerable risk associated with limiting the origin of the ingredients. If Tokachi wheat's yield is poor, it will affect the store's management. Switching the wheat flour was not well received from the bakers of the store.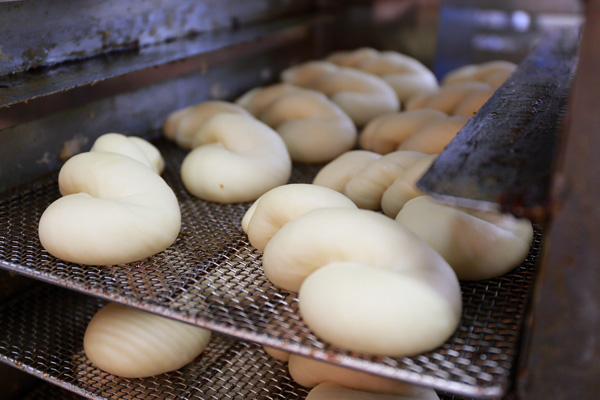 "I was really in two minds about replacing the wheat entirely with Tokachi wheat. In the end I could only make the decision because I finally had the assurance that for about 20 years we would have a stable supply. You also need different baking techniques for domestic and imported wheat. Domestic wheat can vary in quality and requires more advanced techniques. This technical transition also took us a long time."
Was Sugiyama's decision a success, or a failure? The answer is obvious. Look at his store. It is packed with customers as soon as it opens.
"Tokachi wheat has soft, smooth starch so you get soft, sweet bread. If you use it with other Tokachi ingredients it will be even tastier by synergy. Tokachi's strength lies in the fact that producers and food manufacturers know each other personally."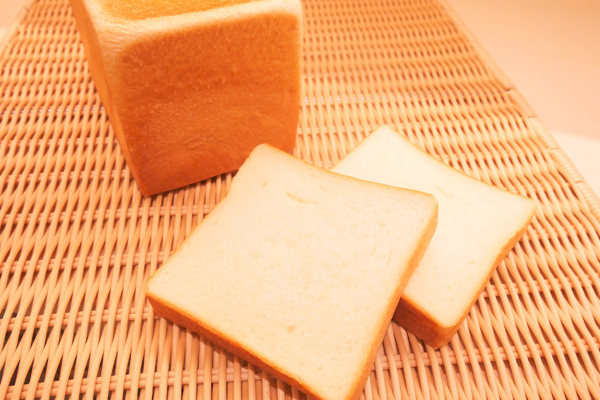 In 2016, Masuya Shoten opened Masuya Tokyo in Meguro, Tokyo. The store developed bread with Maeda Nosan's Yume Chikara wheat. The smooth, soft and moist bread has won the hearts of many bread lovers in Tokyo.
Sugiyama plans to introduce his bread to more stores in Tokyo. He has also established a partnership system between consumers and wheat producers, one of them being Maeda Nosan. The value of Tokachi wheat will grow slowly, albeit steadily, with the support of producers and food manufacturers.
 / 
Photographer
: SATOSHI TACHIBANA