RECIPE (December 2018)
Bicolored Sweet Potato Salad Bicolored Sweet Potato Croquette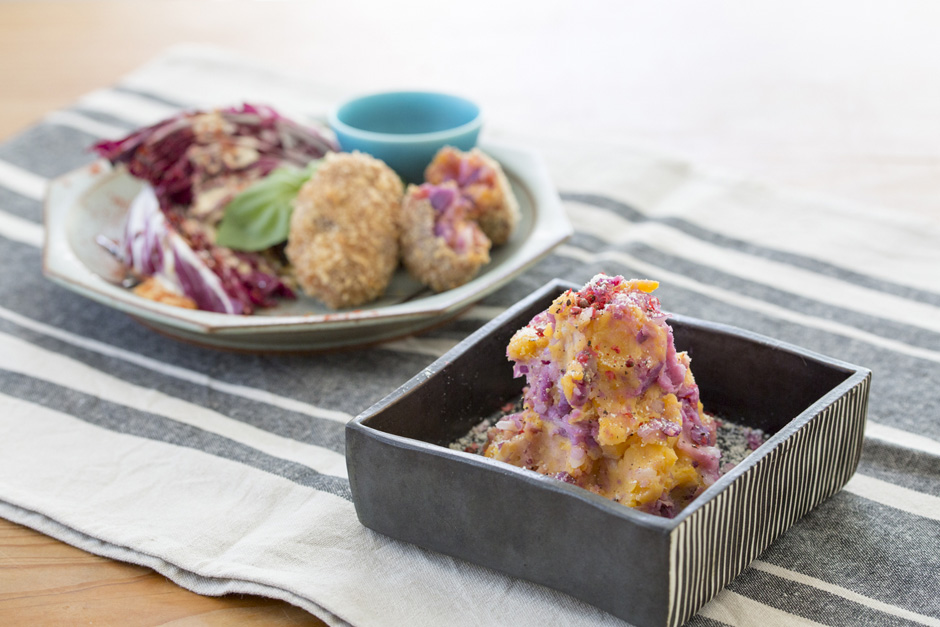 Bicolored Sweet Potato Salad Bicolored Sweet Potato Croquette
Ingredients (Serves: 4)
Potato Salad
purple sweet potatoes (Purple Sweet)

200g

Anno sweet potatoes

200g

purple onion

1/4

mayonnaise

4 teaspoons

Lemon juice

2 teaspoons

Olive oil

Right amount

Parmesan cheese

Right amount

Black pepper

Right amount

Pink pepper

Right amount
Variation dish: Croquette
hot-melt cheese

3 tablespoons

Rice flour (or potato starch)

Right amount

Egg

1

Bread crumbs

Right amount

Frying oil

Right amount

Semi-thick Worcester sauce

Right amount
Directions
Peel and dice the sweet potatoes into 5 cm cubes before placing into a heat-resistant container with a small amount of water. Cover with plastic wrap and microwave until soft. (Approximately 10 to 15 minutes)

Slice the purple onion and soak in cold water. Drain well before mincing.

Take the softened potatoes and mash them separately, per color, with a fork.

Add 2 teaspoons of mayonnaise and 1 teaspoon of lemon juice to each bowl of mashed potatoes. Mix with a rubber spatula until smooth.

Add the minced purple onion and mix slightly by hand before arranging the mix on a dish.

Add olive oil, cheese, black pepper and pink pepper to taste and serve.
Variation dish Croquette
Add hot-melt cheese and shape the mixture into oval shapes.

Add thin coats of rice flour, egg and bread crumbs in this order.

Deep fry in oil at 180°C to 200°C, until the surface is crisp.

Serve with semi-thick Worcester sauce and vegetables for garnish and serve.
A useful tips
-Make sure to thoroughly mash the sweet potatoes for a smooth texture. -Adding lemon juice will make the colors of the sweet potatoes more vibrant.
Recipe from : Cooking specialist Yukiya Terai