RECIPE (April 2018)
Cake salé with spring vegetables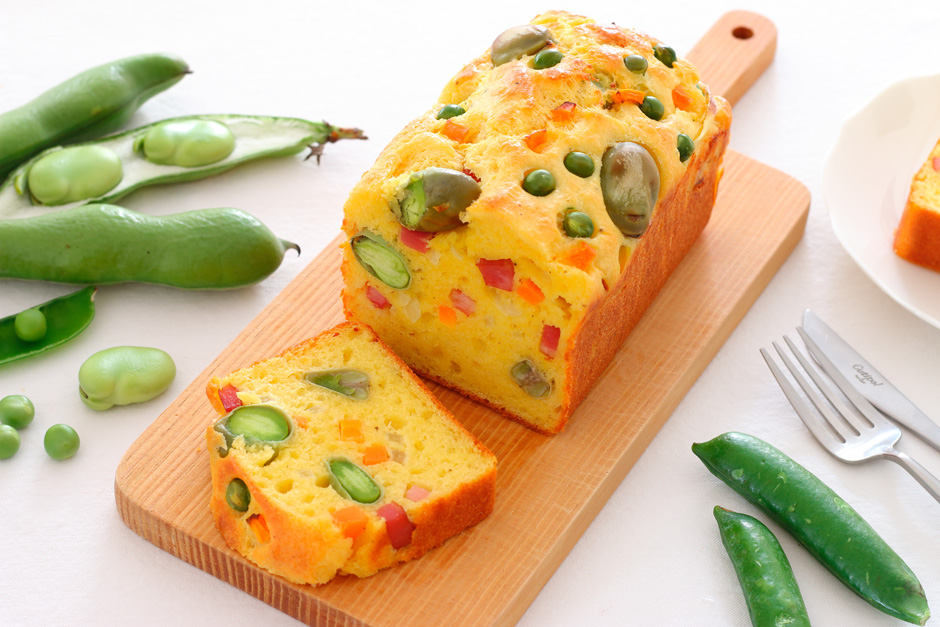 Cake salé with spring vegetables
Ingredients
Dough
Eggs

2

Milk

80ml

Olive oil

50ml

Low-gluten flour

50g

High-gluten flour

50g

Baking powder

1 teaspoon

Parmesan cheese (powder)

50g

Salt and pepper

small amounts
Fillings
Broad beans

80 g (about 15 beans)

Peas

20 g (about 25 peas)

Onion

1/4

Carrot

1/4

Bacon

50g
Directions
Take the broad beans and pea out of the pods. Slice the onion thinly. Chop the carrot and bacon into long thin slices. Peel the broad beans if so preferred.

Put the eggs back to room temperature and crack them. Warm milk to body temperature. Stir the eggs and milk together.

Add olive oil and stir well until smooth.

Put the low and high-gluten flour and baking powder together and sieve well. Mix into (3) and stir.

Add Parmesan cheese, salt and pepper and stir.

It's ready when smooth.

Line the tube pan with a baking sheet. Put the dough and filling in layers.

Arrange the surface so that it will look good.

Preheat oven to 180 degrees Celsius and bake for 30 to 35 minutes. Put a skewer into the cake and if it comes out clean, the cake is ready.
A useful tips
・The dough does not rise well if it is cold, so add warm milk in step (2). ・High-gluten flour will make the dough more fluffy. Use low-gluten flour if high-gluten flour is not available.
Recipe from : con-fectionery researcher marimo