RECIPE (November 2017)
Carrot Cake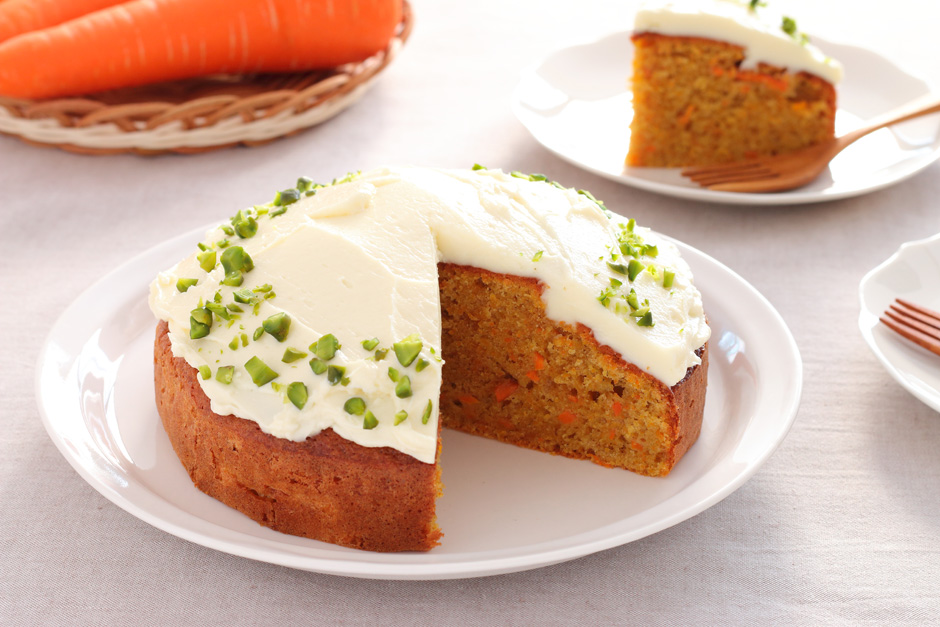 Carrot Cake
Ingredients
<Dough>
Egg

2

Sugar

80g

Cooking oil

50g

Carrots

100g

Low-gluten wheat flour

100g

Baking powder

3g

Cinnamon powder

1.5g
<Topping>
Cream cheese

150g

Sugar

15g

Lemon juice

5g

Pistachio

as needed
Directions
Cut 50g of carrots into fine strips, and grind 50g of carrots.

Put the eggs and sugar in a bowl and whip until the sugar dissolves.

Add cooking oil and stir until mixed well.

Add ground carrots and stir well.

Add carrot strips and stir.

Sift in the low-glutenous flour, baking powder, and cinnamon powder and stir lightly with a rubber spatula.

Pour dough into the cake pan lined with a baking sheet.

Bake about 35 minutes after preheating oven at 180 degrees Celsius. If you stick a bamboo skewer in the dough and it does not come out with the dough, it's done. Take out of the oven and let it cool on a metal grid.

Put cream cheese and sugar in a bowl and knead with a rubber spatula until soft. Add lemon juice and stir until smooth.

Put the cream cheese on top of the cooled cake and spread with a rubber spatula.

Arrange chopped pistacchio and you are good to go.
A useful tips
・In step 2, sugar will dissolve easily if you put the bottom of the bowl in a water bath and warm it. ・The dough will be moist by adding ground carrots. ・By adding fine strips of carrots, the final texture will be more interesting.
Recipe from : con-fectionery researcher marimo