RECIPE (November 2015)
Assorted Eggplants and Bitter Gourds (Koneri)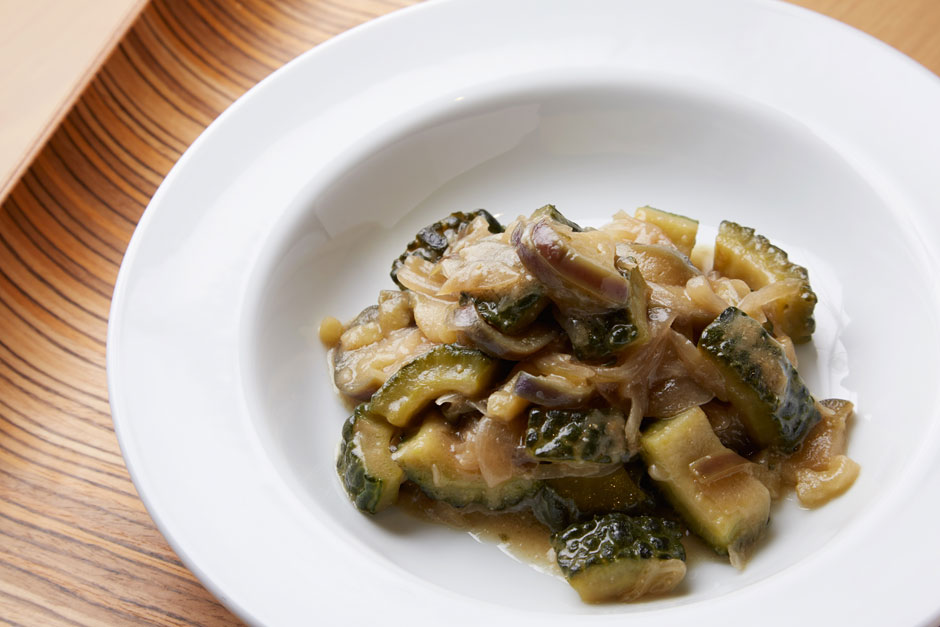 Assorted Eggplants and Bitter Gourds (Koneri)
Ingredients (Serves: 4)
bitter gourd

1/4

eggplant

1/4

Onion

1/2

Salt

1/5 tsp

Miso

3 tbsp

Sugar

1/2 tbsp

Sake

4 tsp

dried sardine soup stock

5 tbsp

Water

2 tbsp

Vegetable oil

1 tbsp

wheat flour

2 tbsp
Directions
Slice the bitter gourd into 1cm discs. Remove the fluff. Cut the eggplant along the length into halves and chop into 5mm strips. Cut the onion into crescent-shaped pieces.

Heat the cooking oil in a frying pan. Put the vegetables from (1) and stir-fry until they soften.

Mix the miso, sugar, sake, dried sardine soup stock and water, and add to the vegetables, making sure it evenly coats them, and continue to stir-fry.

When the vegetables have become thoroughly flavored, add the wheat flour dissolved in 4 tbsp of water. Mix well and serve.
A useful tips
The heat level is key to stir frying. Make sure to stir-fry quickly on medium or a higher heat. If stir-fried slowly at a low heat, vegetables tend to lose their flavor.
Recipe from : Koishikawa Terrace