RECIPE (November 2015)
"Chanchan" Fried Salmon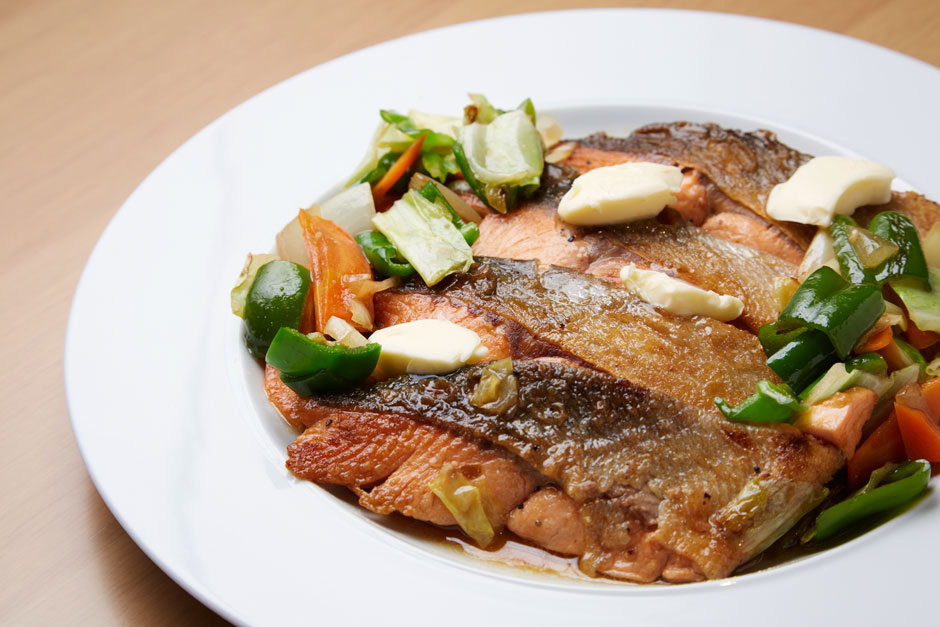 "Chanchan" Fried Salmon
Ingredients (Serves: 4)
A few cabbage leaves

Small amount of

Onion

1

Carrot

1

green bell peppers

4

fillets of salmon

4

Salt & pepper to taste

Moderate amounts of

Sake

4 tbsp

Japanese rice wine (mirin)

1 tbsp

sugar

1 tbsp

Miso

100g

ground garlic

2 tsp

cooking oil and butter

Moderate amounts of
Directions
Chop the cabbage roughly. Chop the onion into 1 cm pieces and the carrot into 5mm shreds. Halve the green peppers along the length, remove the stem and pips, and then diagonally halve again.

Sprinkle the salmon with salt and pepper, heat the cooking oil in the pan and fry the salmon on both sides. When evenly brown, arrange the vegetables from (1) around the salmon, put the lid on and steam-fry on medium heat (if you don't have a lid, use a piece of aluminum foil instead).

When the vegetables soften, pour in sake, followed by rice wine and then sugar. After 2-3 minutes, turn down the heat, add miso and stir well.

When the miso evenly coats the vegetables, turn off the heat, put the butter in and serve.
A useful tips
In (3), when adding the seasonings, let the pan heat up after pouring in sake and rice wine so that all the alcohol evaporates, and then add the miso. If everything is added at the same time, the miso tends to lose its flavor. The butter added at the end of the process gives richness to the whole dish.
Recipe from : Recipe courtesy of Koishikawa Terrace