THE POWER OF SHUN (October 2021)
Weaving the Future of the Sea and City. The Bounty of the Social Good Sea.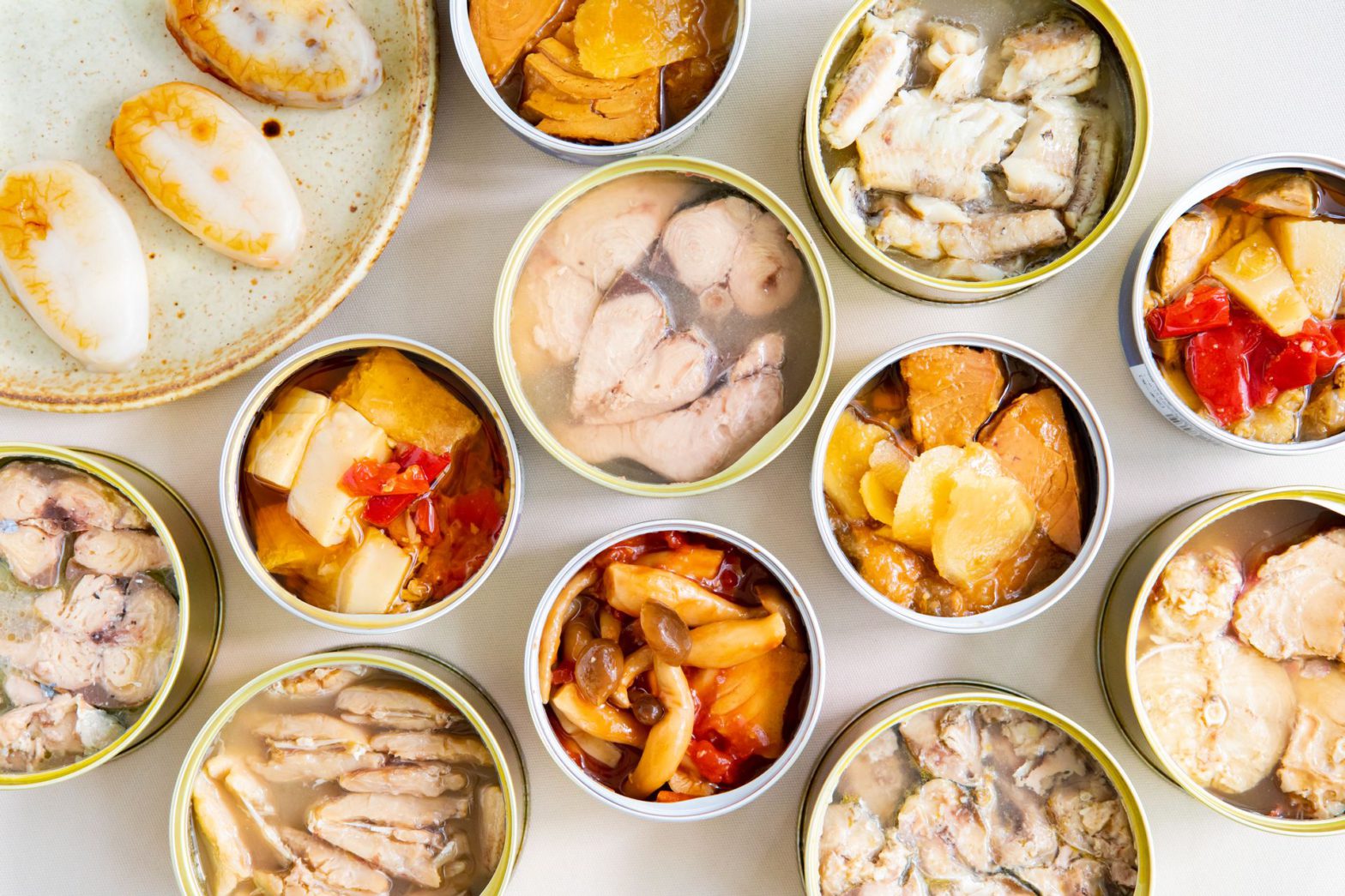 Regional specialties are full of local charm, not only in terms of taste but also in terms of the backgrounds in which the products are created. We had Sayaka Hakuta of Ryohin Koubou, who runs the regional specialty shop, nicolina, pick out products that are both delicious and also play the role of weaving the future for regions and their people. Let's take a look at some of the Social Good products created in seaside towns, along with their stories.
Kesa no Hama is packed with the unused catch of the day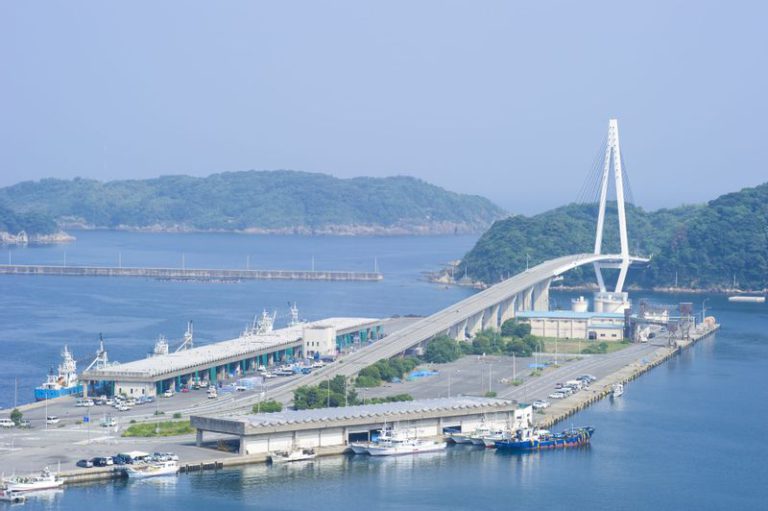 Hamada fishing port in Hamada, Shimane Prefecture, is one of Japan's 13 designated Type 3 fishing ports of particular importance for promoting the fishing industry, along with Choshi fishing port in Chiba Prefecture. Horse mackerel, blackthroat seaperch and flounder are the three famous fish brands known as Donchicchi, but there are plenty of other varieties, too.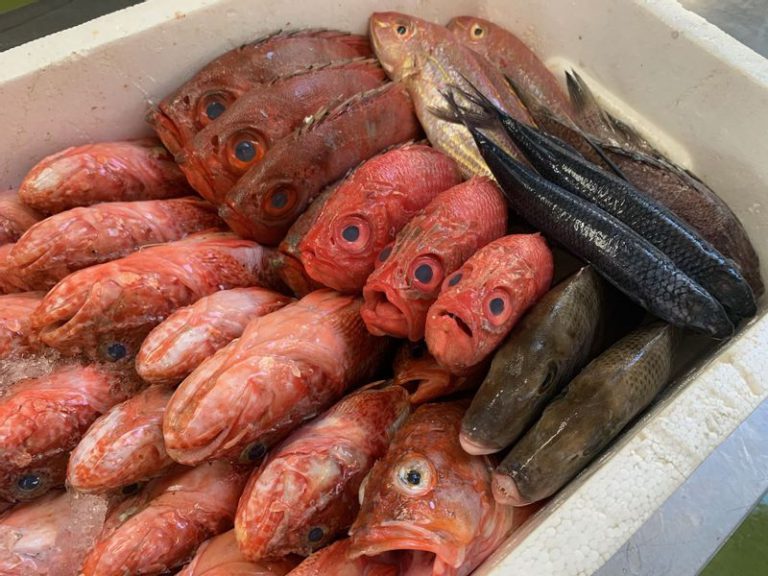 Four years ago, Sea Life, a local seafood processing plant, established the only cannery in Hamada. The idea was to effectively use fish that had no buyers. Drying is the main processing method in Hamada. They did not know what to do with yellowtail or sea bream since they had no idea how to process them. Trawl fishing also produces fish that are difficult to sell. Sea Life buys all the surplus fish and processes them as canned fish, providing enormous support to fishermen and brokers.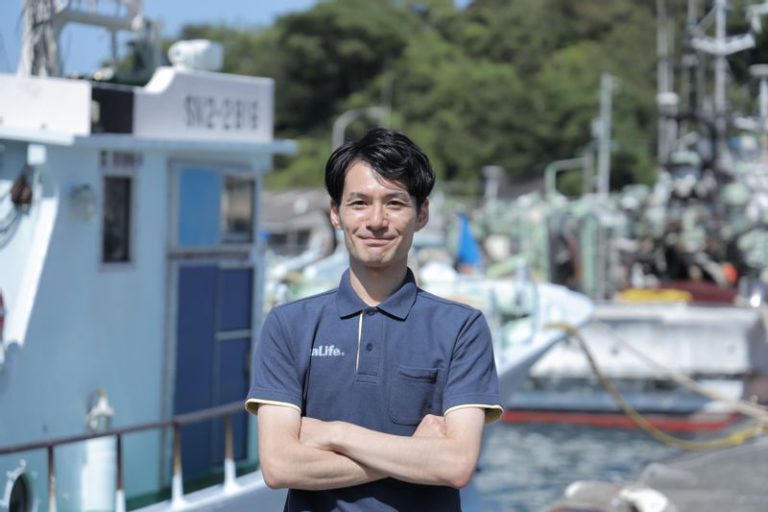 "Today's catches at Hamada Port are down to a tenth of what they were 30 years ago. With the threat of climate change, there is only so much fish we can use if we continue to rely on Donchicchi and dried fish. To make the most of the resources we've got, we began canning all the fish we caught," says Sea Life's Kiyotaka Kawakami.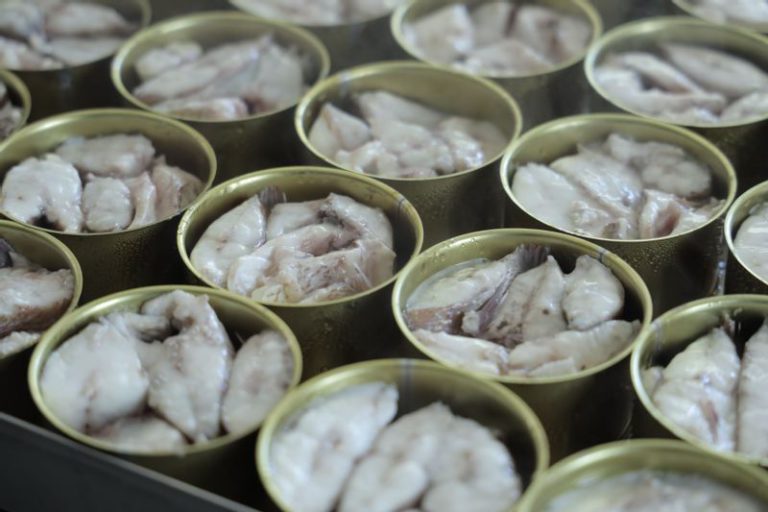 This is how the canned fish called Kesa no Hama (this morning's sea) was created. Since all the unused fish are canned, the content depends on the day's catch. It is like a fun grab bag where you might find familiar fish like tuna or, at other times, some weird fish you've never seen before.
"The sound of the name Kesa no Hama also evokes images of the sea," says Hakuta, who likes the quaint product name.
"The price of the can is the same no matter what kind of fish it contains, so it's not always profitable, to be honest. But Kesa no Hama is a tool for spreading the word about Hamada and its fish. So, I'd be happy if people show interest in this town even a little through the canned fish," says Kawakami. He says he has canned about 50 kinds of fish so far.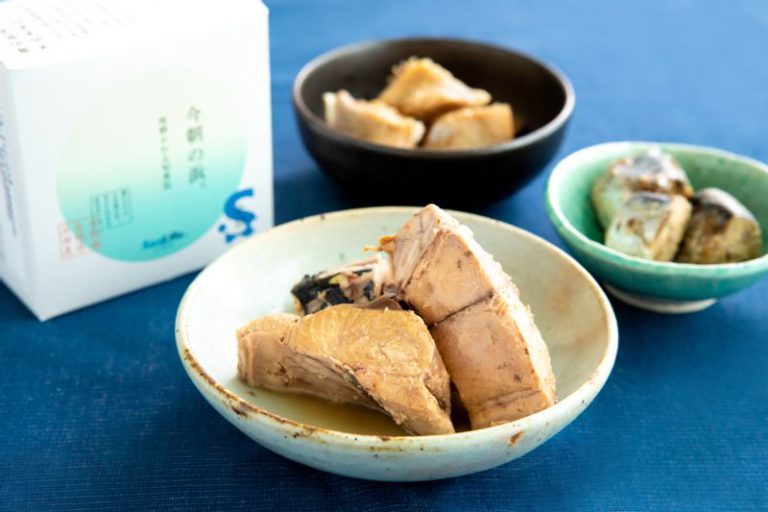 The canned fish is simply cooked in water and seasoned with "hamamori no shio" (sea salt) made from Hamada's seawater. Eat it with the nutrient-rich juice in the can, infused with umami. We also recommend using it in rice with assorted ingredients, pasta and acqua pazza.
Kawakami has been exploring new products to make with unused fish and effective uses for normally discarded bones and heads. It seems we can look foward to many more tasty products created to protect the historical sea of Hamada Port.
Delicious food meets disaster prevention. "Gourmet canned foods" save the future of a seafaring town.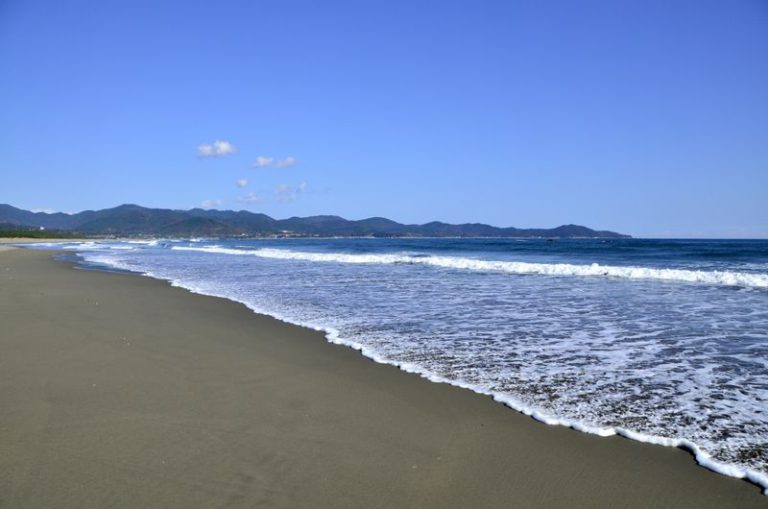 Kuroshio, a.k.a. "the town of bonito," Kochi Prefecture, on the Pacific coast, has a fishing fleet that boasts the largest catch in Japan using a traditional method called Tosa no ipponzuri. Irino Beach, with its gorgeous four kilometer sandy beach, is a cherished symbol among locals of all ages. This idyllic seaside town was confronted by "The Damage Estimation on the Nankai Through Megathrust Earthquakes," published by the Cabinet Office in 2012. Faced with a startling figure of a 34.4 meter maximum tsunami height, the town rose up to become "Japan's most disaster-ready town."
Kuroshio needed an industry to support the town amid concerns over evacuees abandoning their homes and causing a population exodus. Canned foods played the lead in this story of new industry and job creation that ultimately led to disaster prevention.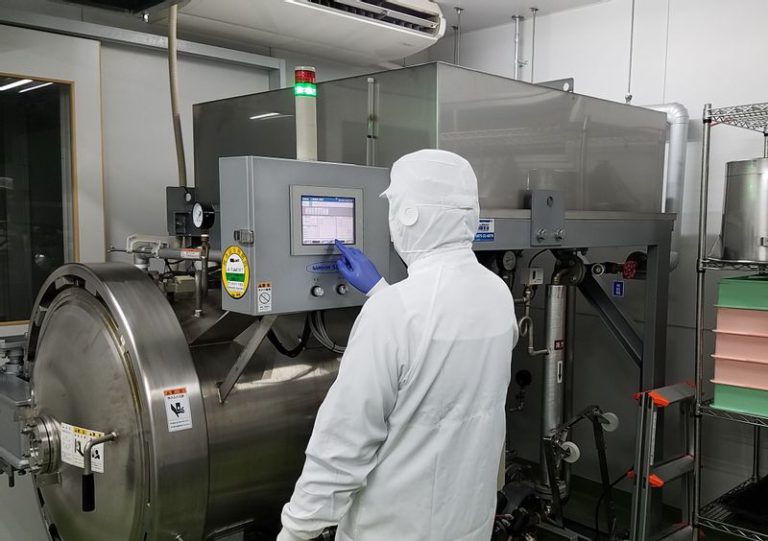 "With canned foods, we can use local ingredients to make something tasty. Since they are also easy to store and carry, they can be used as emergency rations when the worst happens," says Kimio Tomonaga of Kuroshio Kanzume Seisakusho. The project team was formed to develop products and included a food technologist/chef, nutritionist, and an expert in regional development. These individuals gave birth to stylishly packaged gourmet canned foods that can be enjoyed every day.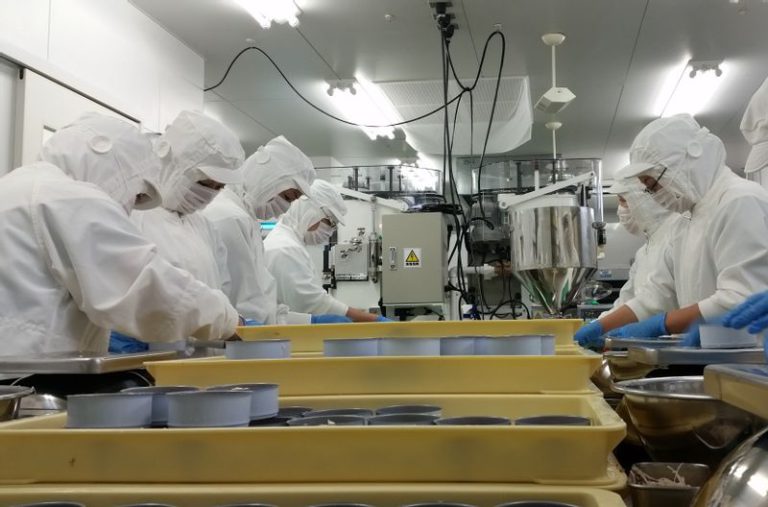 The product line includes Bonito & Bamboo Shoot Ajillo, a dish made to such perfection that, according to Hakuta, "You won't realize it's canned unless you see the can being opened." What's more, it is free of all seven major allergens. This is a must for emergency food because in disaster-struck areas there have been incidents of people struggling to find food due to their allergies.
"We use wheat-free soy sauce made with rice and cereal. It's hard to develop such recipes with reduced costs, but it isn't emergency food for everyone if people can't eat it due to their allergies. I knew we did the right thing when people told us that they were saved by it when we donated the cans to a disaster zone," says Tomonaga.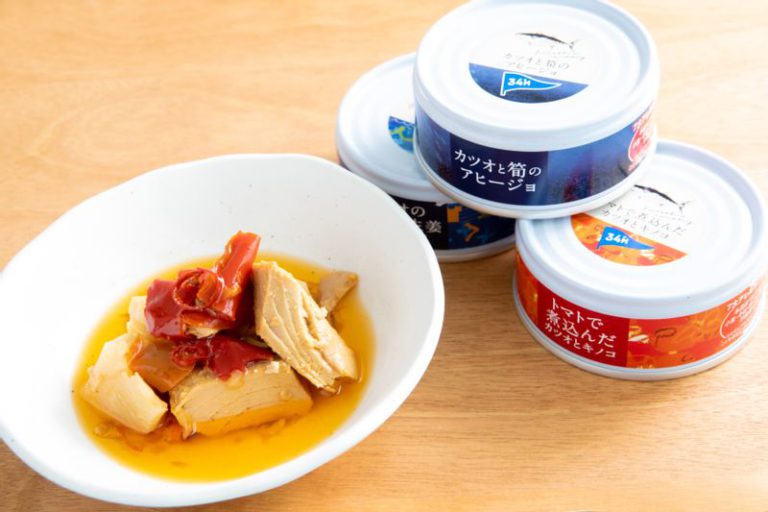 The Bonito & Bamboo Shoot Ajillo is delicious on its own or mixed with rice to make a Western-style pilaf or served with pasta and somen noodles.
Tomonaga hopes that more local residents will enjoy the canned fish.
"We hope that it'll be loved by the local residents and then spread outside from there. We don't want people to associate it with disaster prevention but want them always to have it because it's delicious and useful in an emergency. We're also developing canned desserts, so keep an eye on this space," says Tomonaga.
An industry first: Tabi Suru Kamaboko (traveling kamaboko) that is good to eat for 180 days at room temperature.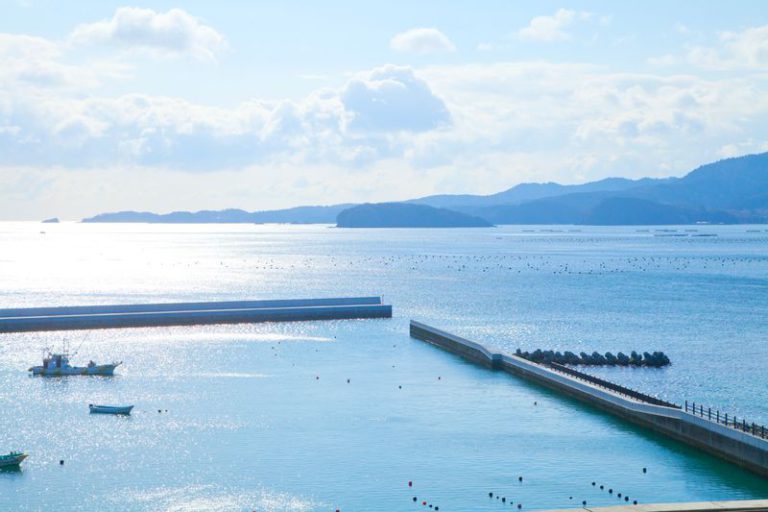 Oizen Shoten in Minamisanriku and Kanesen in Kesennuma, Miyagi Prefecture, are both kamaboko shops with a history going back over 100 years. The two rivals have teamed up to create the industry's first shelf-stable sasa kamaboko (bamboo leaf-shaped fish cake).
Zenya Oikawa, the president of Oizen Shoten, was alarmed by the gradually declining kamaboko industry.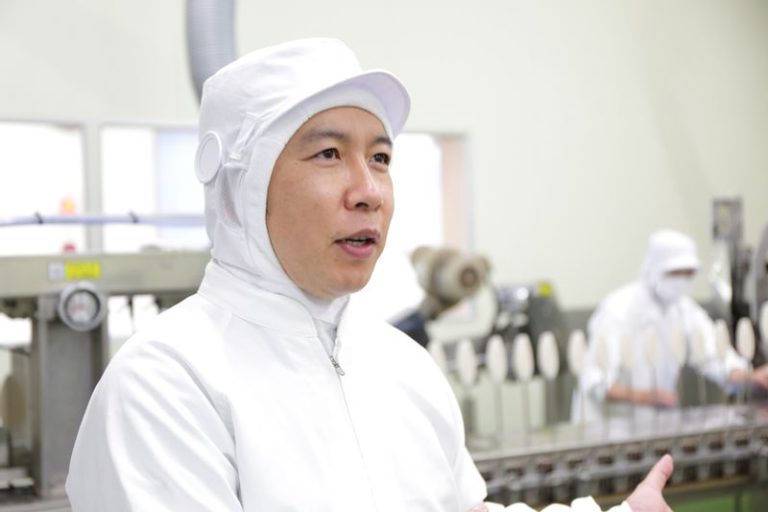 "Just when I thought I had to take action, the factory was damaged in the Great East Japan Earthquake. I made up my mind and set up a company with Kanesen's president, who felt the same way," recalls Oikawa.
After establishing Sanriku Fish Paste Co., Ltd., they worked to develop the technology for making delicious shelf-stable sasa kamaboko, which until then was normally kept refrigerated. After many unsuccessful attempts, when they were just about to give up, a miracle happened.
"Suddenly, we produced tasty kamaboko. I thought, 'Huh? This is kept at room temperature, right?' In the end, the one we made according to the principles turned out to be the most stable and safe," says Oikawa.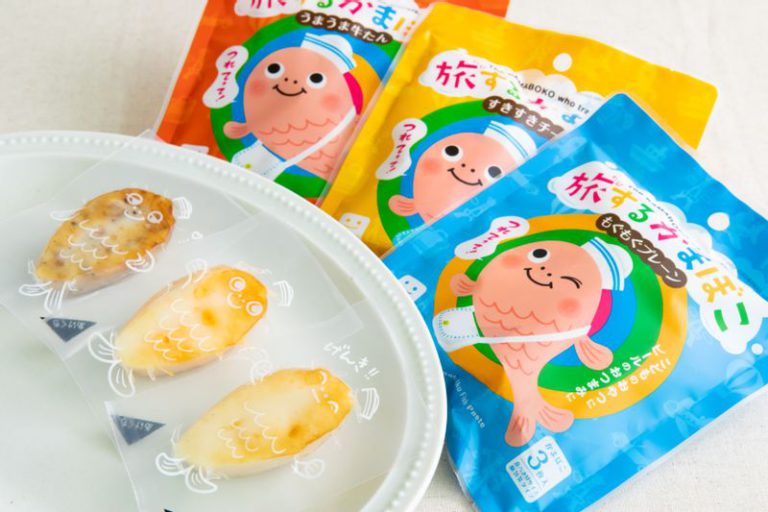 This is how the shelf-stable, preservative-free sasa kamaboko that is good to eat for 180 days was born. They launched it as Tabi Suru Kamaboko in adorable packaging, hoping that children would enjoy it. Being able to store Tabi Suru Kamaboko at room temperature expands its range of use, including taking it on the go or adding it to boxed lunches. The extended shelf life is also expected to reduce food waste.
"Children love eating fish paste such as kamaboko and fish sausage. These make a good snack as they are nutritious," says Hakuta.
"Our ultimate dream is to turn kamaboko into space food. We want to be Japan's most interesting kamaboko shop that continues to expand kamaboko's possibilities," says Oikawa. Let's look forward to the evolution of kamaboko and the next phase of its long-standing history.
nicolina ecute Tokyo is hosting a fair where you can buy the products introduced in this article for a limited time. The products are also available to buy via nicolina's online store, so please enjoy them with their stories.
Shop online
The products in this article can be purchased from the nicolina Online Shop.
 / 
Photographer
: SHIOMI KITAURA/SATOSHI TACHIBANA
Some photos provided by: Minamisanriku-cho Tourism Association
*Some of the images posted on our website have been provided by those whom we inter-viewed.