THE POWER OF SHUN (April 2015)
Seasonal symphonies produced by virtuoso chefs ―French chef Asuka Kitaoka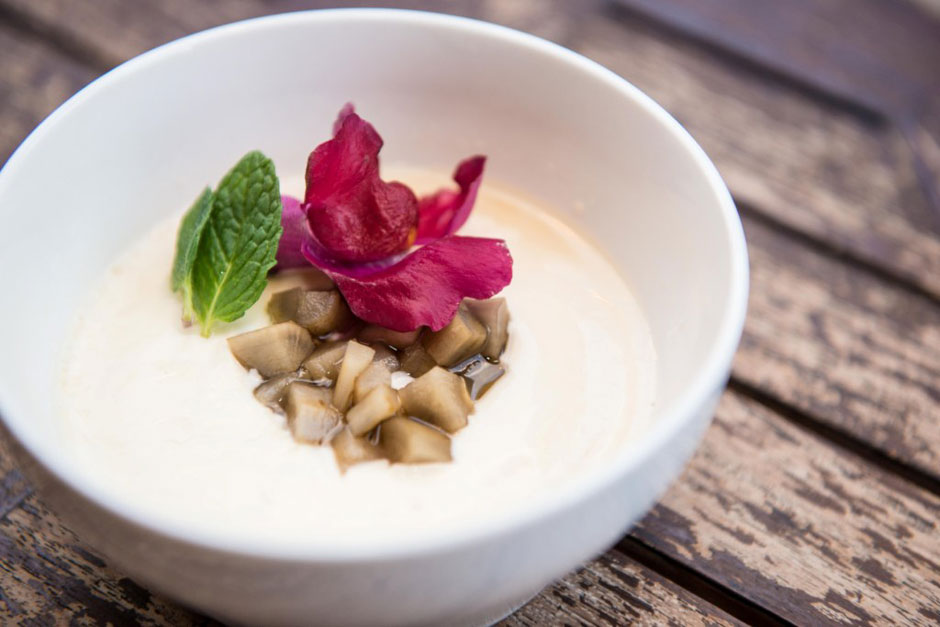 The appeal of seasonal produce is enhanced by a chef who uses his expertise and experience to rediscover authentic flavors and unearth new ideas and techniques for preparing food.
In this edition we introduce French chef Asuka Kitaoka, who is using suiden gobo, a type of burdock root grown in the town of Kikuchi in Kumamoto prefecture, to reinvigorate the humble gobo and create a whole new flavor experience that you can make at home.
Suiden gobo from Kikuchi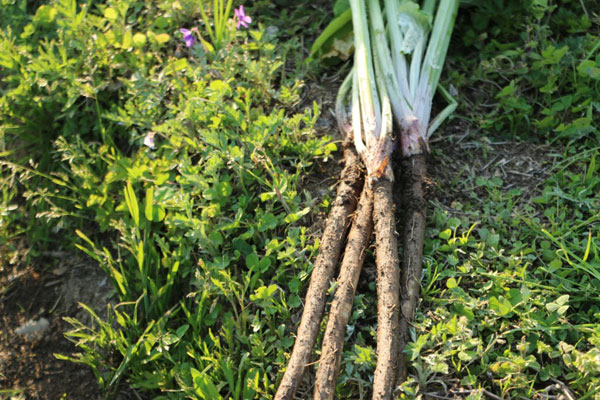 The town of Kikuchi in Kumamoto prefecture is surrounded by the Aso mountains, which generate a plentiful supply of fresh rainwater that runs into the Kikuchi river. The conditions are ideal for growing a range of vegetables. One of these is a variety of gobo (burdock root) known as suiden gobo or "rice paddy gobo."
Suiden gobo is planted as a secondary crop after the rice harvest has finished. The word suiden means rice paddy, and this particular variety needs plenty of water and hence grows well in rice paddies. Suiden gobo from Kikuchi, fed by the sparkling clean mountain water of the Kikuchi river, is less bitter than standard gobo, with softer and more pliable fibers. It is also more aromatic, which is why it is used as the basis for gobocha tea. Suiden gobo is one of the flagship products of the region.
Suiden gobo blancmange created by Asuka Kitaoka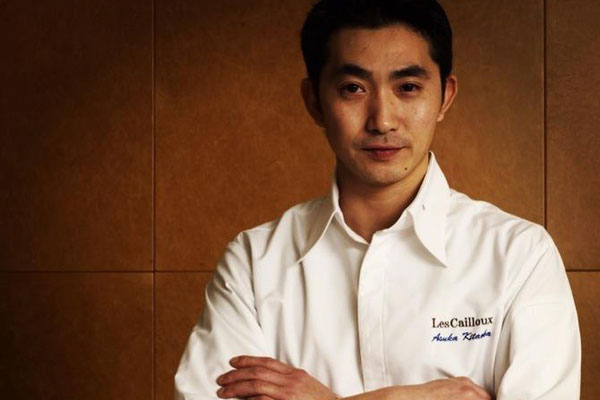 Leading French chef Asuka Kitaoka has created a stunning new dish featuring fresh seasonal suiden gobo from Kikuchi.
After finishing junior high school, Kitaoka started working at top restaurants and hotels in Tokyo before moving overseas to hone his skills further in France among other countries. He currently works at La Campagne, a leading French restaurant located in Tokyo's Otemachi district, where he applies French culinary techniques to seasonal produce from all over Japan to produce an array of delicious creations.
Kitaoka has for many years been using vegetables sourced from the Kikuchi region. He finds suiden gobo from Kikuchi to be superior to ordinary gobo because it is softer and much less bitter. According to Kitaoka, freshly picked suiden gobo has a sweetness and flavor that is akin to fruit.
For this edition of SHUN GATE, Kitaoka has used his favorite suiden gobo to create a dessert based on the much-loved French classic known as blancmange. "The fresh clear waters of Kikuchi produce a suiden gobo that is low in astringency and bitterness, and perfect to use in desserts."
His recipe for gobocha blancmange uses gobocha teabags for flavor and is complemented by a compote made from fresh suiden gobo. Kitaoka reminds us that this is a recipe you can make at home, and urges us to give it a try.
The aroma of gobo wafting through the studio and the refined taste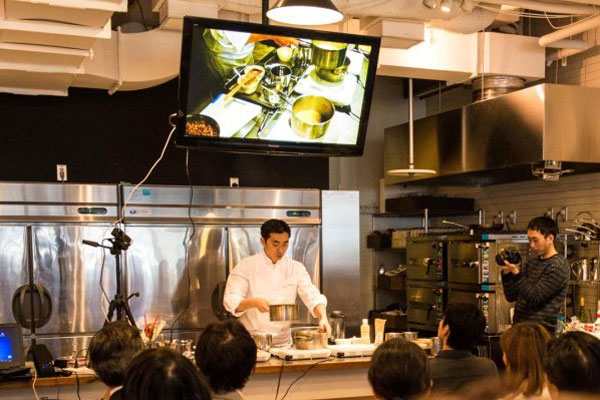 At a kitchen studio in Tokyo, an invited audience watches chef Asuka Kitaoka demonstrate his recipe using Kikuchi produce.
The studio audience was lucky enough to sample the fabulous gobo blancmange made by Kitaoka. They loved the smooth texture of the blancmange, the rich aroma and flavor of the suiden gobo, the highly unusual yet exquisitely beautiful combination of culinary elements, and the fact that the recipe is easy enough to make at home.