THE POWER OF SHUN (March 2023)
A History Spanning Over a Century. Taiyaki, a Snack for Ordinary Folks, Loved by Everyone of All Ages and Genders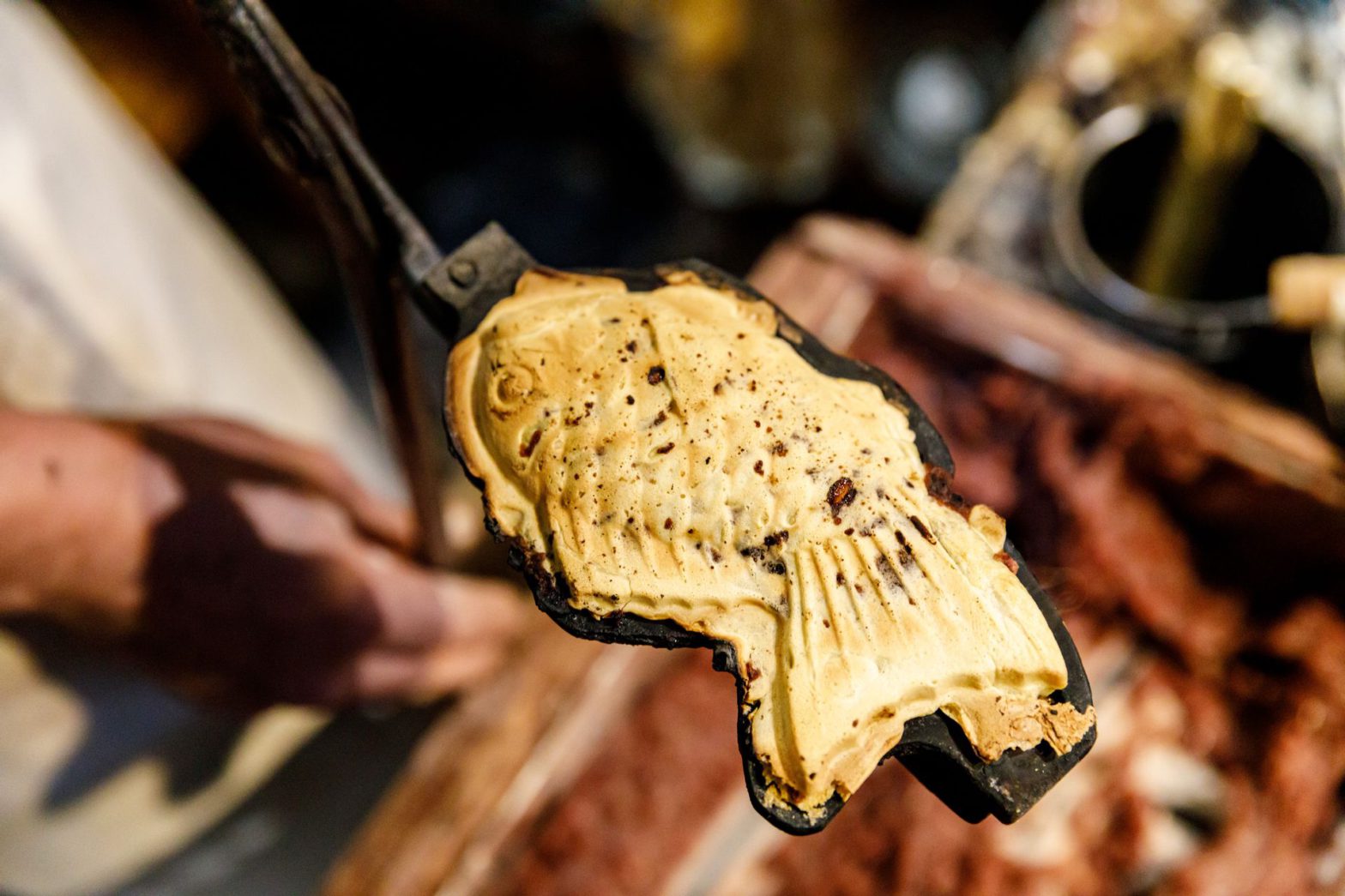 Among Japanese snacks made with red bean jam, taiyaki is a popular snack among the masses. The flour pastry is filled with red bean jam and baked into the shape of a seabream, giving the pastry a charming look. You can chomp down from the head, packed with red bean jam, or savor it from the tail while enjoying the texture of the pastry. Some people split it in half and eat it from the middle. It is not only popular as a snack but also as a gift or compliment. To learn more about its history and the secret behind its enduring popularity, we visited Naniwaya Sohonten, which claims to be the originator of taiyaki, baked using the iccho-yaki method.
The simple snack attracts international fans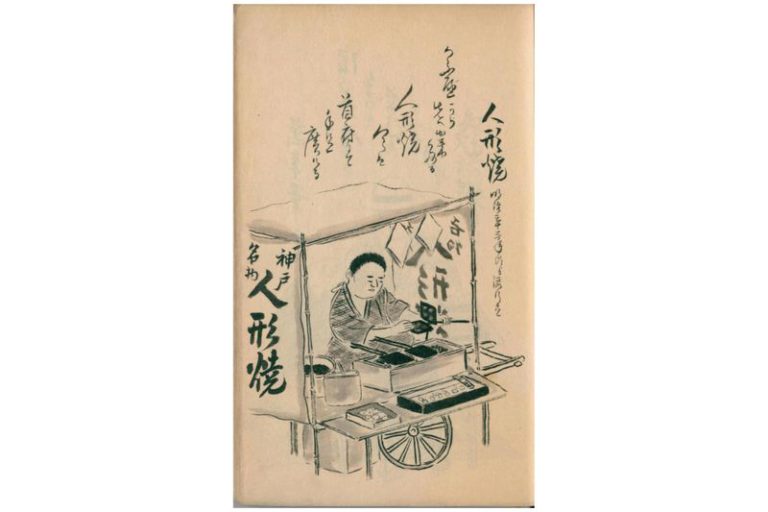 Taiyaki is believed to have derived from Imagawa-yaki, which was eaten during the Edo period (1603–1868) and was created during the Meiji period (1868–1912). The founder of Naniwaya Sohonten, Seijiro Kanbe, is regarded as the creator of taiyaki.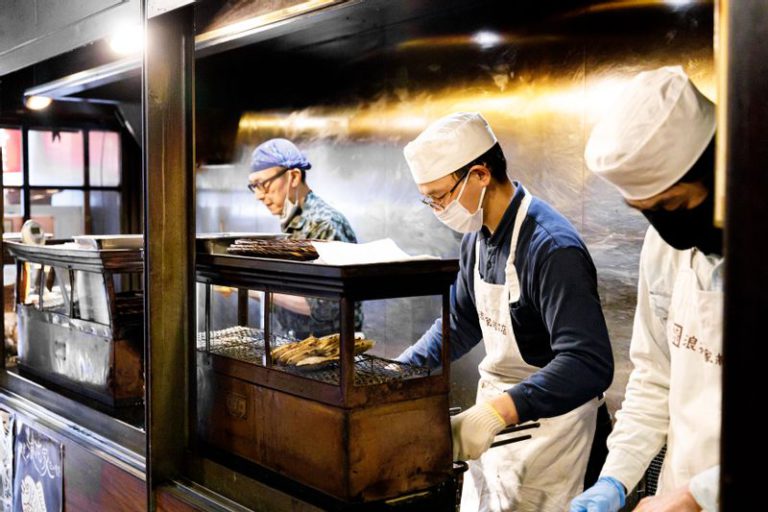 "The founder was originally from Kobe. He moved to Tokyo when he entered university and opened an eatery with his brothers in 1909. He started making taiyaki at the restaurant, inspired by Imagawa-yaki. It didn't sell, so he tried baking it in various shapes, including a turtle and an airship, but when he baked it in the shape of a seabream, it sold like hotcakes. I guess it became popular as a good-luck charm catching on to the word "medetai," meaning "a cause for celebration," says Masamori Kanbe, the fourth successor of Naniwaya Sohonten.
The founder opened his shops in Nihonbashi and Kudanshita and went on to open about 150 outlets in Tokyo.
"It's what we now call a franchise. I think the founder was quite ingenious, incorporating the look of seabream, which was expensive, and commoners could only enjoy it on celebratory occasions," says Kanbe.
The Azabu Juban shop opened around 1948. Taiyaki's popularity soared in 1975, thanks to the explosive hit of the nursery rhyme Oyoge! Taiyakikun. Since the "shop's owner" in the lyrics was believed to be the third successor, Morikazu Kanbe (Masamori's father), the shop's fame shot to new heights.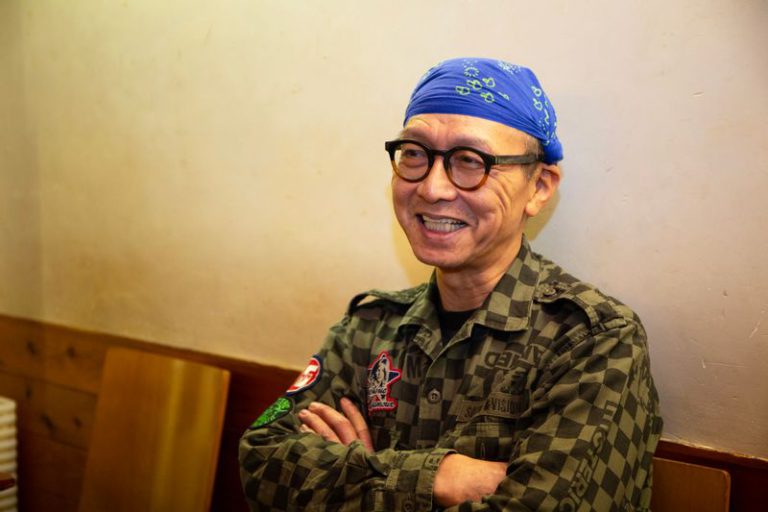 "Nowadays, there are many taiyaki fans not only in Asia but also in the United States, Europe, and other countries, and I hear that TAIYAKI is commonly recognized in New York. All members of the famous rock band Aerosmith love taiyaki. When they performed in Japan, they asked us to bake taiyaki at the concert venue and an Osaka outlet, with which we had split our business, took all the equipment backstage, and baked it on the spot. Such big stars and neighborhood school kids alike can eat it for 180 yen a piece, and it makes everyone smile. That's the beauty of taiyaki," says Kanbe.
Three years to master the finesse of baking a piece in 30 seconds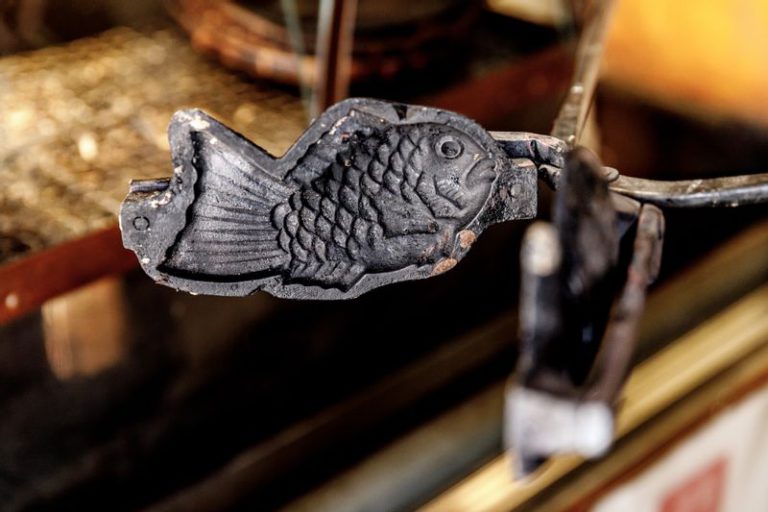 Taiyaki fans call taiyaki baked per piece "wild," and those baked in a mold for multiple bakes "cultured," but Naniwaya Sohonten uses the "iccho-yaki-style."
Each piece is baked one by one using a device called a hashimono, which has a mold attached to the end of a pair of tongs. The batter is made with no extra seasoning, just flour mixed with water and baked thinly.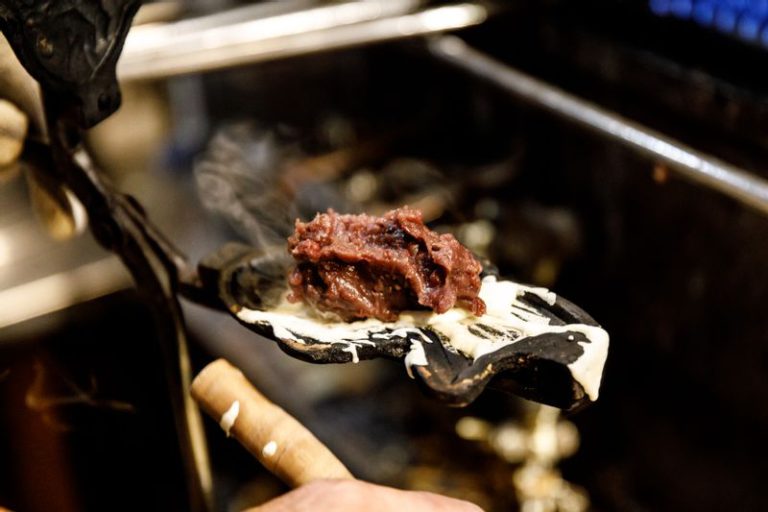 Kanbe explains, "The great thing about the iccho-yaki method is that the mold heats up fast for a crispy finish. The pastry can get burned, but that also tastes good. We make the batter by mixing all-purpose flour instead of cake flour with ice water and mixing it quickly. We put a thin layer of the batter on top of the bean jam and bake it at once as if pressing it down."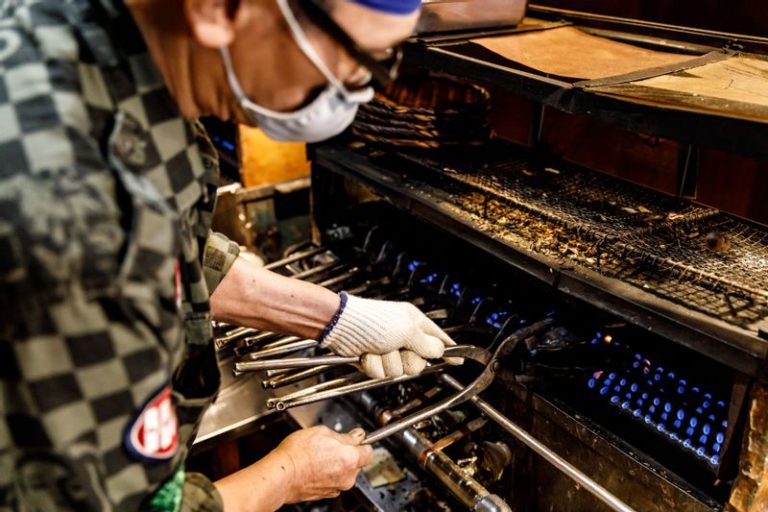 It takes 30 seconds to bake one taiyaki. How much batter to pour into which part of the mold and how much bean jam to put is a skill acquired through experience.
"It took me three years to bake as good as my dad. Now the technique is so ingrained in me that I can move my body without thinking, just like breathing," says Kanbe.
Dedication to bean jam that takes 8 hours to cook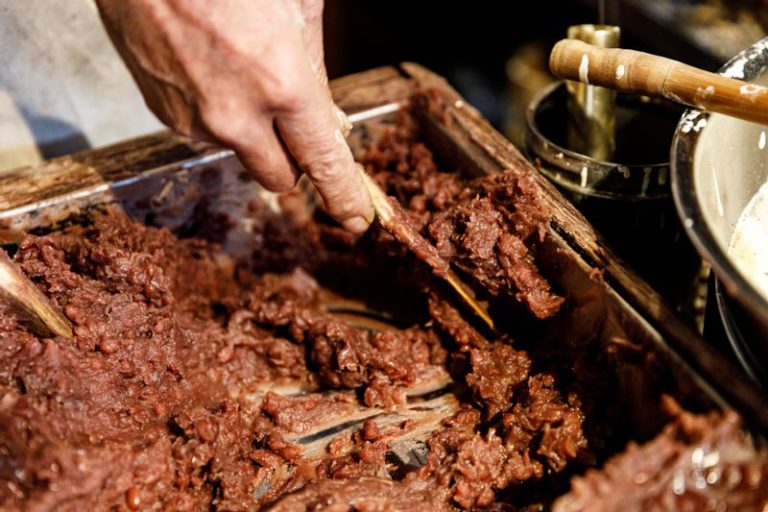 Azuki from Tokachi, Hokkaido, is used for the main feature of taiyaki, the smooth, silky red bean jam. 150 kg of carefully selected azuki sourced from a farmer is cooked daily over eight hours to make about 2,000 taiyaki.
"Azuki, with a certain level of acridity, are the best suited for taiyaki. But, azuki these days have become more refined in taste. The key is to bring out the wildness from the refined azuki. We change the amount of water and the cooking level each time according to the beans' condition, humidity, and temperature on the day. I've been judging azuki for over 30 years and found that the beans taste richer and better when the harvest is poor due to continuous sunshine. I can feel the beans' vigor, as if they are saying, 'We won't surrender!'" says Kanbe.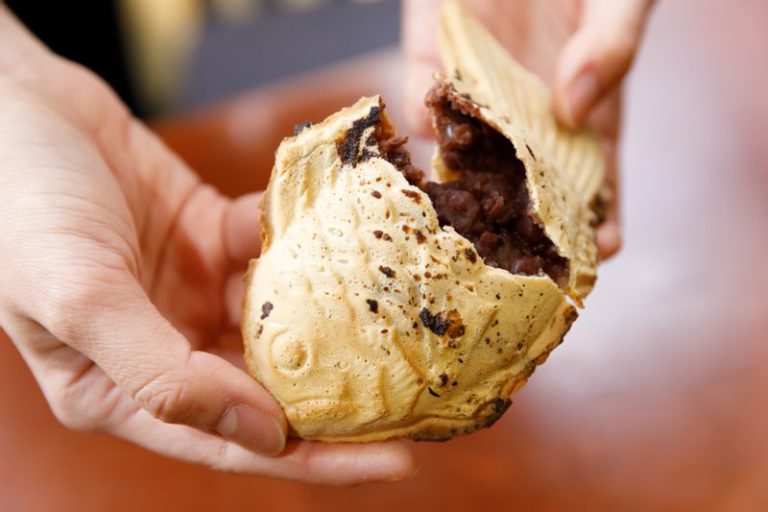 Kanbe is also particular about each process in transforming azuki into a delicious red bean jam.
He explains, "We cook the azuki from water all at once. Doing so gives them a beautiful red color. The trick is to cook the azuki slowly to create a smooth bean jam, like koshi-an, that doesn't leave any azuki skins on the palate. I rely on my taste buds to decide the sweetness level. I add a pinch of salt to give the flavor more definition and then adjust the sweetness to what I think is 'tasty!'"
The red bean jam produced with such care has earned its reputation and is even used in desserts at a famous Roppongi restaurant.
Striving to make taiyaki loved by generations.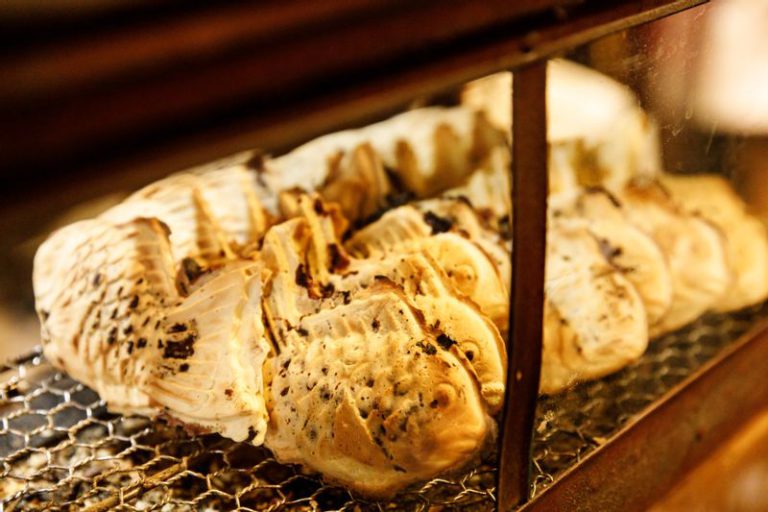 Naniwaya Sohonten attracts a steady stream of customers, even on weekdays, for its taiyaki, priced at 180 yen a piece (*200 yen from March 1). Customers include families with small children, tourists, and young men who buy them in bulk.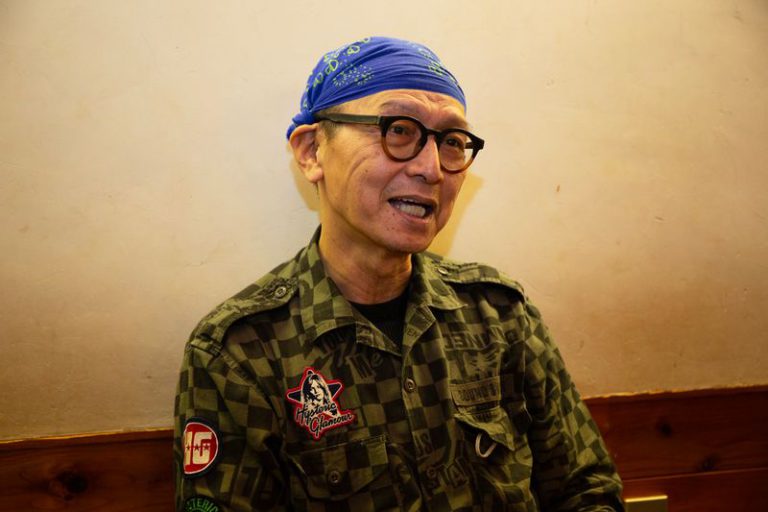 "Our taiyaki has burnt bits and have red bean jam poking out. They're not pretty, by all means. That's why everyone relates to them and can eat them readily. Some customers are boys who used to come to the shop with their mothers but have grown and now bring their kids. We're lucky to have two or three generations of customers come to us. I'd be happy if the artisans working at our shop would eventually strike out on their own and continue to bake tasty taiyaki in their shops. Everyone, the customer and the person making the taiyaki, is happy. That's the dream," says Kanbe.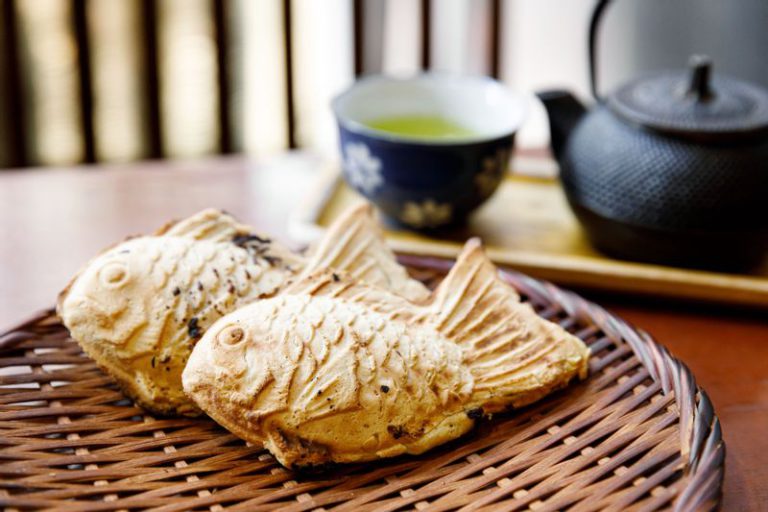 Taiyaki is a snack for common folks that can be eaten without pretense, despite its history and dedication to flavor. In closing, we asked Kanbe for his suggestions on how to eat it.
He says, "I prefer it slightly cooler than when it's piping hot, as I feel I can more fully savor the flavor of the red bean jam. When you take it home, bake it in a toaster until the crust is crispy. I love it with milk. Please give it a try."
 / 
Photographer
: SHIOMI KITAURA / MONAMI CHO