OKURIMONO (May 2021)
Raw Yuzu Pepper, the Kind Mother Used to Make, Is All About Freshness
Fumiko's Raw Yuzu Pepper, Fumiko Jirushi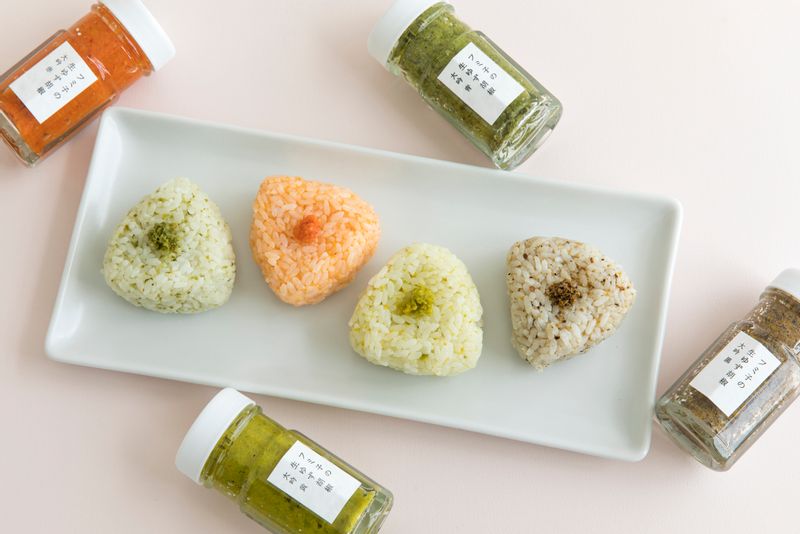 < PACKAGE >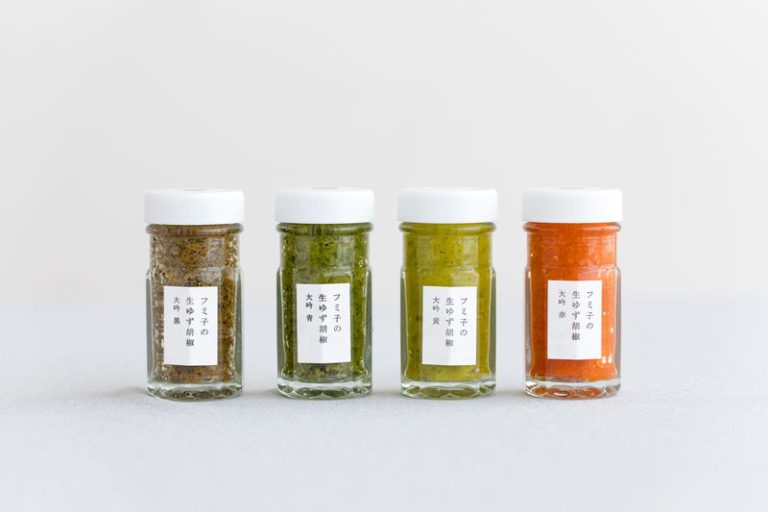 Fumiko, a housewife in Munakata, Fukuoka Prefecture, always made yuzu pepper for her family. After living in Tokyo for a couple decades, her son, unable to forget the taste of his mother's yuzu pepper, decided to carry on this tradition.

Yuzu pepper, which comes from Kyushu, is a seasoning made by combining finely minced yuzu zest with chili pepper and salt. Even though it does not contain black pepper, it is called yuzu kosho (kosho = black pepper) in Japanese because chili used to be called kosho in some areas of Kyushu.

Under a commitment to produce tasty products that are gentle on the body, Fumiko's Raw Yuzu Pepper is made without any additives (e.g., MSG) or preservatives. The aroma of yuzu fills the room the moment the cap is released, and the powerful seasoning pairs well with everything, from hotpots to meat dishes and miso soup.
Here are the key points that make Fumiko's Raw Yuzu Pepper by Fumiko Jirushi special.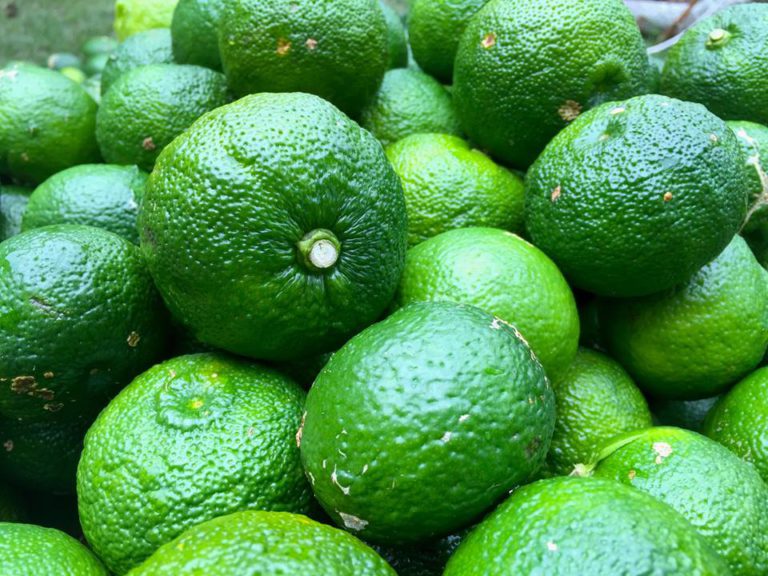 Additive-free and farm-fresh
Fumiko's Raw Yuzu Pepper is made using yuzu freshly picked each year from late summer to early winter. Though it is commonly stored at room temperature, the product is sent to customers frozen to maintain the seasonal aroma. In addition, the product uses organically grown yuzu without any additives (e.g., MSG) or preservatives. This is a product you can gift to loved ones with peace of mind.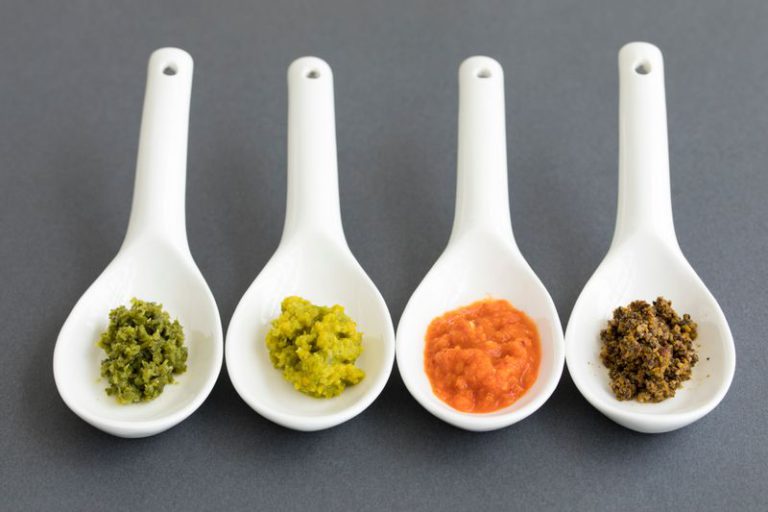 Four distinctive combinations of yuzu and chili pepper
Fumiko's Raw Yuzu Pepper comes in four types: Green, Yellow, Red, and Black.
The Green is the classic yuzu pepper. This is the one that Fumiko has been making for many years. The fresh aroma of green yuzu and the pronounced crisp spiciness of the green chilies fill the mouth all at once. The Yellow, made with yellow yuzu and green chilies, is characterized by its fruity aroma and spiciness. It can be used in various dishes, be they Japanese or otherwise. The Red is made with yellow yuzu and ripe red chilies, and it adds umami and piquancy to the dish. The Black is a new kind of yuzu pepper made with yellow yuzu and black pepper. It is quite different from those made with chilies and complements Western-style dishes well.
Since each one provides a unique flavor, you would want to choose ones that appeal to the recipient's taste.
A son inherits his mother's homemade yuzu pepper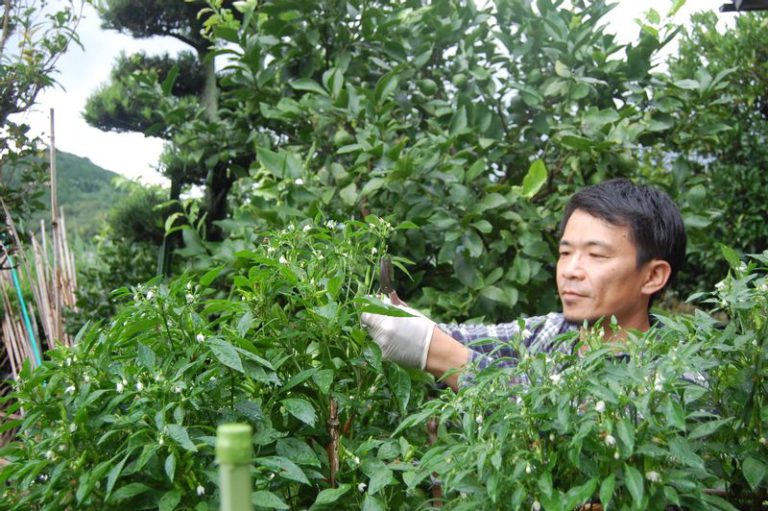 Munakata is located in an area between Kitakyushu and Fukuoka that offers a sprawling rural landscape with a nostalgic feel, an hour's drive from Fukuoka Airport.
We spoke to Tomohiro Harada, the producer of Fumiko's Raw Yuzu Pepper.
"After I moved to Tokyo, my mother used to send me her yuzu pepper every year. I ate it without giving it much thought, but I noted it was superior in flavor and piquancy to store-bought varieties. However, mom's getting on in years, and I didn't know how long she could keep making yuzu pepper. I couldn't bear the thought of letting this flavor die out, so I thought I'd like to inherit it from her while she's still fit and healthy," explained Harada.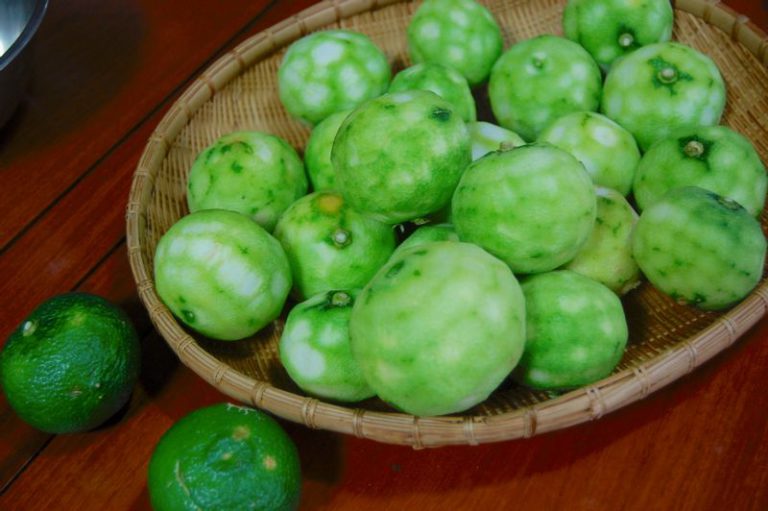 When Harada began making yuzu pepper in 2013, he had no intention of making a living out of it, but he sold 300 jars the first year. He decided to continue making yuzu pepper as a product after hearing customers say that they wished to buy it the following year. He has increased production each year and currently produces about 8,000 jars a year.
His Yuzu Pepper is made quite simply by combining yuzu zest with chilies and salt; for that reason, attention to detail greatly affects the final product.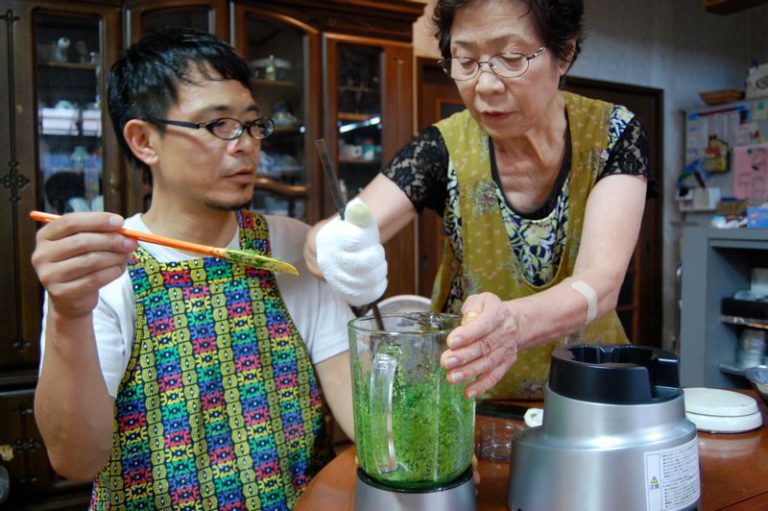 "The key point is to peel the yuzu zest thinly, removing as much of the pith as possible. Doing so makes the zest taste less bitter and unpleasant and makes it more aromatic. This also prolongs the shelf life. The zest is combined with salt and ground in a food processor. The chilies are used whole, and just like yuzu, combined with salt and ground, and then blended with yuzu zest at a 1:1 ratio."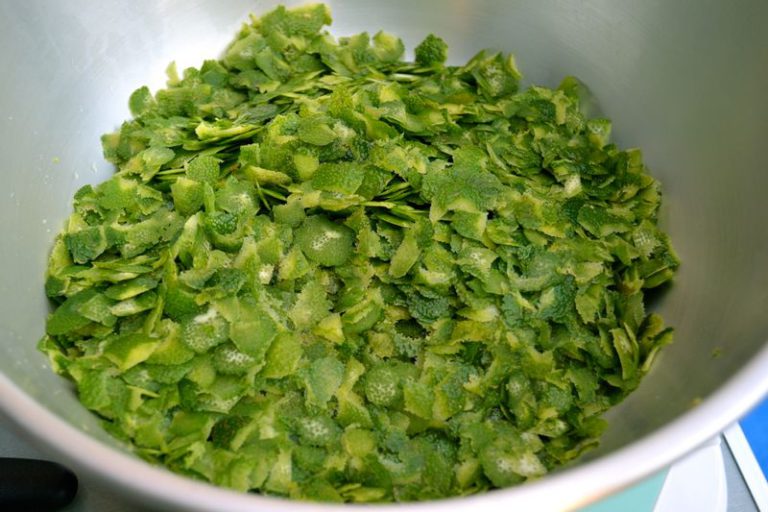 Usually, yuzu pepper is aged after combining the yuzu and chilies. However, Fumiko's Raw Yuzu Pepper is delivered to customers in a frozen state, without undergoing the aging process, to enable customers to enjoy the yuzu's fresh aroma and flavor.
* These photos are from 2013, when Harada inherited the recipe. The yuzu pepper is now produced in a processing plant for reasons of hygiene and freshness.
Using only pesticide-free yuzu with a strong flavor and aroma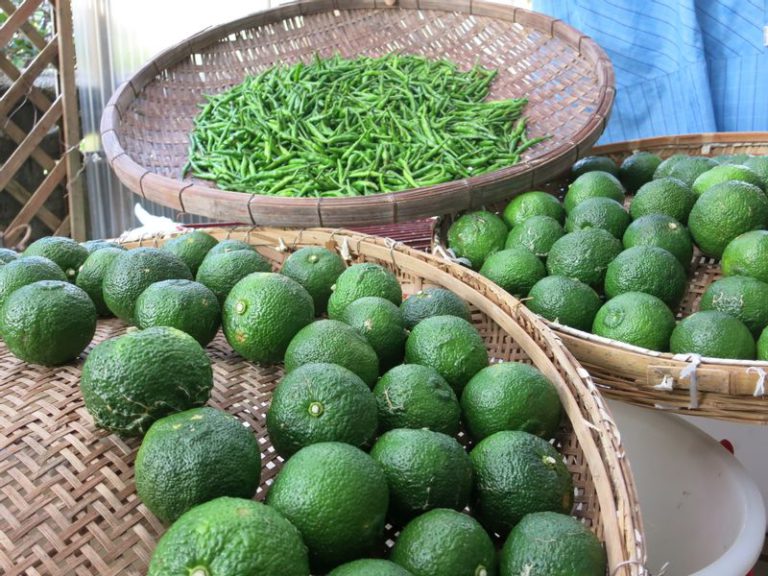 Since yuzu pepper is made only with yuzu, chilies, and salt, the raw ingredients determine its taste. Harada's mother, Fumiko, used fruits from her garden, but since the product required a much larger amount of yuzu, Harada sourced yuzu from all over Kyushu for a taste comparison.
"The flavor of yuzu differs completely by locality. Kochi Prefecture is the largest producer, but we found that a yuzu farm in the mountains of Kobayashi in Miyazaki Prefecture produced a fruit that was the closest in flavor to ours. It is made without agrichemicals and is full of flavor and aroma."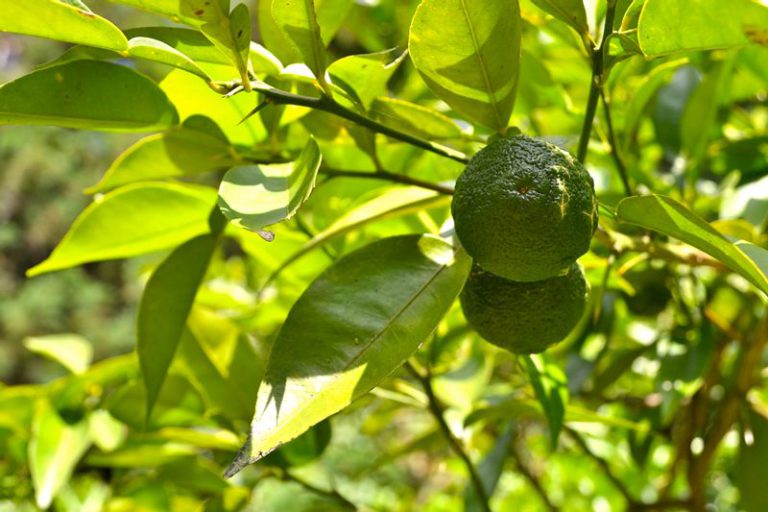 Harada says that although he found a yuzu he was happy with, he still faces many challenges. Citrus trees have alternating good and poor harvest years. A year's crop yield can be determined by the number of flowers, and Harada says he gets nervous during poor harvest years. Since Fumiko's Raw Yuzu Pepper uses only yuzu zest, only 10 percent of the yuzu is used. Harada says he plans to establish a farm locally to maintain a stable supply.
Infinite culinary uses: It pairs well with pale-colored food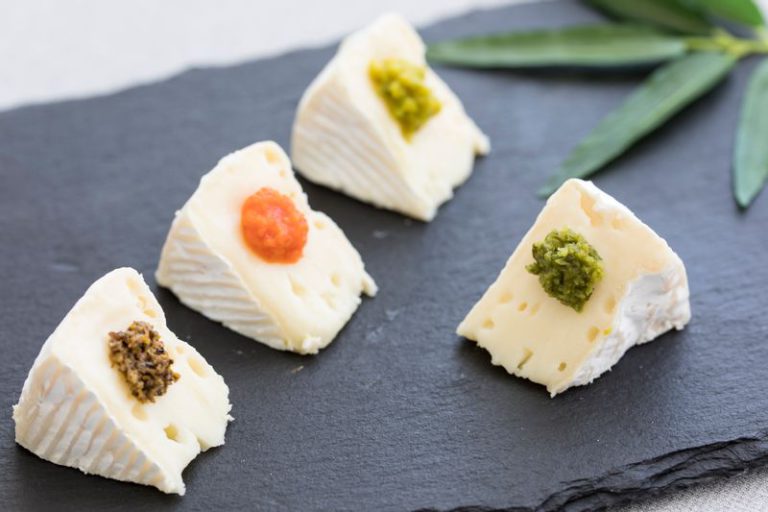 In addition to hotpots and meat dishes, Harada recommends using the yuzu pepper in pale-colored foods.
"It goes well with pale-colored foods such as rice, tofu, squid, camembert cheese, and udon. I particularly recommend hikiage somen. Serve freshly cooked somen noodles in the pot used to cook them; add a mixture of whisked egg, plenty of scallions, and a drop of soy sauce; and then scoop the noodles from the pot and top them off with yuzu pepper."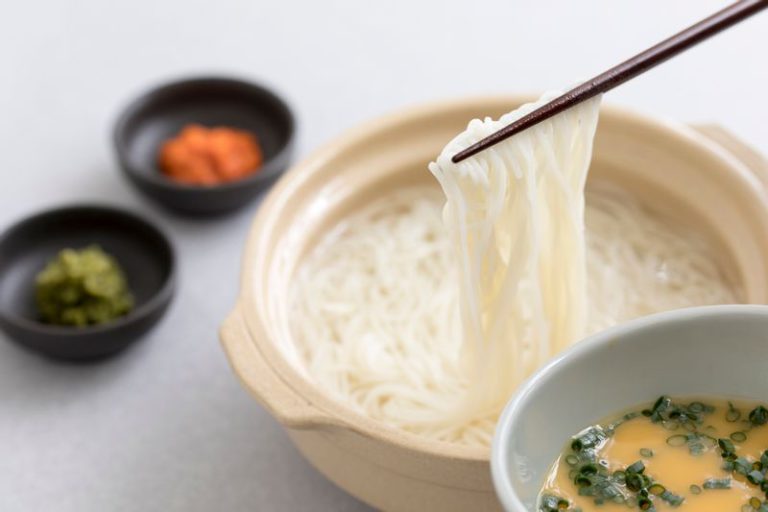 Yuzu pepper has a limitless range of uses as you can serve it with curry, make dressings and dips by adding it to strained yogurt, or blend it into grated daikon radish, like momiji oroshi (grated daikon radish with ground chilies).
Besides yuzu pepper, Harada also produces ponzu made with the zest of two-and-a-half ripe yellow yuzu. This ponzu contains no yuzu juice; it is comprised only of yuzu zest, rice vinegar, pale soy sauce, and mirin to showcase the yuzu zest's fruitiness and flavor. It is made without MSG, preservatives, or dashi. Besides using it as ponzu, combine it with olive oil to make a dressing, or season rice to make aromatic sushi rice.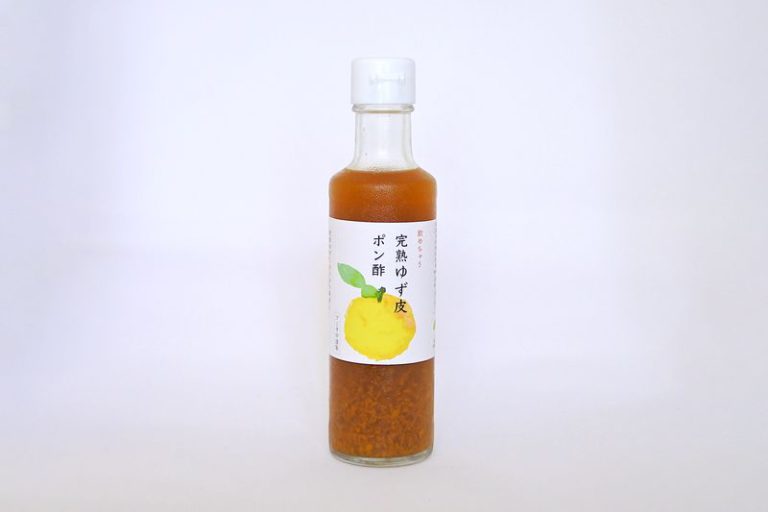 Fumiko's Raw Yuzu Pepper has been passed down from a Fukuoka mother to her son. You can enjoy it traditionally or creatively as you like. Fumiko's Raw Yuzu Pepper will elevate your daily meals.
 / 
Photographer
: CHIE MARUYAMA