OKURIMONO (April 2018)
Delicious rice malt dipping sauce by an esteemed soy sauce manufacturer
Rice malt dip sauce, Tanigawa Jozo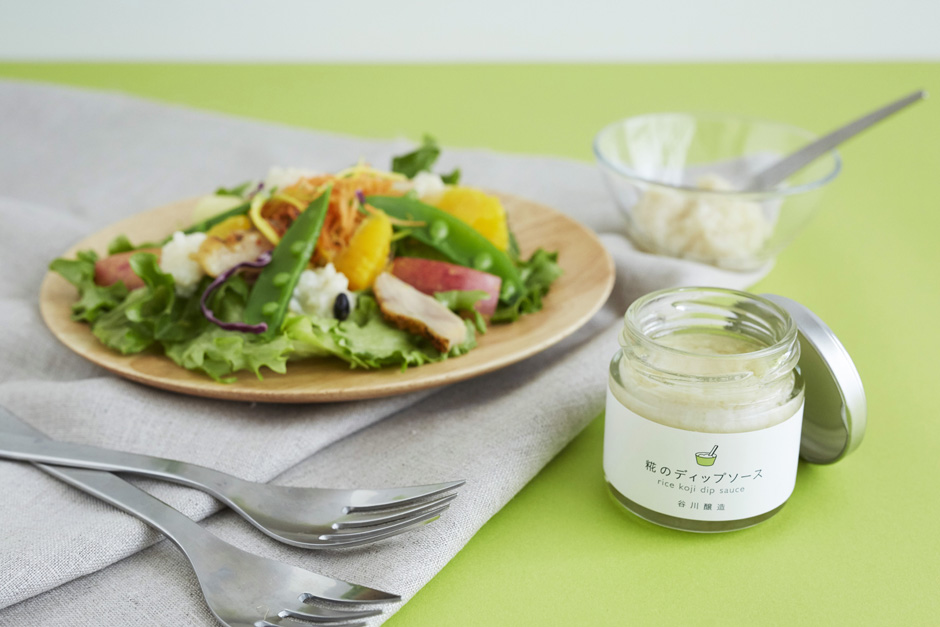 < PACKAGE >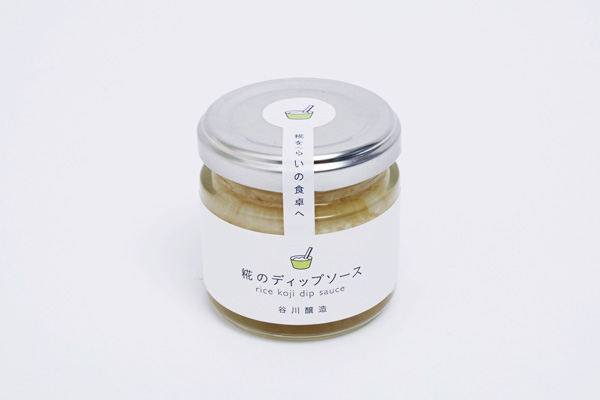 *Packaging design may vary depending on the season.
Koji is Japanese rice malt, used in essentially most traditional fermented foods in Japan that represent Japan's food culture, such as miso, soy sauce and sake. One soy sauce manufacturer is trying to pass koji on to future generations to preserve this culture: Tanigawa Jozo, from Wajima City in Ishikawa Prefecture, which has been making soy sauce since 1905. They not only make soy sauce strictly in accordance with traditional methods but have developed many koji condiments for modern tastes.

In this article, we will show you their Koji Dip Sauce made from rice malt that makes a great gift and can be used in all kinds of dishes.
Let's see why the rice koji dip sauce makes a great gift.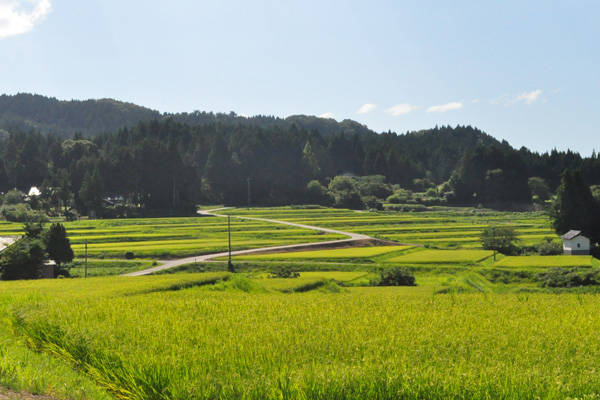 Attention paid to additive-free and made-in-Japan ingredients from start to finish
The dip sauce is made entirely from safe domestic ingredients and of course is free from chemical seasonings and preservatives. The level of attention and care that goes into the ingredients is astounding. The original rice is local, from Ishikawa. Likewise, the salt is Suzu salt from the Noto Peninsula. The oil is cold-pressed virgin oil from rapeseeds, grown free of insecticides and chemical fertilizers. The vinegar comes from Imakawa Suzou, a vinegar manufacturer who uses nothing but rice to make their vinegar. The dip sauce has a quality that will be totally safe for homes even with elderly people or small children.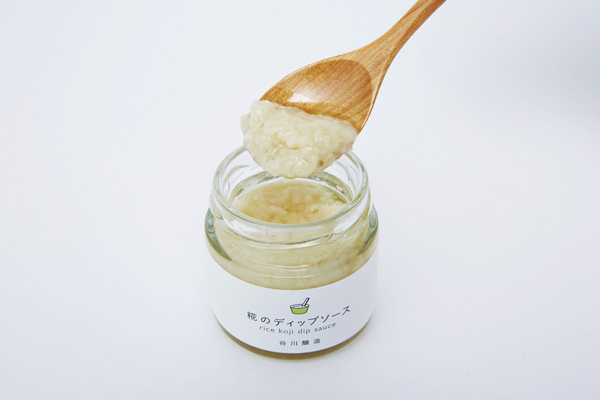 "To marinate or to pour": wide range of usage
In the early days, salted rice malt is said to have been used as a pickling bed to ferment vegetables. It is also widely perceived as a condiment to marinate meat and fish. But Tanigawa Jozo's Koji Dip Sauce is seasoned to make it perfect to pour over any dishes, be it meat, fish or vegetables, or as a dip. The label and the jar are also designed to look good on a dinner table.
Preserving tradition is possible because the soy sauce manufacturer is small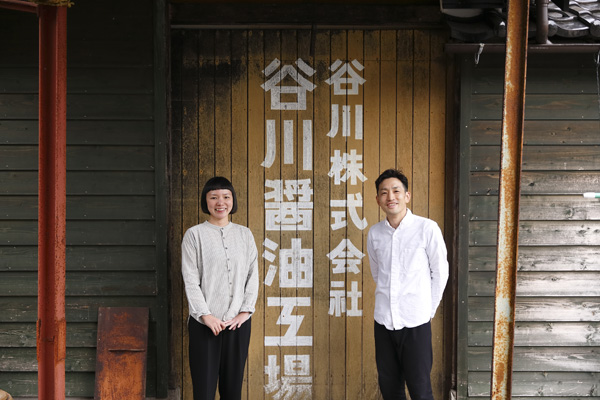 Tanigawa Jozo started making sake in 1905 in Wajima, in the Noto Peninsula in northern Ishikawa Prefecture. In 1918, they also started making soy sauce and miso. Right now, the company mainly manufactures soy sauce and miso under the direction of the fourth-generation successor, Takaaki Tanigawa, who with his wife Chiho, develops other products, holds workshops and even plant tours to promote the koji culture.
For seven years since 2011, the couple has been trying to revive traditional soy sauce production. This means steaming soy beans and roasting wheat to make koji, adding brine to it to make fermentation mash, and matur-ing it in a wooden barrel. This fermentation mash production is a lengthy process that takes time, effort and experience, and the mash determines the final taste of the soy sauce.
Currently there are few soy sauce manufacturers that prepare their own fermentation mash. Most manufactur-ers purchase fresh soy sauce from cooperatives and major manufacturers, that is squeezed from fermentation mash, adjust the flavor and bottle it. The Tanigawas decided to make their own fermentation mash because they were concerned the tradition would otherwise disappear.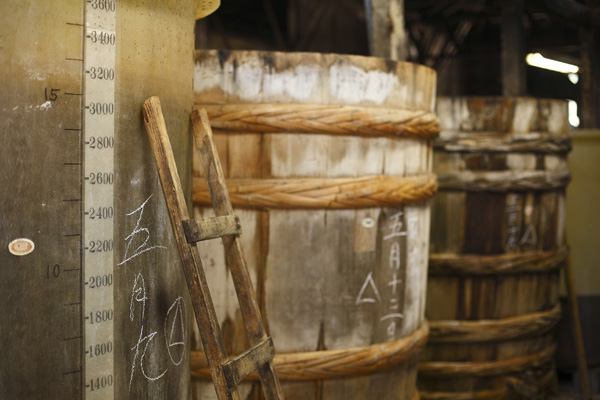 "This may be a bit of an overstatement, but we felt we would lose the tradition and culture with the way things are going. I am not saying I have some grand idea of preserving Japan's food culture. But I just wanted to pre-serve our manufacturing tradition, which is only possible because we are a small soy sauce maker in the coun-tryside," says Takaaki.
Resuming the mash production had its ups and downs. One of them was that they were able to recreate the whole process from scratch, sourcing the ingredients. It became possible to use local soybeans from Suzu, called Ohama soybeans, which were once called legendary soybeans, and other local ingredients including Suzu salt from the Noto peninsula. In essence they were able to build on local ingredients and pursue quality.
It was this passion from the Tanigawas that created Tanigawa Jozo's koji seasonings.
Seasonings that can make anyone into an instant chef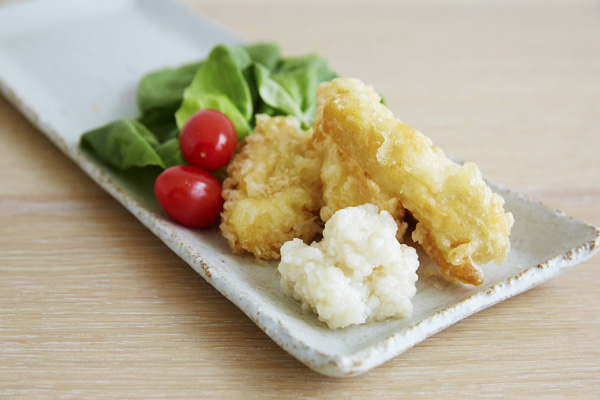 Not limited to preserving tradition, Takaaki keeps raising his sights. Their new koji seasonings are getting more popular each year. According to Takaaki, their product development is based on the concept of "making prod-ucts that we really want, products that can help create tasty dishes easily and quickly, and products that make cooking a fun experience."
Koji Dip Sauce is made with sweet sake, rice vinegar, rapeseed oil, rice malt (koji), salt, ginger and garlic. Un-like regular, strongly salty koji, the dip sauce is very sweet, mildly salty and sour and can be enjoyed as is. With the ginger and garlic flavor, the dip sauce goes well with meat and fish dishes just like lemon or other condiments would. According to Takaaki, it will also go well with sautéed pork, deep-fried white fish, and for stir-frying seafood.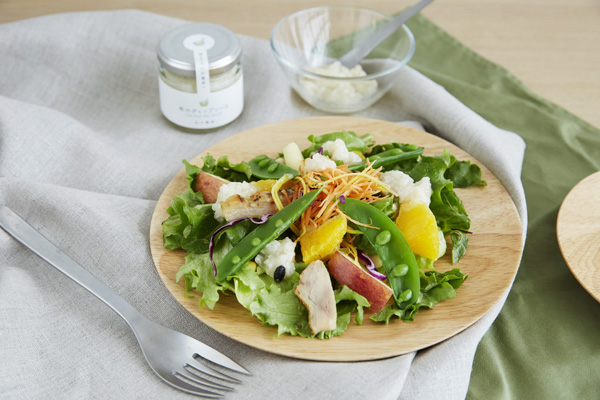 "It is very easy to use it. You can just put it on vegetables or pour over grilled meat as a sauce. Even if you are not keen on cooking, or busy with work and stuff at home, you will feel as if you have become a great chef just using this dip sauce. You will enjoy the experience. We eat every day, so why not enjoy cooking anyway and enjoy the meal with everyone else," says Chiho.
Apparently, the Koji Dip Sauce had a totally different packaging design at the beginning. Even though the de-sign was popular, Takaaki himself found the design unfriendly to users and redesigned everything until both he and his wife were happy, from the jar shape to the label design.
The fourth successor of the soy sauce maker does not sit on his inherited business. He and his wife continue to express their values and keep improving their products. Why not choose this dip sauce as a gift that embodies 110 years of tradition and the wisdom of creating a new future.
 / 
Photographer
: CHIZU TAKAKURA