OKURIMONO (May 2019)
Tai-chazuke (Sea Bream on Rice with Tea) Enjoyed by Feudal Lords, Handed Down for 300 Years
Wakaeya Tai-chazuke Ureshino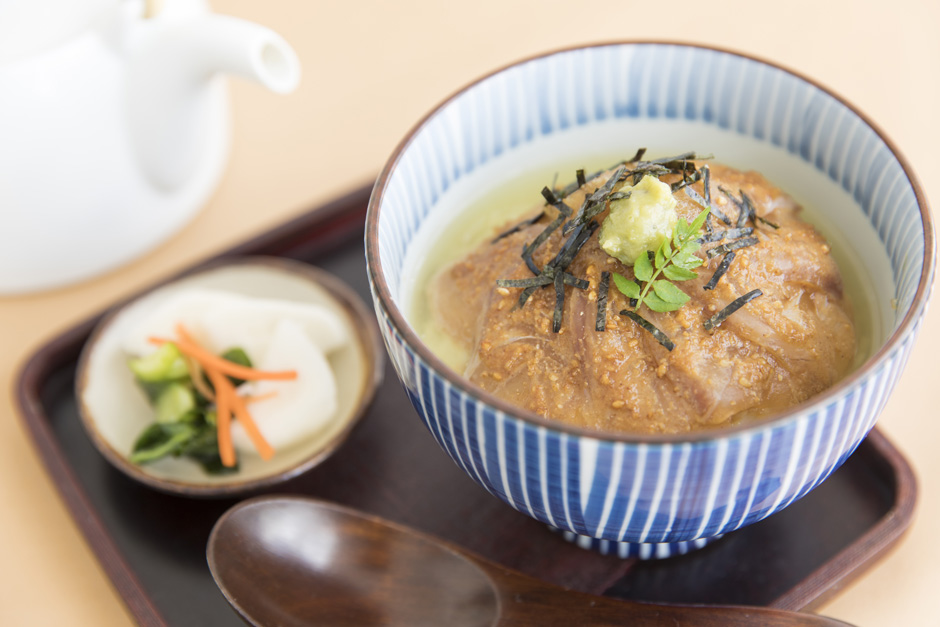 < PACKAGE >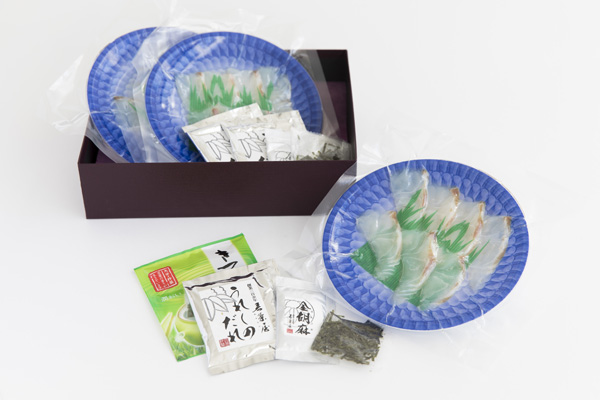 *Package shape varies according to price.
Kitsuki in Oita Prefecture prospered as a castle town during the Edo period (1603–1868), gaining the nickname "Kyushu's Little Kyoto." The long-established restaurant Wakaeya is located in Kitsuki, and has been in business for over 300 years, ever since the beginning of the Edo period. Their hallmark dish is their Tai-chazuke (sea bream on rice with tea), made with local ingredients. This dish is said to have been favored by a feudal lord of the region, and Wakaeya has handed down this same dish into modern times.

In this article, we introduce the Tai-chazuke Ureshino, which allows anyone to enjoy the taste of a long-established restaurant at one's own home with ease. It is highly recommended as a gift for celebratory occasions.
Here are some recommended tips for Wakaeya's Tai-chazuke Ureshino: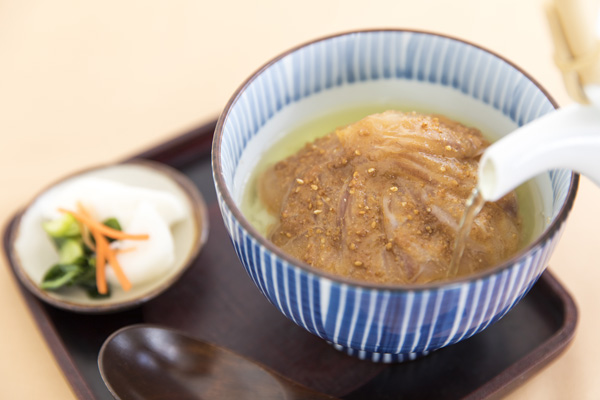 Tai (sea bream) brings good fortune
Chazuke with sea bream is said to bring good luck, making it popular as a gift as well. The name Ureshino also means good fortune and is said to have been derived from the Edo period, when the lord of the Kitsuki Clan ate some tai-chazuke at Otaniya (the current Wakaeya) and declared, "Ureshiino (What joy!)." Tai-chazuke Ureshino is a dish fit for a lord, and perfect for heartfelt gifts to loved ones on special occasions, such as Father's Day, Mother's Day or other special times of celebration.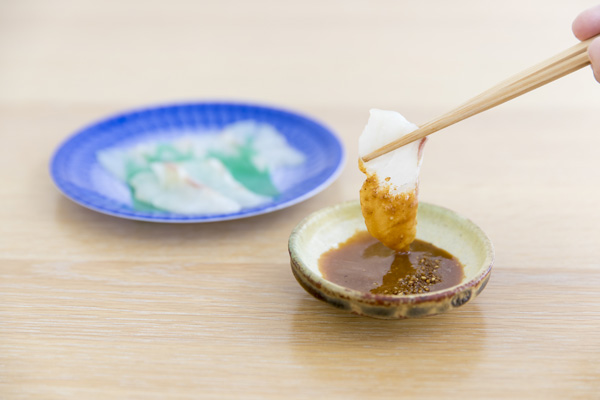 Easy preparation of a dish from a traditional Japanese restaurant
After an artisan dresses fresh sea bream caught in Oita Prefecture, the fish is frozen and vacuum packed for freshness. Dipping the fish well into the rich and fragrant sesame sauce before placing it on hot rice is the first step in preparing the dish and pouring the Kitsuki-grown green tea Kitsuki-cha, which features a unique depth and sweetness, completes the appetizing tai-chazuke. This allows anyone to enjoy a traditional Japanese restaurant dish in their home.
Tai-chazuke loved by a feudal lord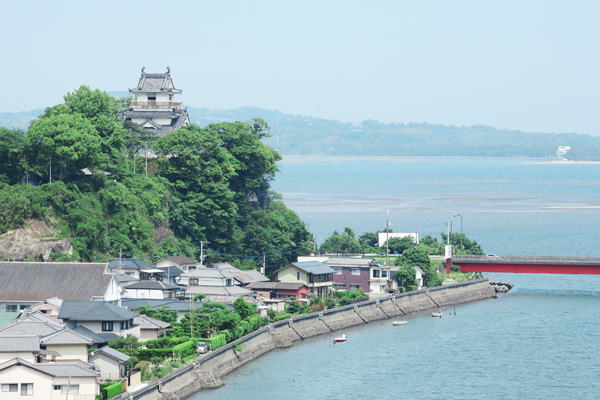 Wakaeya started business in 1698. The restaurant went by the name Otaniya in the past and was the only official restaurant permitted to do business in the castle town of the Bungo Kitsuki Clan. Gentaro Goto is the 16th generation owner, who has inherited its traditional dishes. We asked him about Wakaeya's tai-chazuke.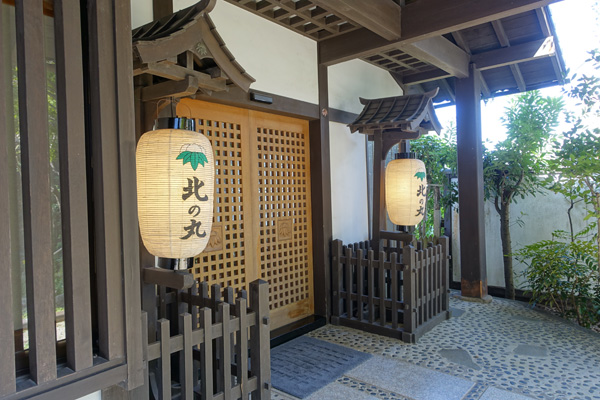 "At the end of the Edo period, it is said that the lord of Kitsuki Castle, from the Nomi-Matsudaira Family, had been eating the Otaniya tai-chazuke every day, as he was ill. He was said to have declared with happiness, 'Tai-chazuke today as well, ureshiino!", which led to the name Ureshino for the chazuke product. The recipe of this chazuke has been handed down for over 300 years, as the dish approved by a feudal lord."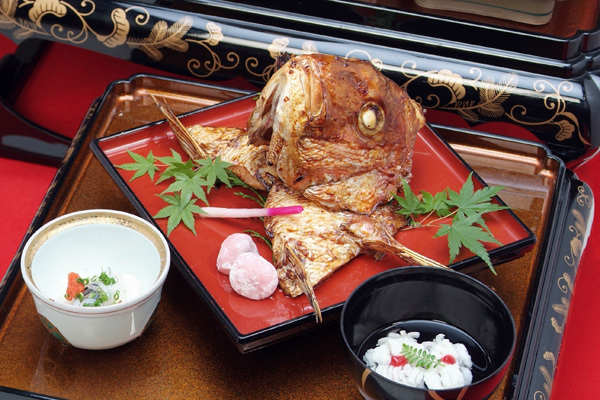 As the Edo period transitioned to the Meiji period, the restaurant also changed its name to Wakaeya. These days, Wakaeya not only offers tai-chazuke but daimyo (feudal lord) dishes that allow customers to feast like a feudal lord, and also seafood dishes from nearby seas such as pike conger, sea bream and puffer fish, according to the season.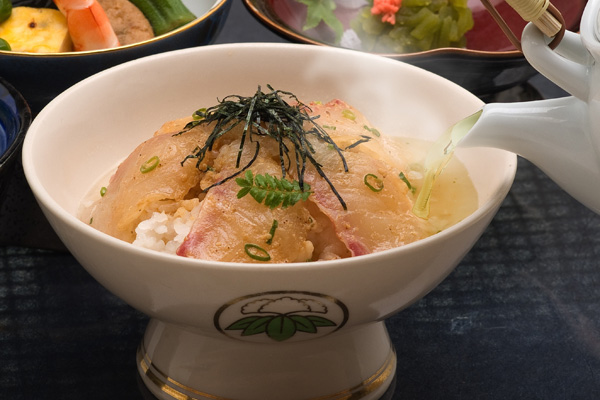 The sauce used for the Tai-chazuke Ureshino is made from selected Oita sesame which is ground and seasoned with soy sauce and other condiments. The recipe for the sauce has never left the premises, a family treasure that is handed down to each generation. Dipping sea bream into the secret sauce, placing it on hot rice and pouring tea—although standard regional sea bream chazuke usually pours soup stock, Wakaeya's chazuke uses local Kitsuki green tea.
To hand down this special "history of taste"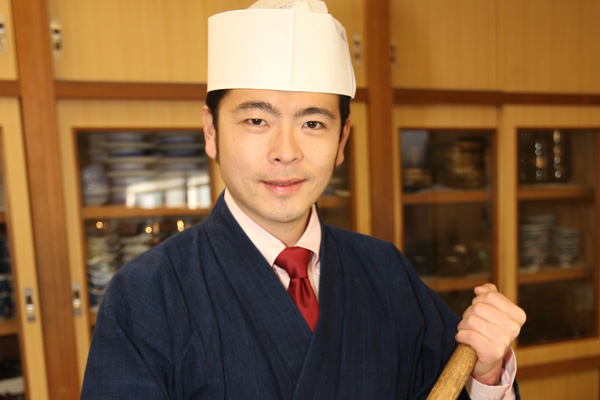 Although Tai-chazuke Ureshino is popular among local residents, Goto wanted more people to know about Wakaeya's tai-chazuke, in order to preserve the flavor through many customers.
"We wanted new customers to experience the Tai-chazuke Ureshino in various ways and gain their patronage, in order to hand down the history and taste of this dish towards the future. One way to make this possible was through mail-order products. Up to this point, the dish had never left the restaurant gate, but now we have created a product that allows anyone to enjoy the hallmark taste of Wakaeya at home," says Goto.
Development of the product started on January 1, 2008. The ingredients and seasonings such as soy sauce used in the product are the same as the dishes served in the restaurant. The fillets of sea bream are cut into sashimi strips by seasoned artisans before being immediately frozen and vacuum packed to maintain freshness. The sauce has the sesame ingredients on the side, to keep its fragrance intact. After much trial and error, the restaurant finally created a taste they were satisfied with and launched the product in the end of October 2009.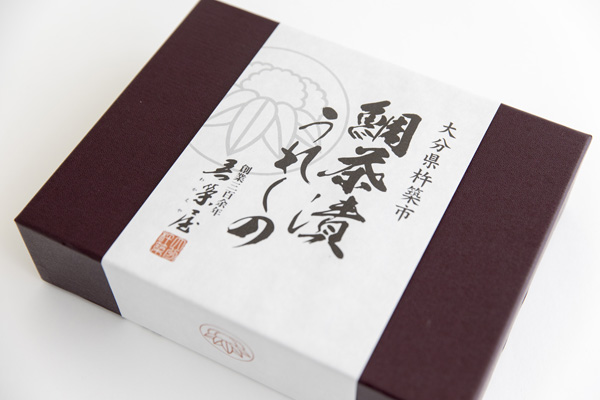 "It took much time and effort to recreate the Kitsuki taste; however, we have created a masterpiece, at last, which can be delivered to everyone."
Goto shared some recommended ways of eating chazuke, "Adding wasabi (Japanese horseradish) or pickled plums change the flavor and are very nice." Trying out the dish, we noticed that the sesame sauce has a rich and mellow body, and the Japanese horseradish was a refreshing accent. Adding pickled plums created a moderate tartness that was very appetizing. The chazuke offered on-site in the restaurant may sometimes add a leaf bud of Japanese pepper, which is very popular with the customers.
Furthermore, since the spring of 2018, Goto himself has been providing this tai-chazuke as lunch on the Cruise Train "Seven Stars in Kyushu," a train that travels to various areas in Kyushu. The taste of Wakaeya is now more accessible than ever. "I hope many will come to know about Kitsuki through our tai-chazuke. I would be overjoyed if they will come visit us!" says Goto.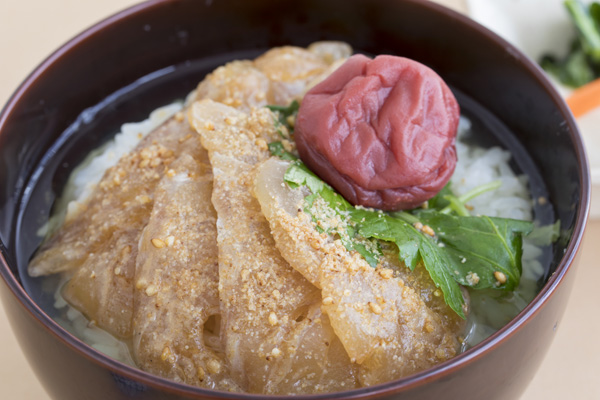 In closing, we asked Goto about his future prospects:
"We have a tradition of eating soba noodles on New Year's Eve and eat special foods and soup with rice cakes on New Year's Day. However, I believe no region in Japan has a culture that designates what to eat on the night of New Year's Day. I have a desire to create a food culture in which tai-chazuke will establish itself as the food to be eaten during the first three days of the New Year. It is a mild dish for tired stomachs, but luxurious at the same time. If during sanganichi (first three days of the year) tai-chazuke should become a staple, I would be ureshiino (overjoyed)!"
Tai-chazuke from a long-established restaurant with a history—it is highly recommended as a gift to someone special, but also to anyone who has not visited Kitsuki yet.
 / 
Photographer
: CHIE MARUYAMA